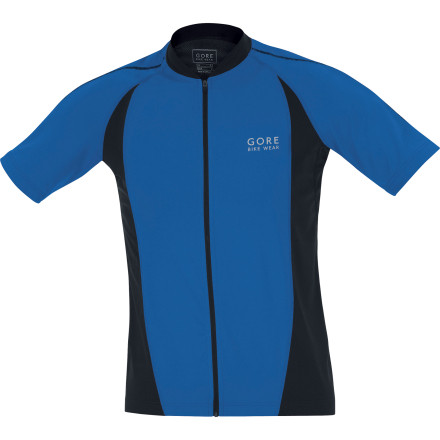 Detail Images
Gear-mashers and spinners alike will appreciate the more casual feel of the Gore Bike Wear Power II Short-Sleeve Jersey. With a slim, but not skin-tightcut, it's well-suited for longer training or group rides where comfort is king.
The nylon/spandex fabric blend sucks up moisture like a dehumidifier, and the full zip with semi-lock slider gives you unlimited temperature control. That full zip also makes it easier to put on and take off the jersey, a feature that you may appreciate after grueling distance rides when your shoulders seem to be frozen in place. Flat-lock seams glide over your skin, negating any abrasion. Mesh inserts under the arms offer additional ventilation where it's needed most. The three-compartment back pocket tapers on the sides for easier access to your gear. Reflective piping on the back and sleeves and a reflective front logo ensure you'll be visible in low-light conditions.
The Gore Bike Wear Power II Short-Sleeve Jersey comes in sizes Small through XX-Large. It's available in five color options: Black/white, Citrus Green/white, Lemon/black, Pool Blue/white, and Red/black.
My husband is 6'4" Can anyone recommend a...
My husband is 6'4" Can anyone recommend a jersey for taller men?
i'm 6'5 220. I got the Louis Garneau Equipe Jersey in an XL. The shirt length and breadth fit perfectly. I don't have an extra long torso( most of my height is legs) but I am longer than average. It was good and snug and went down to my hips.
you have to give more detail of his 6'4" height. he can be as big as a linebacker or skinny like Yao
shirt is way tight, especially the arms and the gut had a "pouch" when in riding position - i'm not a fan (SIZE XL for 6'2" 227)
Unanswered Question
Write your question here... I want a tight...
Write your question here...
I want a tight fit but not the Zenon poly jersey. I will go with either Power Jersey or Oxygen Jersey. Power says Trim fit and Oxy says Tight Fit but reviews say Oxy is Relaxed/Club fit. I prefer Oxy jersey if it is a tight fit and not long. I am 5'8" and 138 pounds and race. Is the Oxy Tight or Relaxed and how long is the Medium relative to the others? Thanks, Ed Shaw
As my question states, i was right in between sizes with almost every measurement. I used the live chat feature and got the advice to get the Large size. This was good, because I'm tall. It isn't skin tight, but that's because I'm very skinny.

The ventilated armpits are a great idea. In general, this is a very stylish jersey. It's cut to fit you, not just from shapes convenient for the company.The back pockets work great, and the sticky rubber near the bum keeps it from riding up. The picture here makes it look like the waist is level, but it's cut low in the back, as any good jersey is. You'll be comfortable in this all day. I wore it under a hoodie all afternoon and forgot it wasn't and undershirt until I got home.

This was a good buy for me, because it matches my bike and other gear perfectly, and my last name is Gore, which is nicely displayed in reflective letters on the chest.

If you arn't sure about your size you can buy 2 and send one back anytime for a full refund, if you aren't current;y pressed for cash. Otherwiase just measure all of the parts of you in the size scale.
I am PERFECTLY in between the measurements...
I am PERFECTLY in between the measurements of medium and large on every measurement. Most of the time landing within the half inch that isn't even included in either size.

This will be my first jersey, so i don't really know what i prefer. In normal clothes i like tighter things, but I also hate things riding up and not being long enough. I'd like some help from someone with more experience in these outfits. Will This shrink if I encourage it to? or stretch over time?
Any help is appreciated.
We offer 3 different types of fits: tight fit for those seeking a racer cut, slim fit for those seeking a tailored fit but not as tight as a tight fit and a comfort fit for those seeking a more relaxed fit. The Power jersey is our most popular jersey worldwide and it is a slim fit. It will not shrink. Dave GORE BIKE WEAR(tm)