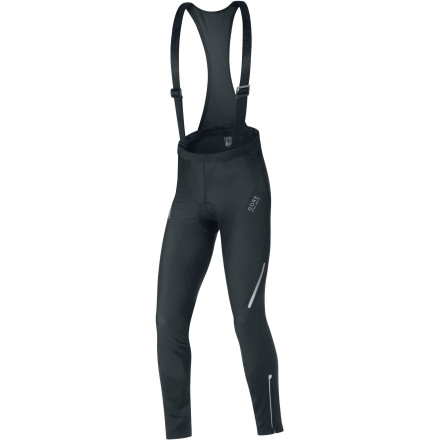 Detail Images
The competitive nature of cycling isn't limited to racing. Manufacturers ranging from bicycles to nutrition continue to push design and construction to gain market presence. And with Gore Bike Wear being one to retain its place as a technology leader, the results of its ambition benefit you directly. Case in point is the Phantom SO Bib Tights. Featuring a removable bib, proprietary fabrics, and a fit that's second to none, the Phantom SO is the perfect example of Gore's dedication to meeting the demands of riding.
Unlike most bibs, the Phantom's straps are not only removable, but adjustable as well. This allows a comfortable fit on a variety of frames, not just jockeys. In fact, the Phantom is available in a XX-Large size for the stallions. The adjustable and removable uppers, however, are just one of the Phantom SO's intelligent features.
Gore's fabric selection is what puts the Phantom SO up on the mountain top above its rivals. It's constructed from the patented WindStopper soft shell fabric. A single-layer laminate, WindStopper is similar to the venerable Gore-Tex material, but instead of being fully waterproof, it characterizes water-resistance, windproof, and high breathability. This provides a heightened level of comfort during cool-weather, high aerobic activities.
For further water-resistance, Gore treated the Phantom with a DWR (Durable Water Repellent) coating. Now, the Phantom SO offers a solid protection from light drizzles and road spray. However, where WindStopper really shines, is on cold rides where you're going hard and perspiring heavily. The fabric is soft against the skin, and it quickly pulls perspiration away to keep you dry. Furthermore, WindStopper effectively regulates the internal temperature of the SO, so you can ride at max output without the risk of overheating.
Like the adjustable straps, material is just one contributing factor to the Phantom's comfort. Gore Bike Wear went to great lengths to ensure that the fit compliments the function of bib tights. So, to maintain an unobtrusiveness, the multi-panel Phantom SO uses flatlock seams to provide a next-to-skin fit that eliminates abrasion and constriction.
Even further along these lines, Gore uses its PowerMan chamois in the Phantom SO to bring support and comfort over long distances. Anatomically designed, the PowerMan is elastic, so it moves with you, not against you. It's also optimized for ventilation and breathability with a special outer fabric that enhances moisture absorption and ensures rapid wicking to the outer-layer.
The Gore Bike Wear Phantom SO Bib Tights are available in five sizes from Small to XX-Large and in the colors Black, Black/white, and Black/neon yellow.