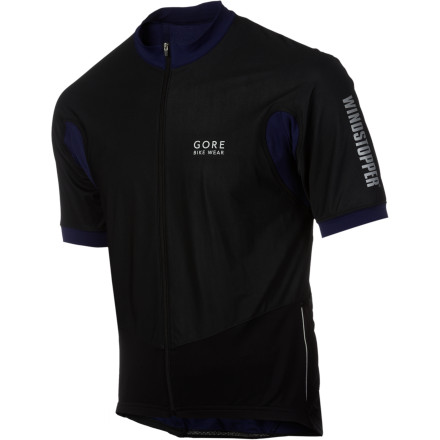 Detail Images

Community Images
There are cold, windy days. There are hot days. Then there are those weird hybrid days when Mother Nature can't seem to make up her mind — the sun is shining bright but you're getting sucker-punched by cold wind gusts while barreling down a harrowing descent. The Gore Bike Wear Ozon WS Short-Sleeve Jersey gives you the windproof protection of WINDSTOPPER fabric when a jacket or long-sleeve jersey would be overkill.
Ever found yourself on a ride thinking, 'I checked the weather report—it's 70 degrees out today. Why am I still cold?' The culprit could be the windchill. When wind permeates your clothing, it gets into the space between the fabric and your skin. And most of the time, it destroys the natural, body-produced warmth that's trapped there. So you feel colder than you should.
The Ozon WS Short-Sleeve Jersey is tight-fitting. It's windproof in the front, as well as in the kidney and shoulder areas. But because you may want to ventilate when the wind dies down, it offers a full front zip with a semi-locking design that will keep the zipper in place. A long back and elastic gripper on the lower hem ensure that the jersey won't ride up when you're in an aerodynamic position. Flat-lock seams glide friction-free over your skin. Stash your mid-ride fuel in two side mesh pockets, and your gear in the two-compartment back pocket. There's also a small key pocket in back. Reflective piping on the front and back as well as a reflective front logo ensure that you'll be seen in low-light conditions.
The Gore Bike Wear WS Short-Sleeve Jersey comes in sizes Small through XX-Large and in three color options: Black/white, Black/red, and Black.
Tight fit keeps the heat in and makes you more aerodynamic
Front zip with semi-lock slider for ventilation
2 compartment patch pockets on back and 2 side pockets for water, snacks, etc…
Small key pocket on back keeps key separate
Long back with gripper hides your hairy man-back from traffic
Reflective piping makes you more visible and less dead
What do you think about this product?
Have questions about this product?
Ozon WS Jersey review on Pez Cycling
Check out the review on the Ozon WINDSTOPPER® jersey on Pez Cyclinghttp://www.pezcyclingnews.com/?pg=fullstory&id=8143&status=True&catname=Latest%20NewsDave - GORE BIKE WEAR™
I've been a fan of Windstopper and Gore products for a long time now, but THIS takes the cake. December in Dallas is usually pretty breezy, and the temps are moderate, but the wind chill can suck the life out of you. However, today's temps were in the 50's, with wind chill in the 45's, and this short sleeve jersey was literally ALL I needed. I was never chilled, the jersey never flapped, and was comfortable all day long (about 4 hours). This is going to be my go-to jersey for most winter rides, and will probably be my undershirt for early season races. Great job, Gore! Thanks!

Only complaint is that the jersey pockets are almost too loose, and you think that your wallet or coffee shop covers will be lost if you fumble around for a GU pack or something.