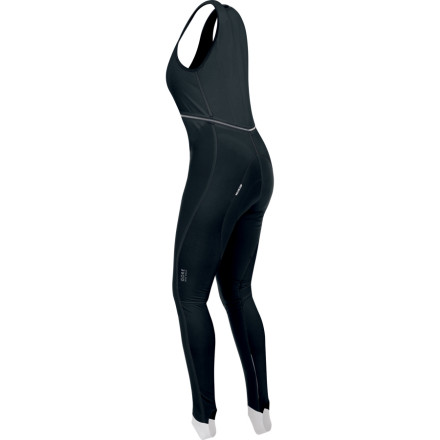 Community Images
The Women's Gore Bike Wear Oxygen SO Bib Tight envelops your lower torso and legs in anatomic panels of water-resistant, stretchable WindStopper material. Stitched together with flatlock seams, and cut for the riding position, this bib will provide miles of comfortable cold-weather cycling.
I really wanted these bibs to work for me, and sadly, they did not. The zipper would not stay closed. I was afraid it would start to creep open while I was riding and pinch me. Also, the legs are very slim fit to the point that it restricted me bending my knees. No, my legs aren't that big and I did order a size up.

The plus side is that they are very cool looking and I know they would've been nice and warm. They would do the job nicely for a different person. They just weren't right for me.
Xenon Sonic Bibtight Zipper
The zipper on the Oxygen bibtights works very similarly!
Do these tights have a zipper? Thanks!
Do these tights have a zipper? Thanks!
There is a zipper that starts on the left side of the left bib strap and travels around the back (above the hips) and around to the right bib strap... this is Gore Bike Wear's ultra-convenient patented zip system for a quick off-road "pit stop". The zip works similarly to the Xenon Sonic bib, video here:

http://www.youtube.com/watch?v=34LydsHtpZM

but only uses one zipper.
The women on the GORE BIKE WEAR™ development team have come up with a design to combine the advantages of bibs with conventional cycling tights without support. The garment sits perfectly in place, the seat insert is always in the optimum position.

hope that helps,
Robert, Gore Bike Wear
Thanks! Very helpful. I will give them a shot.