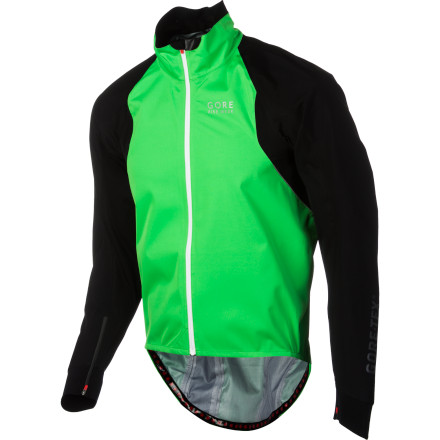 Detail Images

Community Images
From drizzle to pelting-hail freak storms, the form-fitting, wind-cheating Gore Bike Wear Oxygen GT AS Jacket rides light and ready for action in your jersey pocket. At a moment's notice, whip out the Active Shell-equipped Oxygen GT AS, slide into its soft, wicking sleeves, zip up, and ride out the storm.
Gore-Tex Active Shell provides breathability with durable waterproof and windproof protection for optimum comfort

Streamlined, 3-layer construction ensures an ultra-lightweight, weather-resistant cycling garment

Cycling-specific cut with generous tail coverage provides protection from moisture invasion and road spray

Next-to-skin fit works great with a base layer to keep your core warm and dry

Reflective elements for low-light safety

While I like the looks of this, it fits way too fight through the arm pits/chest. I am a Large, so I ordered a XL to help, but even the XL way too tight through the pits.
Great jacket!
Familiarity:

I've put it through the wringer

Fit:

True to size
Light weight but keeps you warm. Worth the investment.
Good but not great.
Familiarity:

I've put it through the wringer
Like all waterproof breathables it is waterproof but not breathable. I will, however, take a jersey damp from sweat over one drenched by rain.



The cut and fit are great: close to body. The size chart on this is bang on. I have a size large; am 175lbs; 5'11" and 39" chest. Gore often sizes their waist a bit out of proportion (larger) relative to the chest on most of their jackets...maybe it's a NA vs Euro body type thing. This jacket is no different but not as pronounced as a couple of other Gore jackets i own.



The reason I cannot give what is otherwise a perfect, simple, light well built shell 5 stars is the use of neoprene. Gore seems obsessed with the stuff as so many pieces incorporate it often in the collar or cuffs, as is the case with this Oxygen.



At the ends of the arms on a rain jacket like this, by using neoprene, one now has what are effectively sponges. The neoprene serves no other purpose but to soak up water. The issue is compounded if temps are low (colder wrists) and wearing a long sleeve jersey underneath which now soaks up the water through the soaked neoprene cuffs. Also, neoprene takes a while to dry, so say you wore the jacket on your morning commute you get to throw on your waterproof jacket with already soaked cuffs for the ride home.



gore, if you're listening: stop with the neoprene on all of your stuff. It does not breath. It soaks. It frays, separates and looks like crap with use (especially with open edges like on all of your stuff).
I am 6'1", weigh about 190lbs, have a 43"...
I am 6'1", weigh about 190lbs, have a 43" chest, rather long arms, and a 34" waist...I'm guessing I'd best fit into the XL size of this jacket. Does that seem correct?
Best Answer
I'm almost exactly your size, and I fit a Large in this jacket.
I have this jacket. 6-1, 185, 43 chest. Large is perfect.
I'm close to your size, weigh 195, have +3 ape-index (so, long arms and long torso) and a swimmer's build (so... a bit of upper body). I'm very glad to have gone with the XL. If you have big arms/shoulders or a broad back, the L may be be constrictive.

Keep in mind that these garments are cut with a more euro body in mind than most products on the US market.
Really good product
Familiarity:

I've used it several times

Fit:

True to size
The reason I really like the jacket up to now is because it fits great and it does what it is supposed to do: protect the upper body from water ;-)

The fit is not snug, not saggy, its just fine for me ( I am 5'11" 178 pounds and I took a Large) It breath well (not like my other sauna like raincoat) and it doesn't flap in the wind. Its easy to pack (always keep it in my bag).

so overall, really good product. I just need to use it for more than a month to check durability.
Good fit
Familiarity:

I've used it once or twice and have initial impressions
Shape of this jacket and how it wraps my upper body feels very comfortable. It protects against rain and has a slim profile, which makes me love it.
i need a rain jacket for bicycling, for...
i need a rain jacket for bicycling, for full-on rain (don't need a glorified windbreaker). What's your choice if price is no consideration, and what's a good choice if I want to keep the budget as low as possible?


Best Answer
Although it's not cycling specific and doesn't have quite as long a dropped back, in both cases I would go with the RAB Latok Alpine jacket (item# RAB0129). The eVent breaths well, holds out heavy rain exceptionally well, has an adjustable hood that will fit over your helmet, and stows away small. Hope this helps.
I recommend Gore's ALP-X 2.0 GT; I have this awesome light weight jacket that IS cycle specific AND water-proof (G.ore T.ex). It absolutely works, and very packable, easily fits in a pack for just in case. Plus, it has a detachable hood and a drop-down "tail" that snaps back out is sight when not needed! The arms are plenty long, too. Comes in some decent colors. Complete your commuter 'kit' with the ALP-X 2.0 GT pants, and you'll be good to go!



Hope this helps with your next jacket selection.
I have this jacket and would recommend it for full on rain. I wore in switzerland in severe downpour most of the day and kept me dry. Only caveat is that this jacket is cut like a racing jacket. Its not meant for touring at all. Its just a shell. No zips or pockets. Its full on race cape style.
Loved by Pro Teams!
Gender:

Male

Familiarity:

I've used it several times
Awesome tight fitting piece designed for a streamlined look. It doesn't flap around at all and with the breathability of the New Gore-Tex Active Shell, it is unbeateable! Used by many pro teams as a training jackets as the fit and functionality are awesome. Does fit tight.
What's the difference between the 2012 and...
What's the difference between the 2012 and 2013 version of the jacket?
Best Answer
I have an older version; probably 2010 and it used the much stiffer material paclite material. Good but not nearly as nice as this jackets material which has a much softer texture and less "crinkly" feel.
Is this intended as a road bike jacket?...
Is this intended as a road bike jacket? This seems to be the case. My interest is in a road cycling jacket for moderate temperatures. I do want a waterproof package. Thus I am looking at gore tex.
Yes. And nicely designed for that purpose. And arm vents. Nice.
Just to be clear, the arm vents are at the wrists, not near the armpits.
Best Answer
this jacket; rain jacket race cape is the best description. Not meant to be warm but does provide some; no zips/pockets anwhere except the one used to zip up in the front. It was not made for touring nor would I want to wear mountain biking.
Layering & Rear Pockets I routinely carry...
Layering & Rear Pockets
I routinely carry smallish items (phone, wallet, gel & bar) stored in rear jersey pockets, or those of my excellent Phantom (medium & comfortable) jacket. Since the Oxygen GT jacket lacks rear pockets it seems I will normally need a jersey underneath. Will the Oxygen GT (medium) fit reasonably over a jersey in these circumstances or should I consider the Fusion GT instead?
Yes, you will have space for those items in the rear jersey pockets. Reaching those items might be a different issue.

Due to the form fit and the extra length in the back, it may be a little awkward getting into the pockets. When I reach around to get stuff out of pockets, the jacket pulls a bit on the chest. If I were on the high-end of the size range, I'm not sure I could reach the pockets. If I unzip the front about 6 inches, no problems.
Best Answer
Agree, your not going to reach around and get anything out of your jersey pockets wearing this jacket. Pull over and lift up yes; but on the bike it would be a pain. I have the medium 5'7" 140lbs and it fits nice; I can put stuff in my jersey pockets with this jacket on.
How does this new Oxygen jacket fit vs....
How does this new Oxygen jacket fit vs. the previous model (which I loved but just trashed in a crash)? Would I order the same size? Does it have more streatch than the previous version as that's the one thing I'd like to see and would be worth the extra money.
The fit has not changed at all, so order the same size. As for stretch, if you look at the back of the jacket, the panels in black (on the color models) are stretch Gore-Tex Active Shell.

hope that helps,
Robert, Gore Bike Wear
In theory, the sizes are the same. However, the Active Shell version of this is *slightly* bigger than the Paclite version. If you are on the top end of the a size (i.e. your chest is exactly or just slightly above the max chest size), then you will need to go up a size. if you are in the middle of the size-range or at the bottom, get the same size.
The fit is a bit different and if you are at the edge of a size - size up. It is nicely form fitting and does not flap. I am 5'9 and 150 with 38 inch chest - usually a medium. The medium was pretty tight - I could zip it but it was just too snug even for events beyond a race. I went with the large - a tiny bit larger than ideal but comfy and no flap. The arms run long FWIW.



Great, great jacket though.
Couple of questions: 1) Are these more...
Couple of questions:
1) Are these more breathable than Phantom? Or Less?
2) How is insulating property vs Phantom?
3) Packing size. (in dimensions maybe?) Comparison picture would be cool if anyone has one! Thank you.
Couple of answers!
1. Should be very similar to the Phantom in terms of breathability. Gore-Tex Active Shell breaths at the same level as Windstopper Soft Shell, but the Phantom has a panel in the back with even more highly breathable fabric with no membrane - so the Phantom will breath a little better.
2. The Phantom will be warmer. The Oxygen GT AS Jacket is just a shell, so will not insulate beyond what you wear beneath it. It IS Windproof, however.
3. It comes with a separate stash bag that packs down to about 6" x 4" x 1"... Very packable, and will fit in a jersey pocket.

Keep in mind this is a WATERPROOF, WINDPROOF, highly breathable jacket, while the Phantom is only windproof, water resistant.

hope that helps!
Robert, Gore Bike Wear
What differences exist between Oxygen GT...
What differences exist between Oxygen GT AS and Fusion GT AS jackets? Product descriptions seem nearly identical.
The oxygen jacket is tighter fitting and more aggressively cut and has no pockets. the fusion is slightly looser fitting, has a napolean ocket and adjustable waist band, and has a hood stored in the collar that you can zip out. Both jackets are gore-tex active shell.

Hope that helps,
Robert, gore bike wear
I've got a question... Is there a version of the Oxygen GT AS jacket/shell that has arms that zip off to leavbe a vest? If so what are the differences? (IE. taped, taped seams, fully waterproof, pockets...)
http://www.bikeradar.com/gear/category/clothing/jackets/product/review-gore-bike-wear-oxygen-gtx-as-jacket-12-45146