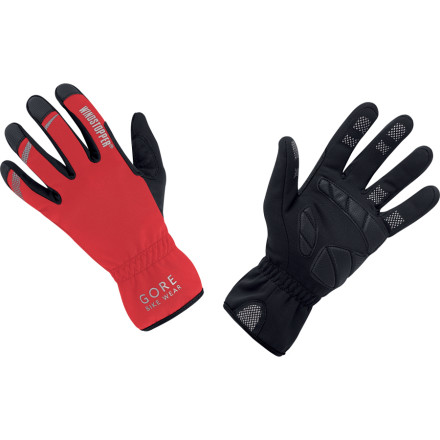 Community Images
The Mistral is a strong, cold, dry, northerly wind of Southern France. Strong, northerly, dry, and cold come to mind with the Gore Bike Wear Mistral glove. You use it in the cool or cold weather, like that of the north. The glove is durable and at its best in dry conditions.

We see this as a spring/fall glove, though it could work great in cold conditions if you're racing or climbing. The reason we see the glove this way is that the glove is made from Windstopper Soft Shell, which means windproof, highly water-resistant, breathable, and with a little loft for insulation.
The glove is thin -- thin enough that it could be used as a liner at times, though the foam padding on the palms, present, but not huge, might get in the way on some gloves. And the silicone lines on the fingers grip fine, but might also slow down inserting the glove into a larger glove.
The glove is long in the cuff. Nice for when you want to tuck your sleeves under the glove to keep the wind from getting under your jersey or jacket sleeves. The Gore Bike Wear Mistral gloves are black, and available in Small, Medium and Large sizes.
Great fall gloves
Familiarity:

I've put it through the wringer

Fit:

True to size
These guys protect you from wind. They are not insulated so if you were expecting warmth, you probably should go with a lobster claws!

I wear these when the temps are about 45-55 and they do me well.


These are well made, comfortable, windstopping, cold gloves. When the temps drop below 45 these are useless. I have had them for three years and they are still holding together, but they are just used for cold weather races where i am warmer than normal or training rides between 45-55. Now i have paired these with a cheap cotton glove over top that has worked out well down to 35-40 but you really just need to get the lobster ski gloves once it dips under 30.
pretty darn good
Familiarity:

I've used it several times
Great gloves. I would agree with the other reviewers that this glove doesn't have much [adding in the palm etc.
Nice Glove
Familiarity:

I've used it several times

Fit:

True to size
This glove made a huge difference in my winter commute. I always wear full fingered gloves but that doesn't mean they are great for cold weather. These ones fit the bill. I'm happy.
Still have cold hands...
Familiarity:

I've put it through the wringer

Fit:

True to size
I ride in AZ and I do not like the cold. I wear these babies anytime it's less than 65 degrees. They stop the wind which is nice, but they don't keep the cold out though. I wish they were warmer.
Good Fit and Good Protection
Familiarity:

I've put it through the wringer
I can wear these gloves alone down into the 30s. Below that I can add a liner and get down into the teens comfortably. The windstopper material is great and they have held up well over three years. They don't keep out the rain anymore even when I add waterproofer, but they still keep my hands comfortable in the rain (think wetsuit).
awesome gloves
Familiarity:

I've used it several times

Fit:

True to size
light, warm, comfortble and fits extremely well. used it so far in high 40's weather witha bit of wind and held up very well. these will be standard gloves until it reaches its limit in temperature.
Not too heavy, just the right amount of warmth through the Windstopper. This has been perfect for me in my morning rides where I can easily take them off once it warms up.
This a perfect glove down to roughly 45 degrees or so, the first few miles might be a bit chilly but once you get warmed up they are awesome and they breathe exceptionally well and have an excellent fit. I wear a large in everything and wear a large in these. I know some people like to wear a second glove under their gloves for warmth but I don't think I could fit another glove under these. Would definetely purchase these again for Fall/Spring riding.
The material was nice and the fit was great, but I was looking for something for colder weather. These didn't seem like they would get me through the winter.
The grip and padding was also good.
Will you be restocking? I'm looking for a...
Will you be restocking? I'm looking for a medium in black.
Actually, yes. We have some with an ETA of early October.
Nice gloves! Windstopper material works! Good fit as well. Decent padding & nice workmanship. The fingers have grippers in all the right places too. Now...I would consider myself a cold handed person. And with that in mind..I wouldn't consider these COLD weather riding gloves! At 40 degrees I used a light liner and still was a little uncomfortable at times. Like I said it's hard for me to keep my hands warm without bulking up. These gloves are definitely keepers though as they will serve me better for early Spring/Fall temps!
These gloves have amazing workmanship. The fit is great and the fabric material is fantastic. It's like a softshell jacket for your hands. I got these as a free gift with the Gore Phantom Jacket, and wear both daily on my work commute. The temperature has dropped to around the 30's on my morning commute so I have layered these gloves with a descente liner and need not worry. I would definitely pay full price for these now knowing the amazing quality they are. Even better that they came free with my jacket! Thanks Realcyclist for great service and support!
I've only used these on a couple of mid 40's rides so far, but I'm enjoying them. I have really warm hands by nature, so I don't even need full finger gloves until 50 or below. So, at 45 my hands stayed quite toasty (almost too warm). My hands did end up just a little bit sweaty at the end of my 30 minute commute, but not too bad. I think the hand sweating thing is just my issue, so I still gave it 5 stars.
Looking the buy the knickers that come...
Looking the buy the knickers that come with the free gloves as gift...but my size isn't available. Are there any other options or gift offers for me?

Thanks,
Tanya
It looks like you can pick any of the Ladies' jackets (http://www.realcyclist.com/gore-bike-wear-womens-jackets) or tights (http://www.realcyclist.com/womens-cold-weather-cycling-tights#app=price%7E+group%7E+brand%7E100000663+sortby%7E+cat%7E+subcat%7E100000099+offset%7E+on_sale%7E+page_name%7E).

All have "free gift" underneath!

thanks,
Robert, Gore Bike Wear
How does the free gift thing work? I added my jacket to the cart, then selected the size for the free gift glove and put it in the cart, but it doesn't show up as $0.
Competitive Cyclist Review
Mistral translates to 'Arctic Express' here in the NW. Indeed, it was in the 20's today. Best Windstopper model and in the top 2 of any cold weather glove I've worn. Same superb fabric and fit as Gore Tool Jacket. Fingertips are rubber shielded (brilliant!), snug'n'dextrous (write checks, count money, dial combo lock, computer modes, press light buttons) yet allowed good circulation. Incredibly thin for their warmth. Rode errands for five hours. Kept them on during transactions (most gloves lost while continual off/on) and shopping w/o sweating. Then long downhills @ 30 mph. and below 0 windchill. Remarkable comfort range! Palm padding is minimal, but adequate (so far). No leather palms or terry thumb fabric for your (most certainly) dripping nose. Only glove to compare is Pearl Izumi Cyclone. My palm is 10.25" circumference = XXL in both. Your hands are precious, they deserve top notch gloves! : )
Are you going to get these in size...
Are you going to get these in size medium?
These gloves are available in medium. I would suggest that you contact Customer Service to inquire if they are able to special order one for you. Thanks for your interest in GORE BIKE WEAR™Dave - GORE BIKE WEAR™
It looks like they ran out of these for a bit, they are back in now.