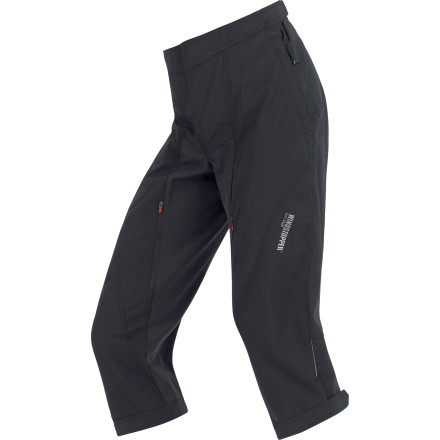 Community Images
When it's blustery, cool, and/or damp out, you want a little extra protection on your legs; however, pants have an annoying tendency to get caught in your chain, and tights have an annoying tendency to provoke stupid comments when you get off the bike to make a delivery, grab a coffee, or enjoy a post-ride beer. Gore Bike Wear made the Fusion SO Men's Pant to offer all the protection you need on those days without any petty annoyances. These loose-fitting, three-quarter-length pants are made from Windstopper Soft Shell fabric, which protects your thighs and knees from light precipitation and wind, all while wicking and breathing for maximum comfort.
A high back on these softshell pants helps protect your lower back

Light stretch and articulated knees ensure you move with ease

Front mesh-lined zip vents let you unload heat after that uphill trudge

Hook-and-loop tabs at the cuffs let you cinch the pants down when you're pedaling

These are awesome. I'm almost tempted to say they are worth the steep price. 1 star deduction for the price tag. The fit is athletic and slim. They are very comfortable to pedal in, with no chafing of the knee. They really take the cold out of the air but don't cause you to sweat. I got caught in a decent rain the other day and was pleased to see all the water was beading. I had no fenders and when I got to work, my underwear was still dry.
Nice vent zips in the front and a pocket that is high enough for keys and they don't inhibit riding.
They will be my go to commute pants for 8 months in Seattle.
Are these considered "slim fit", or should...
Are these considered "slim fit", or should we actually believe the sizing chart unlike some other brands.
I wear a 33 pants and not sure what size to get.
Just got these so I figured I'd answer my own question. Yes, the Gore website calls these slim fit. I am an honest 33" waste and the Large fit but with plenty of room. They have cinching tabs on the waste so getting the prefect fit is easy.
I'm a 33.5 waist and proceeded to order a large just to learn the same lesson I've learned so many times over: if between sizes go smaller.

I could fit in the larges but the Velcro adjusters were maxed so could not go smaller if needed and add in the fact I now had these big folds running down the sides prompted me to exchange for mediums.

Great fit with the mediums. I even found that when riding in them first time out that the waist would still pull down slightly so had to still tighten up the waist a bit. I now have about half an inch taken in on the adjusters on either side.

Even if a 34" waist I'd say go for the mediums.

My upper thighs are 23" and these are nice and roomy in that area.
I'm about a 34" waist, 25" thighs, and found the XL to be about perfect. I normally wear a large in anything to do with pants, but every set of Gore cycling pants I've tried seem to run on the small side. For example, I found the Large in their gore-tex 3/4 pants too constrictive in the upper thighs, and ended up getting an XL of those as well.
I've had these out on a few rides over shorts and tights. Extra large fits my 36-inch waist nicely with the waist tabs cinched down a bit. The waistband goes high in the back and everything stays put on the bike--no shifting around or sagging the way some knickers do. I expect these will be good as an outer layer in the winter and on their own in the spring.
Does anyone know the inseam for these 3/4...
Does anyone know the inseam for these 3/4 Pants? Not even Gore's official website lists it. Thanks in advance.
The inseam on a Medium is 20 inches. I expect sizes in either direction to change about 1/4 inch.

Hope that helps,
Robert, Gore Bike Wear