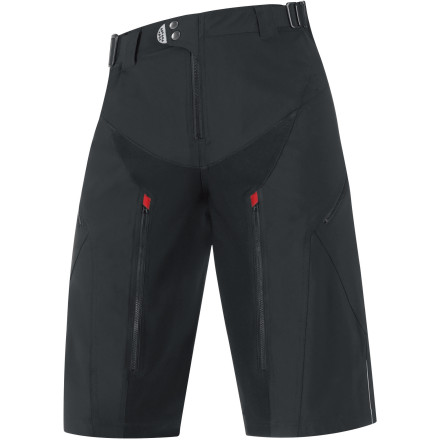 Detail Images
When we first discovered the joys of mountain biking, one of the things we enjoyed the most was that we could just jump on the bike and go. There was no tiresome prep with bibs and jerseys and creams. We were newbies that rode in our baggy shorts, tee shirts and bravado. Of course, it didn't take too long to see that leaving behind all the trappings of road riding would actually leave our behinds chapped and raw. The Gore Fusion Shorts are well named because they combine the best of both worlds: the laid-back look of street clothes plus insert comfort only a proper cycling short can provide.
The Fusion Shorts have been designed to give you durable protection, but with a soft touch. They are rough-and-ready shorts that have the sort of toughness you need for heavy-duty downhill riding, but also have the ventilation you need when the trail inevitably turns uphill. The abrasion-resistant material at the inside of the legs and around the saddle area will protect the shorts from damage caused by hard riding and the unavoidable friction those areas encounter. The practicality of the shorts will astound you, especially when you realize so much of it has been well-hidden. The two side zip pockets are discreet but still hold all your essentials like keys, ID, cash, power gel without bulging. The zip pocket on the back will add extra stuffing space for gels, CO2 cartridges or anything else you may need in a pinch.
Your tummy can rest easy because there is a comfy adjustable waistband which has elastic halfway around. And the button front has an accommodating placket design to reinforce the button holes, so you'll never be worried about busting a button. Belt loops have been included in case you want add a touch of class with a belt. Reflective piping and logos at the front and the back will make you visible at dusk to the cars, though the bears might miss you. The 14-inch (36.5cm) inseam length will keep you protected from the likely falls and brushes with bushes. But don't worry about the shorts getting too hot; ventilation is a cinch with the front mesh inserts that have a zipper for easy adjusting.
The removable inner shorts with the Power Man Seat Insert will prove to be perhaps your favorite aspect of the Fusion Shorts. They have a partial mesh inserts that will aid in ventilation and elastic hems at the legs to keep them comfortably in place. Easily removable, you can leave them at home if you want to wear just the short to your next rock concert. As for the pad, you'll be blown away by how perfect the Power Man Seat Insert works for the needs of a mountain biker. It is not over-padded with that dreaded diaper feeling; rather Gore has incorporated a high-density foam with an anatomical fit and a seamless finish. So you'll feel protected but not overwhelmed with material down there. The elasticity of the pad ensures that it moves with you, chafe-free. And as far as keeping you cool and dry, Gore has used their special fabric for the outer layer that touches the skin. It improves moisture absorption and pad breathability. With top-rate ventilation, you'll never have to worry about friction and bacteria-causing moisture again.
The Gore Fusion Shorts are available in three colors: Black, EB/Black and EH/Black. They come in sizes ranging from Small through XX-Large.
Removable inner short wicks moisture and breathes well, and it features mesh inserts for optimal ventilation and gripper elastic to hold the hem in place

Seamless, stretchy Power chamois in the inner short features multi-density padding that can handle rough trails and long rides

Mesh-lined zip vents in the front expel excess heat

Abrasion-resistant material at the inner leg and saddle area stands up to your hard-charging style

Comfortable part-elastic waistband can be adjusted for a custom fit

Reflective piping and logos improve nighttime safety

The full heavy lycra backside is a bad idea. There is too much friction between it and the saddle and it and the liner short = copious chafing of one's ass.



These are a great looking, light, comfortable shorts, but for considerable time in the saddle cranking out miles you're in for some pain. I gave these many chances with multiple liner shorts (the Gore Powers these come with are nice liners) and still same painful result.



For park use they'd be fine.



Sent mine back.
Great unless you plan to pedal for a while in them
Update: dropping to 2 stars from 3 and sending back. These are supposed to be for riding in. They make a far better casual short. Maybe these work for others?

I want to like these but they have one serious flaw rendering them pretty much useless (IMO) if you spend serious time in the saddle and are wearing these with the liner short.

First the good: very comfortable. They fit pretty bang on with the size chart which is often hit or miss for me in Gore product. I am a 33.5 waist and went with a medium. I am definitely at the end of the range but would not want the next size up as I do no believe I'd be able to get the waist cinched tight enough. The waist adjuster is nice. It's not a Velcro tab but like a plastic ring affixed to the belt that you can just slide at will...tough to explain but it works very well and can be done with one hand and it stays put. All shorts should have this.

The knee length is cool. They are very light and the front vent zips are super easy to get at and pull on the fly, plus the vents are big and funtional. They also have a small pocket/vent at the small of the back that I generally leave open to vent a bit...I'm not sure it does too much but it must dump a bit of heat/moisture.

The side pockets are large and functional and zips are easy to get at and operate even with one hand while riding.

Now for the bad. I can see these being a good bike park short where you're not pedaling a lot and are out of the saddle most of the time, but for all mountain, xc, epics (heck, anything greater than an hour, really) you will chafe your ass raw and here's why. Gore has made the backside middle and the area between the legs out of a slightly more robust lycra. It's not the super slippery kind you'll find on your road bibs, but a bit thicker and non-sheeny. It will not slide on the liner short; there is too much friction between it and the saddle and it and the liner short. What this means is when you're seated and cranking and moving all over the saddle on some tech xc the short tries to pull the liner with it (and this would apply to any liner short not just the power ones these come with which is a fantastic liner BTW) and thus is effectively pulling the seat of your liner thus causing copious amounts of friction between your skin and the chamois thus chafing the hell out of your ass.

They're a brilliant short in concept as they are so light and have so much give to them, but the fact they will not slide over the liner as a cordura type short would is a deal breaker if you are going to pedal in them.
The design of these shorts seems informed by Gore's nicer softshell jackets. The material is light, stretchy, but tough and moisture resistant. The outer shorts resist mud an dirt sticking to them, and will need less washing s a result. The shorts move well, wih a lot of adjustability in the waistband, and big zippered leg vents that open wide to let air in. the liner is pretty good, with a nice chamois, but the most brutal leg grippers I have ever experienced in a pair of bike shorts. It's like they have rubber teeth that bite into the thigh. They keep the liner in place, I guess.



The fit is on the slim side but true to the chart, so if you're in between size up.
Unanswered Question
Are these shorts angled funny at the top,...
Are these shorts angled funny at the top, or is it just the pic?