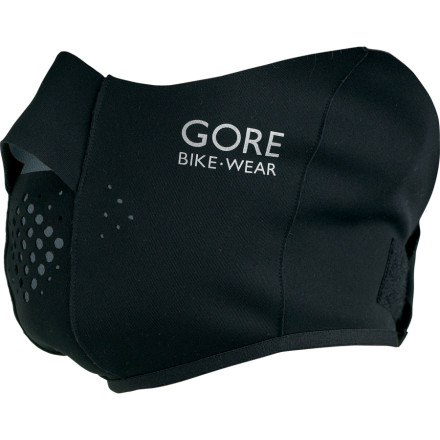 Community Images
Description
Super-commuter's official facemask.
Whether you're anonymously fighting crime in your free time or you just need a winter face cover to block the wind and keep you warm, the Gore Bike Wear Face Warmer has you covered.
Nose and mouth openings let water vapor from your breath escape without getting your face soggy

WindStopper fabric blocks wind to make your cheeks a little less rosy

Sides cover your lower ears - the part your beanie never seems to reach

Keeps the wind away
Familiarity:

I've put it through the wringer
This can be used in combination with a beanie and your glasses and get virtually complete facial coverage. I ride outdoors year round in New England and I've got a substantial arsenal of winter accessories to keep me going in the deep winter. My preference for this product is on days that are more windy than cold. Reason being is this item is really good at keeping the wind off, but it doesn't do much for insulation. The other downside is it's really difficult to drink with this on. You need to pull the whole thing down to free your mouth. Which can be cumbersome with bulky winter gloves and nearly impossible with lobster gloves.



Overall though a very good product, that I'm very glad I have
Not what I was expecting
Familiarity:

I've used it several times
Decent product. I bought this after pushing my riding season much to far into winter without any gear. After a lunch ride that would have you ready for the dentist(literally numb to the point of being speachless) I needed something. This isnt so much a face warmer as it is a layer of gore windstopper, this definitely helped get ride of the numb jaw.



My only complaints are the bare spot between my beanie and facemask at the top of my ears that I cant seam to be able to cover with this combo. The other issue is the moisture build up in the mask around the mouth that funnels up to fog my glasses and makes the mask wet. since the mask velcro's in the back its all or nothing.



For the really cold days(so cold the inside of your nose freezes) its definitely a help.
I own both this model and the balaclava model. RealCyclist offers both. I'm writing a review for each.

This model is a waste of money. No matter how loose or tight I fasten it, no matter whether I fasten it high or low, it won't stay where it's supposed to. Lift your head, drop your head, look slightly left or right, look over your shoulder for traffic - the mask won't follow your movements.

In my experience, gravity takes over - the mask slides down as I move my head. I've tried it multiple times, and every time have removed it in frustration within 5 minutes.

Don't waste your money. RealCyclist's 1-star rating description, "Straight up sucks", is appropriate for this product.