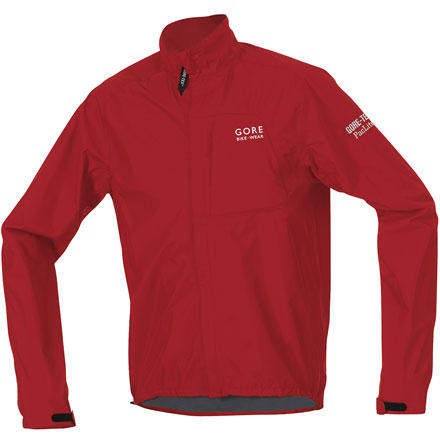 Community Images
Jacket definitely kept the rain out, and was a great wind barrier. Fit nice and snug so I didn't look like Hanz or Franz while bombing downhills. back end was longer to cover the back end so my rear stayed nice and dry (it covered my entire hip pack that I was wearing, too- so all my gear stayed dry). Downside- breathability. While it kept the rain out, it also kept all of the body moisture in. Only thing it could have used were some under arm vent zips. Sizing chart was a little off, and had to send in for a size smaller.
Unanswered Question
Could you please give me more information...
Could you please give me more information about the following?
I 've considered size M.

waist size. length of the coat . chest size.

Your help would be greatly appreciated.
Be careful about sizing chart
I bought this jacket and followed the sizing chart. My tape measure shows 42 inches as chest measure and, based on the chart, I ordered XXL. I had decided to trust this chart to avoid paying to return wrong sizes. When I got it, though, it was ridiculously big.

After talking to RealCyclist rep, he said that the sizing chart is "only a reference" and I told him that this was not my fault, as this is the only reference a customer can trust to pick the right size. So, I would tell you to be very careful before buying, as the sizing chart is not accurate (at least not for this jacket). And, if the size does not fit you, you will be the sole responsible.
Do you have the jacket in Hi-Visibility...
Do you have the jacket in Hi-Visibility yellow or flame orange colors?
The only yellow that we offer this in is a lemon yellow and we do not offer a flame orange. I think that you'll find the lemon to be quite bright
Dave - GORE BIKE WEAR™
What gloves come with the jacket? thanks
What gloves come with the jacket?
thanks
The Mistral WINDSTOPPER® glove Dave - GORE BIKE WEAR™
Mistral windstopper shell gloves, you should look into getting a liner golve for insulation.
This is a great jacket, very light in weight, the fit is perfect, waterproof and wind proof, breaths way better than other brand of water proof jackets. Can`t go wrong with this item. For colder weather use a warm layer and mid layer since fabric gets cold but still wind proof.
IS THIS JACKET WATERPROOF if so, why is...
IS THIS JACKET WATERPROOF if so, why is it not in the add
Gore Bike Wear, as in Gore-Tex. Yes, it's waterproof, guaranteed. You will not find a better cycling jacket.
I've had the jacket a few months now and have worn it biking through Seattle's rainy winter. Does the job. Good for those 38-45 degree days with a long sleeve underneath. I'm really happy with how small it packs down and can store in a jersey pocket. Only ding would be the sleeves. They tailor very tight on my wrists which make it difficult to get on and off.
I need a Gore Bike Wear Cross II Bike...
I need a Gore Bike Wear Cross II Bike Jacket in Small, color Black. It is not on line, when will you have it available?
Top layer for cold weather riding.
I am very happy with this jacket for the purpose I got it: top layer for riding in cold and windy weather (20F-40F) with or without light precipitation (used it in light rain and snow). In combination with proper under-layers it beat my expectations for breathability while providing excellent protection from the wind. Exceeded expectations, particularly with very small packing "footprint". (Worst conditions I used it in: low 20's F with 20+mph winds and light snow with 4 breathable but not wind or precipitation resistant layers of biking specific clothing underneath).
great biking rain jacket!
great jacket! breathable though not quite as good as the newer eVent material. great in cooler weather over a mid-weight layer, not as good in below 30 degree weather. well made, great warranty.