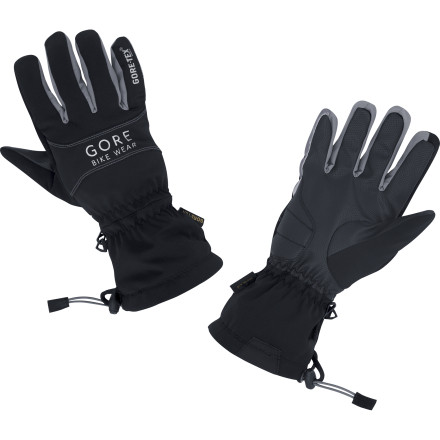 Community Images
The GORE Bike Wear Cross II Gore-Tex Glove has a longer wrist cuff than most bike gloves, which means you don't have to worry about wrist-gap and the subsequent rainwater that sneaks in between your glove and jacket sleeve.
Waterproof breathable Gore-Tex insert blocks wetness

Foam padding on palm absorbs shock on long rides

Reinforcement on back of hand helps protect knuckles

Absorbent material on thumb and back of hand for sweat wipeage

Not as warm as I would have hoped...
Gender:

Male

Familiarity:

I've put it through the wringer
and they are too bulky not to be really warm.

They might be ok for MTB but the padding sucks for a roadbike.
These are solid gloves, with some caveats:
1) As mentioned, the liner tends to pull out when you remove your hand. Even if you're careful, one of the interior fingers can pull into the palm and be hard to get back into place. Kind of embarrassing when you're always the last person back on the bike b/c you're fiddling with your gloves.
2) The gloves do run a bit small, with one important note: these are contoured gloves, so they are cut for a gripping position, like you have when your hands are on the bar. What this means is that if they fit when your hand is in them, they might not fit when you extend your fingers straight, like when you are grabbing a brake lever. Fit testing tip: put one glove on, then (with your other hand) push the glove towards your hand in between your thumb and pointer finger, now, try to extend your fingers like you're shifting. (Kind of like in the picture, where I'm using a hood instead of the finger.) For me, the gloves felt great until I tried to reach out to shift...
These are very nice and warm. Definitely wind proof, but I am yet to ride them in the rain so can't give the waterproof comments yet.
I also agree that the sizes probably run a tiny little bit small, but I generally wear a medium, and the medium, while tight, are still ok for me. If you are borderline between sizes, I would go up.
The only thing bothersome is like Bent-Jarle says about the lining following your hands out of the gloves, but it just means you have to pay attention when taking them off; small hassle for very warm gloves!
They are really nice, keeps your hands dry through heavy showers. I've used them a lot, and the weather at the westcoast of Norway can be rough sometimes. Except from that the inner material follows the fingers out when removing the glove, this is a great deal!
warm.thin rain waterproof
I'm considering these gloves and the Gore...
I'm considering these gloves and the Gore Countdown....other than the longer wrist coverage of the Cross II, what is the difference. I'm worried that the Cross II are too poofy and will inhibit road cycling whereas the Countdown gloves seem more streamlined in the pictures.
The cuffs are the primary differences. The Cross has gauntlet cuff with elastic pull and toggle while the Countdown has aneoprene-like cuff with velcro adjustment. For road cycling, I would recommend the Countdown.
Dave - GORE BIKE WEAR™
Looks pretty well made, seams are good, aesthetically pleasing. Also looks like it has good reinfrcement on the palms. They run a bit small especially the length of the thumbs when you grip the handlebars. I have small hands so I ordered the small. The thumb issue is what I came across which is why I went up a size to medium. I don't know maybe I just have longer thumbs than normal but o don't think so.