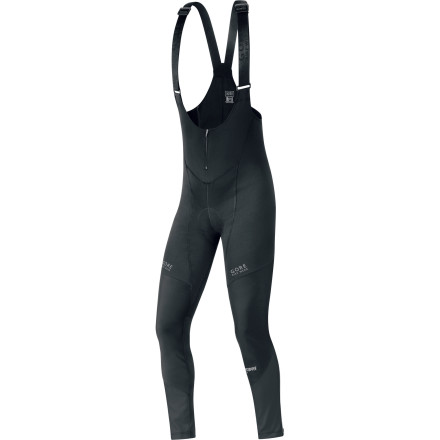 Detail Images
Cold temperatures alone are rarely enough to deter us from riding. But, the biting wind and freezing rain that cuts right through our clothes, stiffens our joints, and makes us feel like we took a Liquid Nitrogen Shower -- that's what can keep us indoors at times. Thankfully, Gore Bike Wear offers the Contest 2.0 SO Bib Tights with its patented WindStopper Soft Shell fabric. With it, the Contest 2.0 blocks out the elements in critical areas, while offering a comfortable, secure fit and excellent breathability.
When you're riding in cold temperatures, it's important to pay special attention to your knees, because being comprised of all tendons and bone, your body can't regulate their internal temperature as well as it can with more fleshy parts of your body. That's why the Contest 2.0 bib tights cover your knees, and other sensitive areas of your legs, in its WindStopper Soft Shell fabric. WindStopper Soft Shell is soft, stretchy, breathable, and just as importantly, body-contouring. It fits and breathes like a comfortable mid-layer fabric, yet it offers a level of water- and wind-resistance that approaches the protection afforded by hard-shell fabrics. The remaining sections of the bib tights are made with fleece-backed, polyester/elastane blends that support and insulate your hard-working muscles against the cold. Flatlock seams are also used throughout the tights in order to minimize friction against your skin.
For cushioning, Gore Bike Wear gave the Contest 2.0 SO Bib Tights its Contest Man chamois. Like all of Gore Bike Wear's inserts, it's elastic and it moves with you to provide superior comfort, whether you're mashing in the saddle or dancing on the pedals. For the bib straps Gore used adjustable, soft Velcro so that you can dial in the perfect fit for your torso length. A front zipper facilitates easier natural breaks, while an underflap seals out the cold. The Contest also features gripper elastic on the bottom hem of each leg to keep the fit secure. And because riding in the cold can mean riding in low-light conditions, when motorists have the most difficulty seeing you, Gore added reflective accents throughout the tights to make you a little more visible on the road.
The Gore Bike Wear Contest 2.0 SO Bib Tights are available in five sizes from Small to XX-Large and in the colors Black, Black/white, and Black/neon yellow.
What do you think about this product?
Have questions about this product?
got these to replace 2011 "same" bibs, NOWHERE Close! Sizing is way off these run soooo small, impossible to get on even at size 2x what I regularly wear. No velcro to adjust straps, which is really needed on Bibs, insulation just not the same. A truely inferior Gore Product.