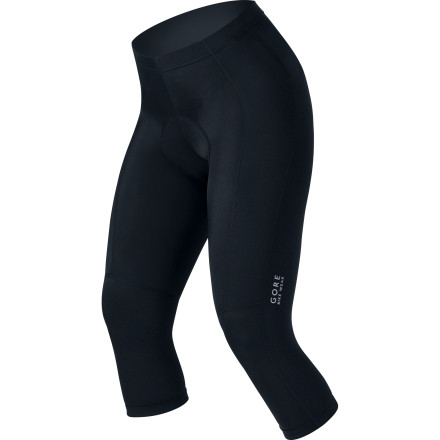 Detail Images

Community Images
The sleek Gore Bike Wear Women's Contest ¾ Cycling Tight precisely fits a lady's frame, so it can stay out of your way when you're cranking down the road at full speed. A woman-specific seat insert, smooth flatlock seams, and shifted seam design all work together to eliminate rubbing and chafing.
Very happy with these.
Familiarity:

I've put it through the wringer

Fit:

True to size
I have two pair of these capris. They hit right below my knee (I'm 5"4'). The fit is very comfortable whether I ride 50 miles road or 3 hours mountain. No chafing issues anywhere. Pretty much across the board in cycling wear I'm a small, which is true with these. I would like to know which chamois these have as I tried to order a pair of Gore shorts, thinking they would fit similarly, only to have the shorts be much too small and the chamois all wrong. If I want these just shorter what should I get?
Slippery and thin
Familiarity:

I've used it several times
I ride enough that these 3/4 length will not get used unless they are the last thing in the closet. They are slippery and slide down and I actually slide around on the saddle and that never has happened before. Material is thin and chamois is mediocre.
I will only get these for 3/4 length
Familiarity:

I've put it through the wringer
I thought I'd have to try a few to find the right ones, but these were the first I tried and will be the last. Very flattering fit, and the most comfortable bottoms I have. Wish I could wear them all year but it's too hot here. The padding is just right. I'm 5'3" and they hit right where my calf muscles start to show.
Comfortable !
Familiarity:

I've used it several times

Fit:

Runs small
It took a ride to get fully adjusted to the padding, but out of the many I tried on these were definitely the best. I was very comfortable during the ride, with no soreness afterwards.

They run a bit small, I went up a size. The the waist band was comfortable, slightly lower in the front and higher in the back.
Are these wind-proof or wind-resistant? ...
Are these wind-proof or wind-resistant? Rain-proof or rain-resistant? Are they made of GoreTex, or just made by a company with the name, Gore...?


Best Answer
They are not windproof nor are they waterproof. There is no membrane, they are simply cycling tights. They will naturally resist a bit of wind and a bit of water given the nature of a nylon/spandex combination---but that is all.
....but they are, Josh and El Gato, made by Gore.
Josh is absolutely correct. I looked these up on www.goreapparel.com site for you, and they are simply cycling tights with Gore's "Lady" insert.

They are not made from *GoreTex (rain-proof) material, nor are they made with Gore's *Windstopper (wind blocking)material.

These will be fine for ordinary weather conditions. Gore does offer many other tights, etc for ALL different weather conditions you may encounter. I recommend you check out their site to gather info./see options. Then you can come back here to purchase!



Hope this helps settle your question, once and for all! Happy Trails!



(*and of course they're made by Gore; which, of course, you already knew !)
Hi, I am looking for the 3/4 pants that...
Hi, I am looking for the 3/4 pants that have the best chamois for long rides as I am very sensitive. Which do you recommend?
Thanks!
Best Answer
I would suggest Giordana's Silver line (+ their on sale right now). The chamois is real nice, not to large. The riding level for the "Silverline" line is intermediate. For race/or higher performance level riders is their *F.R.C. or the *Laser line-up (but the chamois in these are actually much smaller)...but B.C. isn't offering knickers in these last two.



I have Gore's Xenon shorts, and love them...if they ever offer them in a knicker, I would suggest trying them, too.



You might want to consider a different seat for your bike as well; or, maybe, a pro-fitting at your local reputable bike shop...as proper/improper fit will enhance, or detract from your performance...even the 'tilt' of the seat...handlebar set...etc. if not calibrated just for you, can cause pain in various body parts...corresponding to the component that may need adjusting!





Hope this helps, and hope you catch the sale!
Are they designed for cold and warm weather...
Are they designed for cold and warm weather riding?
Hey,

Depends how cold you're talking. Generally speaking these are best for warm weather.
Best Answer
Yes, all knickers are basically meant for Spring/Fall riding, at least in the North, as part of your legs are exposed; and so the material used is of light to medium weight and tech.



If it's particularly nasty or wet out, you can wear Gore's ALP-X 2.0 GT pants OVER your tights, knickers, or shorts (they do offer a 'short' version of these) for added rain/wind protection (size-up so they can fit over top easily). Also, if you get these, get a pants leg strap to keep your right pants leg out of the chain!

For winter, look for something that is windproof (such as Gore's *Windstopper products), and listed as being "thermal".



Hope this still helps.
Looking for cycling capris with compression....
Looking for cycling capris with compression. Need lots of support for challenging knees and I ride endurance rides so also need great chamois.
While the Contest 3/4 Tights provide a light level of compression, you'd probably be better off with the Power 3/4 tights. The Power 3/4 tights especially are designed to support the major muscle groups in the legs (specific panels are oriented with different fabrics to accomplish this) and the chamois is designed around long-distance riding: it's higher density and perforated to breathe extremely well.

http://www.realcyclist.com/gore-bike-wear-power-2.0-3-4-tight-womens

Hope that helps,
Robert, Gore Bike Wear
My thighs and legs are bigger than for...
My thighs and legs are bigger than for most people at my height. Many cycling tights cut into my leg just where the end below the knee. I have a pair of old Gore tights which were the most comfortable pants I could find. Are these as stretchy?
The Contest Lady 3/4 does have stretch but I think that you would find the Power Lady 3/4 to have more stretch Dave-GORE BIKE WEAR™
Another very comfortable and yet top performance knicker is Giordana's "Silverline" line up. Silverline is more 'forgiving' in the fit/shape dept., while in no way being sloppy. For the intermediate rider, with a little less compression than a 'race fit', and not quite a 'lean/tight as a race fit; so they won't cut into your legs, ever, yet stay in place. The jerseys are very nice, and quite stylish, too...nothing wrong with that!
i'm looking for a capri style biking short...
i'm looking for a capri style biking short that comes right to the knee and I am not sure by this pic if this is to the knee or longer. Help! please!
This tight is a capri length that ends just below the knee. We also offer the Power 3/4 tight which is the same dimension as the Contest but with an upgraded chamois and materials. You can see it here at http://www.realcyclist.com/roadbike/GBW0114/Gore-Bike-Wear-Power-3-4-Cycling-Tight-Womens.html

We also have The Countdown 3/4 pant which is a baggy 3/4 pant which has a removeable tight with chamois. You can see it here at http://www.realcyclist.com/roadbike/GBW0120/Gore-Bike-Wear-Countdown-Knicker-Womens.html

If you are looking for a tight that ends just above the knee, you should check out our Xenon short as it has a longer 9" inseam. http://www.realcyclist.com/roadbike/GBW0039/Gore-Bike-Wear-Xenon-Cycling-Short-Womens.html

Dave - GORE BIKE WEAR(tm)
Also try Giordana's "Silverline" knickers next time...very comfy and stylish, they come to below the knee, are very stretchy (so you can even hike them up a bit if it get too warm during your ride). They breathe well, and have a comfy chamois. All together, very flattering while offering performance, too!