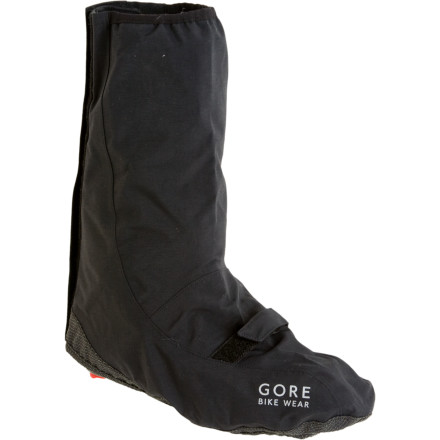 Detail Images

Community Images
Description
Dry shoes in a downpour.
You're getting ready for your commute to work, and it's positively pouring outside. Grab your rain jacket and slip the GORE Bike Wear City Overshoe over your casual or bike shoes.
Waterproof breathable Gore-Tex Performance Shell fabric blocks rain and mud

Back hook-and-loop system helps with width adjustments

Bottom cut-outs comply with all current pedal systems

Overshoe folds down for easy packing once you get to work

Ideal for MTB and casual shoes

Is there a womens version? Or do they make these in any smaller sizes?
Gore makes these as a Unisex, although the smallest womens size they will fit is a 7.5
Fit great.
Familiarity:

I've used it once or twice and have initial impressions

Fit:

True to size
I tried several overshoes and they were either too big or too small. I know they should fit tight for aerodynamics. However, I'm using them to commute with so easy on and off is what I want. These fit tightly and I don't throw out my back trying to get them on! I wear Keens size 9.5 and the overshoes are 9.5 to 10. Note that there isn't any insulation with these. They are just shells.
Unanswered Question
I know it should be clear, but I'm struggling...
I know it should be clear, but I'm struggling with the sizing chart. I wear women's 10-11. My other shoe covers are mediums, which seems like a good fit for those. The size order option has US sizes, I guess those are men's, but I what are the other sizes? Are they for women? Maybe you can just help me select :) Thanks so much.
Unanswered Question
How heavy are these? Light and packable...
How heavy are these? Light and packable enough that I'll take them on a long tour in cool weather?
I'll give these 4 stars. Totally as advertised; completely waterproof and the little velcro tab on top helps pull in some access material as these are quite roomy.

I have these for commuting and I use a set of Gore Race Powers for my road shoes. Both are sized the same and both are way off in the size range they are stated to fit.

A couple negatives: why are these so freakishly high? I find it totally unecessary. The Race Powers are much lower, as are all other overshoes I've ever used. Also, build them so that uppoer cuff can be done up a bit tighter as it'll do a better job sealing out moisture for longer (when you are wearing these with bare legs in pissing rain, for instance, in an effort to keep your shoes dry...it will work for along time if that upper seal is good).

Now for the sizing. I am copying and pasting my opinion of how a sizing chart for these should read from my Race Power Overshoe review:

S = 39-41EU / 5.5-7.5US
M = 41.5-43.5EU / 8-10US
L= 44-46EU / 10.5-12.5US
XL= 46.5-48.5EU / 13 - 15US

If you have really narrow/low volume feet you could likely drop a 1/2 size or 0.5EU from the above recommendations, for instance I wear a 44EU in everything (US10) and I use size M in these. The L's are just a touch too big.

We'll see how the Kevlar parts of these wear over the long haul. I know from experience with overshoes that the velcro parts last extremely well.
Work great, wore them out
Buying another pair.

These are great in 20-30 F or for heavy rain and mud.

After many wears (maybe 100 2 hour rides) the strap across the bottom wore out.

I used rubberbands for a while to compensate but they tend to come off.
Every year for the past 15 years, my friends and I do a 350 mile, 5 day bicycle tour from Lansing Michigan to the Mackinaw Bridge. The 1st 14 years, we only ever had a short sprinkle while riding. There have always been rainy nights, but never an entire day of rain.....until last year. In fact, it rained every day, and there was a two hour driving rain on day 2.

This year I decide to taunt the universe by purchasing an entire set of rain gear. I assumed my large outlay of cash would prevent the rain. I was however wrong. Though this years weather was much better, we did get a heavy rain on day 4. Anticipating the rain, I stowed my rain gear in my rear pack. Once the rain started, we pulled over and I donned my rain gear including the City Overshoe.

The overshoe fit great (I purchased the 11.0 - 13.0). I spent about a week looking for a non-insulated shoe cover. When it rains in this part of the country in August, it is usually warm and extremely humid. It has a simple velcro closure in the rear. The front wraps around the bottom of the shoe and tappers at the rear where it just wraps around the rear of the shoe. Clipping in and out is not a problem.

Great product.

The customer service is excellent. Never having ordered from Real Cyclist, I used the on-line chat to inquire about availability. The e-mail updates were humorous and timely.
Sometimes my shoes are size 10.5 and...
Sometimes my shoes are size 10.5 and sometimes 11. I have the same pair of vans in two different sizes (10.5 and 11). Should I go with 8.5 -10.5 or 11-13?
I'd start with the smaller size... it may be snug, but the entire back is velcro, allowing for a good amount of adjustment. My fear with the bigger size is that it will be too baggy and let wind / rain in the cracks!

If the smaller one doesn't quite cut it, you can always exchange - Realcyclist is great about that!

hope that helps,
Robert, Gore Bike Wear
Horixon-I have the exact same sized foot, it seems. Which size shoe cover did you go with? Thanks!
Is the option sizing in US mens or US...
Is the option sizing in US mens or US womens?
The sizing options are US Mens. For US Womens or EU Mens sizes click on the View Sizing Chart length.
Do you have a city overshoe that is...
Do you have a city overshoe that is thermal?
The City only comes as a shell, however the Race Power Thermo over shoe is insulated and full Gore-Tex (windproof/waterproof!). The Oxygen Thermo is also insulated, but is WindStopper (windproof / water resistant).

http://www.realcyclist.com/gore-bike-wear-race-power-thermo-overshoe

http://www.realcyclist.com/gore-bike-wear-oxygen-thermo-overshoe

-Robert, Gore Bike Wear
Will XL fit 49 Sidi Dominators?
Will XL fit 49 Sidi Dominators?
According to our sizing guide, XL only fits up to 47. The back of the City overshoe is velcro, so it offers a fair amount of adjustment, so depending on the shoe, you could make it work.

Hope that helps!
-Robert, Gore Bike Wear
Really good for cold as well
Very Nice for cold weather. I wore these at around 29 F with ice around on the ground. My feet stayed very nice and warm after an hour on the road. The worked on shoes without cleats just fine. Plenty of room for cleats too.
Have not tried them in the wet yet.
I have to say I am becoming a fanboy of Gore Bike Wear. I ride year round and when it gets cold I have always had problems keeping my feet warm, until now. These covers are super easy to put on completely windproof. My feet have never felt better. I wore these on a recent trip to Bend OR where I rode in temps down to -4 and my feet were toasty and dry. ( I was also wearing a Gore jacket and gloves so the rest of me was warm as well)The sizing is spot on and the quality is what I have come to expect from Gore. If you ride when it is cold then you need these shoe covers