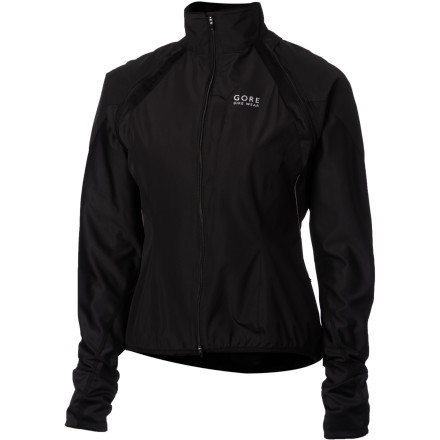 Detail Images

Community Images
The weather report calls for a windy afternoon, but right now it's just a steady breeze. Zip the sleeves off the GORE Bike Wear Women's Alp-X Jacket and pull on the remaining WindStopper vest. Tuck the softshell sleeves into your hydration pack for when the wind picks up. This slim-fit jacket has a superlight mesh lining that slides easily over your jersey. Elastic at the cuffs keep the sleeves down and chest and back pockets hold energy gel when you go pack-less.
What do you think about this product?
Have questions about this product?
I don't really like cycling in cold weather, but with this jacket it's not a problem. I went out in low 50s, high 40s and was plenty warm with this jacket plus a wool base layer. Only one complaint - the zippers are all very tiny and a little bit hard to grip, esp with gloves on, when you want to unzip the neck a bit or undo the sleeves. But other than that I'm very happy with this jacket.
Is this jacket waterproof?
Is this jacket waterproof?
This jacket is not waterproof as it is not seam sealed. That said, WINDSTOPPER® is highly water resistant as water will not be able to permeate the body or sleeves of the jacket. If you are seeking a waterproof jacket, you should check out the Alp-X jacket at http://www.hucknroll.com/mountainbike/GBW0057/Gore-Bike-Wear-ALP-X-Jacket-Womens.html

Dave - GORE BIKE WEAR™
I have the new "13" ALP-X 2.0 Jacket, and it is waterproof & windproof. But this particular jacket (convertible) has been awarded by Mtn.bike mag. (well, one of those mags.); you can simply go to www.gorebikewear.com

For added protection, try the windstopper baselayers, too, and their thermo windstopper helmet cap (under the helmet) for those cooler/cold days.