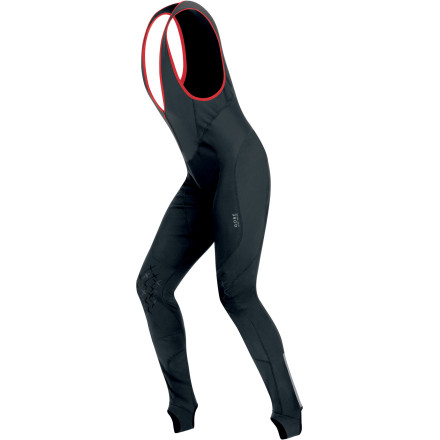 Detail Images

Community Images
The rise of fat bike sales is a clear indicator that winter exercise isn't limited to a pair of skinny sticks strapped to your feet. These bikes are allowing riders to traverse frozen tundra with ease, and gear like the Gore Bike Wear ALP-X 2.0 SO Bib Tights with Chamois are designed to offer the warmth and technology to keep your legs toasty and working at prime efficiency levels.
Gore starts with its proven WindStopper Soft Shell to block the chill, retain heat, and allow perspiration to escape. The three-layer Soft Shell is stretchy to ensure you're free to pedal and shift around the bike, and soft on the inside for a touch of luxury. Further helping with nonrestrictive pedaling are pre-shaped panels that are optimized for the riding position.
Leg movement naturally causes friction, and given enough time, skin irritation. To offset this, Gore places the Alp-X's seams where they won't cause hotspots. The seams are also flatlock for a reduced profile, and taped to prevent cold air from penetrating. With the comfort of the tights covered, Gore Bike Wear employed its Alp-X chamois to address the nether region.
This chamois is seamless to ensure long-ride comfort and it's constructed from perforated foam. This allows ample breathability and ventilation, with the support needed to keep you pedaling for the long haul. The chamois shape is designed to allow sufficient circulation and friction-free pedaling, with padding placed where it helps add the most comfort.
A semi-lock ankle zipper makes donning simple, and reflective elements add low-light safety. The Gore Bike Wear Alp-X 2.0 SO Bib Tights with Chamois comes sizes Small through XX-Large.
Unanswered Question
What temps are these good down till?
Excellent, Consistent fit thru the years
Gender:

Male

Familiarity:

I've put it through the wringer

Fit:

True to size
Purchased a Gore Bike Wear bibtight in April 2006 called Classic Action. I have big quads/calves, but being short 5'4" with 29.5"waist, a Medium may be comfortable on my quads/calves, but may be too long and a bit loose on the waist. So I ordered Small. Felt snug on my quads initially (but not restrictive, more like compression snug), but eventually conformed nicely that I no longer feel them to be snug. On sub-freezing days, I can even put a thin layer under it and still be able to move freely



Fast forward to Alp-X 2.0 SO bibtights - I got a Small also. And true to my experience from 7 years ago, all fit well and felt a bit snug on my quads, and even more on my calves. But after many rides last week and a few washings, they have settled in nicely in the fit on my quads/calves. I am impressed with the compression aspect without restricting my movements and joint articulation around the knee/ankle areas. This is a tricky balance that is hard to achieve when adding stirrups, sturdier, and abrasion resistant panels. It's achieved a good balance between all these. I can not personally confirm how good the abrasion resistant panels work because I use these on road bike riding. After reading many MTB riders reviews on the durability of the abrasion resistant panels, I have no doubt they would do well with normal road riding use.



Windstopper Softshell - what else is there to say? Don't leave home without them if you want a comfortable ride below 45degress F. Add a 15-20mph north wind and you realize this stuff really works. At sub-freezing temps, I have added another layer underneath, if not a thin layer of legging, maybe knee warmers for extra warmth and it's good to go.


Great product
Familiarity:

I've used it several times

Fit:

True to size
Slightly larger than Pearl medium; slightly smaller than Pearl large. Perfect.
Very Impressed with Compression
Familiarity:

I've used it once or twice and have initial impressions
I'm new to colder weather riding (60-degree and colder) so I wanted something that would would offer a good transition from fall to winter in TN and I'm glad I got these bib tights. I'm impressed with the wind blocking but even more impressed with the "compression" that is provided for my thigh and knee area. I generally feel the muscle pain the first 10-miles of a ride (I push myself very hard and I do not stretch so it is to be expected) in my knees and thigh muscles but the compression of these tights was fantastic. Moderate hills and larger hills were far easier than in regular bibs that stop at the knee. Very happy with the Gore Bike Wear (never purchased before) and would highly recommend these bib tights. Also, the cushion is great so no complaints there or on the fit (I'm 5ft 7in and bought a medium size).
I have 2 questions: (1) What's the difference...
I have 2 questions:
(1) What's the difference between the Gore's Oxygen SO Bib Tight + Insert, and the ALP-X 2.0 SO Bib Tights with Chamois?
(2) I am 5'5", with 32 inch waist, and 29.5 inseam. I usually buy a size Medium, but I'm concerned that the legs will be too long.
Please advise. Thanks!
a) The ALP-X line up is focused on mtn. biking primarily, with sturdier, abrasion resistant appointments. While slim, they allow for a bit more movement.



The 'Oxygen' line up is more road inspired.



Of the two here, the ALP-X has more, and better features. And, there are actually 2 different ALP-X choices, one is geared more for warmth and what Gore calls "thermoregulation"; while the other uses Gore's *Windstopper tech.



2) The size chart shown here is the same as the one from Gore. The shortest inseam will be the 'S', and the 'M'.

Order according to your waist...you can always tuck inside shoe covers (when needed); or even over top shoe...N.B.D.



Sounds like a 'M' (covering inseams of 31.5-32") will work out best for you; I think a 'S' will be just that, too small, as Gore sometimes runs rather smallish to begin with, depending on line.



Hope this still helps!




If you are just looking for one more person to say; "Yeah dude, get em." Then read no more! Gore has made a durable and premium bib tight for those of us who MTB the trails thru the winter months, and to do so in comfort and style.

Durability – At first I was cautious about the material; it looks and feels like it may tear easily. My first day with these bad boys on, unbeknownst to me, I would put them thru a pretty hard day of biking, I was relieved and can say w/ a testament they held together well. Somehow I smacked my knee on a rock and I could see blood coming thru the material itself, but absolutely no tears of any kind to the material, impressive. Sometimes I like to off road OFF ROAD and hit thru weeds, stickers, thorns n sticks, doing so in these tights proved that although they really didn't reflect stickers and thrones, you can be sure they are well constructed and the material was not affected or damaged.

Comfort- I know some of the "cool mountain" bikers snub at the idea of wearing bib tights, or better yet they do the "shorts over" , which looks whack and to me deters the whole concept and design of cycling tights. Anyhow these bibs are; comfortable, form fitting and the material is super stretchy, which is a big plus because it makes the bibs feel soft and comfortable. And with MTBing at times you have to be on and off the bike, which sucks if the garment you are wearing is super constricting. These bibs provide warmth and perspiration efficiency in a good range of temps and weather, how's this? I felt just as comfortable biking these in 43 degree weather as I did in 25 degree weather, w/o having to layer underneath. I am 5 9 and about 145, I chose a MED and they fit well. Foot straps was something I had always been hesitant of. But after rocking a few bibs with foot straps, compared to those w/o, have proved to be extremely useful and enhance comfort. I hate having tights ride up or bag out at the knees, the straps keep them in place.

Style/look, I don't mind rocking tights while cycling, but sometimes the way companies design their products can certainly make consumers think twice before a purchase. These bibs look good and I like the nice touch of red accents. The pad is nice and actually conforms to your man and groin area comfortably so the diaper look is less noticeable! The paneled material, although designed for performance and comfort Im certain, it helps take the old solid panel look away and gives the bibs a nice technical look. SO that way if you cant ride worth spit, at least you can look like you do!

Customer Service -I had ordered a different pair of Gore bibs and RC sent the wrong ones, which were the Alp X 2.0's, and the ones I ordered cost less. In their mistake they told me to keep these if I'd like, and not have to pay the difference. Thanks Real Cyclists CS!

Out of my De Marchi, Pearl Izumi, Craft, and tight experience, these are by far my most favorite and most comfortable! Give your winter time MTB experience a new feel! I would purchase a similar bib in the future!!!