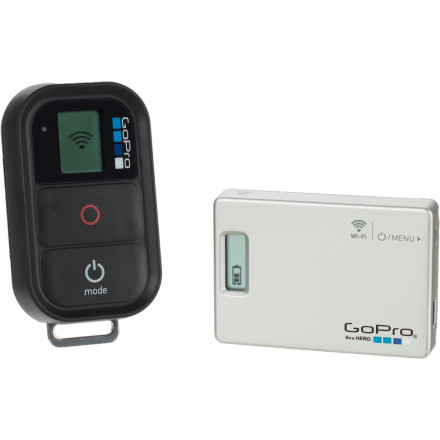 Community Images
Included in the GoPro Wi-Fi Combo Kit is everything you need to remotely control your GoPro Hero or HD Hero2 camera and see a live preview or playback footage on your smartphone or tablet computer. The GoPro Wi-Fi BacPac unit plugs into the back of your camera so you can see what your GoPro sees, and the Wi-Fi remote gives you control of the functions of up to 50 cameras at a range of 600 feet. In the future, GoPro will release a firmware upgrade for the Wi-Fi BacPac so you can stream live video from your GoPro HD Hero2 camera directly to the internet. Yeah, the future is almost here and you didn't even have to drive 88 miles per hour to get there.
Wi-Fi BacPac unit plugs into the BacPac connection on the back of your GoPro HD Hero2 camera for seamless integration

Backpac gives you remote control of camera functions, video preview, and video playback when using the GoPro app on your app-compatible smartphone or tablet computer or GoPro Wi-Fi Remote

Backpac allows for wireless transfer of video and photos from the memory of your GoPro HD Hero2 camera to your smartphone or tablet computer

Free, future software upgrade for your Wi-Fi BacPac will allow you to stream video or photos and video directly to the internet from your GoPro wherever you have a network connection available

BacPac has a small LCD panel that displays wireless connection, battery, and BlueTooth indicators, and it operates with the simplicity of a single button

Wi-Fi Remote can control up to 50 Wi-Fi-BacPac-equipped GoPro cameras at a time from up to 600 feet away

Wi-Fi Remote allows you to control power, shooting mode, shutter, and other settings wirelessly

Wi-Fi Remote is waterproof up to 10 feet and comes with a strap so you can keep the remote handy on your wrist

Powerful, built-in Li-ion battery (BacPac and Remote) is easily rechargeable via a USB cable, and this battery retains its charge even after many seasons of use

Included waterproof and non-waterproof backdoors attach to your GoPro housing of choice so the housing can accommodate the extra space used by the Wi-Fi unit

Note: the original HD Hero camera doesn't support the GoPro app, video + photo preview / playback, or live streaming. You must own a GoPro HD Hero 2 and a product update is REQUIRED before using your Wi-Fi Backpac or Remote unit

Wireless internet connection is required for live video streaming, support for your smartphone as a hotspot may vary from mobile carrier to mobile carrier, and additional fees from your wireless provider or phone company may apply (please do your research)

Share your thoughts
What do you think of the
GoPro
Wi-Fi Combo Kit
? Share a...