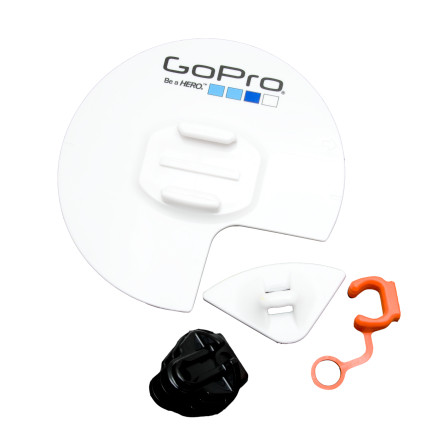 Tired of those same boring shots taken from the beach or the river bank? Add a new perspective to your surf or kayak video with the GoPro Surf Hero Expansion Kit. This easy-attachment kit gives you two options for mounting your GoPro HERO camera—a stick-on baseplate and an FCS-compatible plug mount that allows you to allen-screw the camera onto the board or boat deck. This kit works with all quick-release GoPro cameras.
I mounted this on a kayak and got some great shots. Sets up quickly and easily and the adhesive is pretty reliable. Pretty cool little kit.
So I have had a problem with the sticky...
So I have had a problem with the sticky mounts that you can buy. Whenever I land a big jump with a hard/icy landing. They fly off... :( I thought the first time was just a mounting error, but, the second time I followed the directions carefully and it still came off.

Is the cold a problem?

Is the snow/ice the problem?

Should I buy a surf mount to attach it better?
never mind...should have read the reviews
Should be the Surf/Ski/Board Mount
Although it's titled the surf mount, it's far more versatile than that. It's a far better mount for skis or a snowboard than the standard GoPro mount that's just the traditional mount with a sticky back. On bigger airs, those standard mounts don't have the surface area to stay stuck to your ski board. By using this mount, you have better chances of not losing your camera (and getting the shot).
Using the surf mount down in Mex.
So I mounted this on to my fish and it has worked wonders ever since I did it.... It attaches real easy and stays on even surfing a lot. I don't use the orange safety though, I prefer to tie up my own string on there. All in all a great purchase if you are using your go pro in water.... I have attached a video as well!!
Can't wait to get some killer footage this season. Great design, but hey, GoPro, would it kill you to throw in some instructions? Just to make everything clear that is.
What is the orange rubber piece for?
What is the orange rubber piece for?
When you clip your mount into the base, it goes into the clip to lock it in. This way, when you slam, it will be less likely to unlatch an go flying. I suggest getting a lanyard to attach it to you boot or leg or binding too, just for insurance. Shed to pow Punky, Money out. one