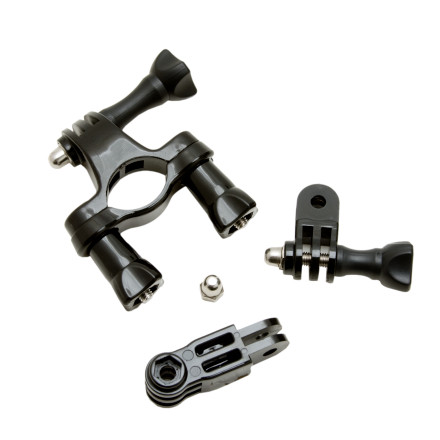 Community Images
Part of the beauty of the GoPro HD Hero Camera is its go-anywhere versatility. And to make the most of it, you may want to be able to mount the camera securely to your bike. With the GoPro Mounting Clamp, you can attach your camera to any round or semi-round tube from 19 - 35mm in diameter. So you can have your camera on the chainstays, seatpost, handlebars, or even on the fork legs. Whatever view you choose, you can capture it.
The GoPro Handlebar Mounting Clamp includes the tool-free handlebar clamp and a three-way adjustable pivot arm so you can position the camera housing at any angle relative to the clamp.
Great for Biking and Skiing
Familiarity:

I've put it through the wringer
I've used this mount for mountain biking and skiing the past few seasons. Works really well with a ski pole (you just have to build up the shaft with some duct tape to get the right diameter). These mounts tend to crack after many uses (partially due to needing a tight clamp to prevent movement)
shoot the faces of those behind you
Familiarity:

I've put it through the wringer
We all know what everyone's backside looks like on a ride, what are their faces doing?
It's plastic
Familiarity:

I've used it several times
So far I've only used it on my road bike on fairly smooth roads. You really have to tighten all the screws to keep it from shifting. I can't imagine using it on a mountain bike trail. The required tightening would probably cause the plastic to snap.
Not durable and not easy to tighten
Familiarity:

I've put it through the wringer
I only used it few times because there are some major issues. 1) If you going to mount on the mountain bike, you can use your finger to tighten it, it is not strong enough so you need philips screwdrivers to assist and tighten it. Better to put some rubber between the bike and your the mount to get some friction. 2) If you going downhill, it will move and loose the grip after > 40 mins on the trail. It sucks when the camera point on the ground. 3) lastly, over-tighten or extreme pressure with break the clamp.
great
Familiarity:

I've used it several times
Don't think of this as a bike mount. Think of it as a tube mount. You can mount it anywhere! I love experimenting with it. I have it on a pole secured on my backpack looking down towards me. Great shots when climbing or skiing.
Awesome
Familiarity:

I've put it through the wringer
I use this accessory more than any of the others because it easily attaches to anything from handlebars to fishing nets. It works great to even hold in your hand and film.
Perfect for attaching to a pole to get those smooth follow cam shots. I use this skiing all the time.
Great product, can be placed on the handle bar, the seat post or anything else that is round. Holds the gopro very well. Easy to attach, light and seem very durable.


This thing will go anywhere round, which is great because I'm always trying to find new places to put this thing. As others mentioned always a good idea to line the the object you are clamping too with tape or foam.
This mount is really good for skiing when you mount it on a pole especially when you ski powder as it creates a really cool shot. Before I bought it, I thought that it might be a bit awkward skiing with only one pole and the other one straight out but it is very easy to get use to. If you use your skiing pole, you will most likely need to use some kind of tape (I used clear hockey tape) to increase the diameter of your pole so that the mount will not slide around. Also I used a screwdriver to tighten the thumb knobs because they will move under fast jerking movements.
Will break so use a lanyard
I used this on my commuter bike with the camera. The plastic snapped within 2 months of purchase (and that includes one month where the camera was being replaced under warranty so there was no load on the mount as I didn't have a camera). It failed at the last connecting piece closest to the camera (the piece that turns the camera to face forwards instead of sideways if you're mounting the camera on the handlebars and not the stem).



If you choose to buy this mount, make sure to attach a lanyard or string to the camera and to the bike so that you don't lose your expensive GoPro because of one dodgy piece of plastic.



I will be purchasing an alternative company's GoPro handlebar mount that will last longer than this piece of plastic.



Not recommended.
Perfect fit!
Gender:

Male

Familiarity:

I've used it several times
I got this specifically to mount to motorcycle's frame/swingarm spools/frame sliders and handle bars. It worked perfectly for all the applications. The only thing I would recommend is that you find something to line the inside of this with (foam/rubber etc.) to prevent the mount from easily turning once mounted. Other than that, great product, works great!
Make your own stick mount!
Putting a GoPro on a stick will provide the best angle on powder days!