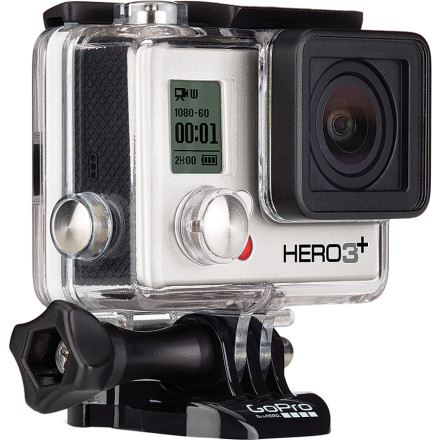 Detail Images

Community Images
If you missed the boat on the last iteration of GoPro's HERO3, don't fret, you waited for just the right amount of time. With the HERO3+ Silver Edition, you'll find a reduced size and weight, faster Wi-Fi, enhanced low-light quality, a reduction in distortion, and a battery with 30% longer life. Good things happen for those who wait.
Compared to the last HERO3, the HERO3+ Silver Edition has been reduced in size by 15%, and the camera weight was also reduced by 15%. In fact, the HERO3+ now tips the scales 2.21 ounces. The camera body retains the black backing treatment, and the front still boasts GoPro's accessible and progressive user interface. The new housing also enables the camera to be waterproof up to 131ft/40m.
The lens makes features the same flat design with a waterproof housing. It's what GoPro calls a six-element aspherical lens. What does this mean? Simply put, the lens has been designed to operate evenly across more light conditions than ever before. For the camera nerds; it's an f/2.8 - 6.0 lens. So, you'll experience sharper image quality whether it's blisteringly bright or the sun has nearly disappeared. And with this iteration of the HERO, GoPro improved the camera's capturing quality in low-light conditions. Additionally, GoPro has taken steps to reduce distortion, while also improving image sharpness. The new lens also allows Ultra-wide, Medium, and Narrow field of view modes, and you can operate the White Balance in either auto or manual modes (3000k, 5500k, 6500k, Cam Raw). Now, you can expect crystal clear resolution from sunrise to sunset.
And speaking of resolution, the HERO3+ Silver Edition boasts ultra-high resolution video modes with a processor that's twice as fast as the HERO3's. The frame rate is sharper than the HERO3, capturing at 1080p60, 960p60, and 720p120fps. Basically, if you love slow-motion shots, the HERO3+ is a godsend. And did we mention that all of these rates can be run from Ultra-Wide mode? Awesome. For time lapse, the HERO3+ has a broad range of available intervals. You're able to select from seven lapse intervals ranging from 0.5 to 60 seconds. The still camera also lays waste to prior HERO iterations. For the HERO3+, still mode shoots at 10 megapixels and up to 10 frames-per-second. You're also able to select blasts of 3, 5, or 10 photos-per-second concurrently with any video mode. GoPro also included advanced camera settings like looping video and Protune Mode.
You'll also find that the camera received an upgrade to the audio quality. By engineering a wind-noise reduction system, the redesigned sound recording will capture all of the subtleties and profanities of your gnar. And now, you also have the option of recording your sound in Mono, 48kHz, and AAC compression w/AGC media formats. This means you don't have to eat up your cards' storage if ambient sound is only going to make a cameo in your edit.
And like the HERO3, the HERO3+ is Wi-Fi ready and compatible for use with the Wi-Fi Remote (not included). Waterproof, wearable, and capable of controlling up to 50 HERO3+ cameras from a range of 600 feet, the Wi-Fi Remote will turn your entire filming strategy on its head. Not impressed? How about finally gaining access to the GoPro Application for your iOS or Android smartphone and tablet? With the remote and GoPro App in tow, you can both fully control any camera in your Wi-Fi range and view live scene previews.
As for the knitty gritty, the HERO3+ has the following inputs: Micro-HDMI Port, Composite A/V Adapter, USB, Micro SD, and a 3.5mm Stereo Mic Adapater. It's also compatible with newest Mac OS versions down to Mac OSX 10.5 and the latest Microsoft Windows version down to Vista 7.
The GoPro HERO3+ Silver Edition is available in one color and one size. Included in the package is the following: HERO3 Silver Edition Camera, 131ft/40m waterproof housing, a rechargeable Li-ion battery, 1 quick-release buckle, 1 vertical quick-release buckle, 1 curved and 1 flat adhesive mount, a three-way pivot arm, and a USB charging cable. It does not include a memory card.
Please note that the HERO3+ Silver Edition requires a MicroSD Class 10 or higher memory card. It can also support up to a 64GB capacity.