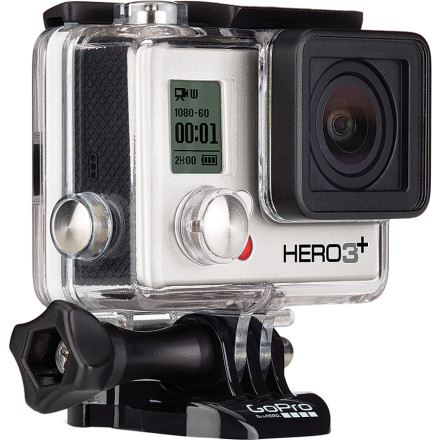 Detail Images

Community Images
If you missed the boat on the last iteration of GoPro's HERO3, don't fret, you waited for just the right amount of time. With the HERO3+ Silver Edition, you'll find a reduced size and weight, faster Wi-Fi, enhanced low-light quality, a reduction in distortion, and a battery with 30% longer life. Good things happen for those who wait.
Compared to the last HERO3, the HERO3+ Silver Edition has been reduced in size by 15%, and the camera weight was also reduced by 15%. In fact, the HERO3+ now tips the scales 2.21 ounces. The camera body retains the black backing treatment, and the front still boasts GoPro's accessible and progressive user interface. The new housing also enables the camera to be waterproof up to 131ft/40m.
The lens makes features the same flat design with a waterproof housing. It's what GoPro calls a six-element aspherical lens. What does this mean? Simply put, the lens has been designed to operate evenly across more light conditions than ever before. For the camera nerds; it's an f/2.8 - 6.0 lens. So, you'll experience sharper image quality whether it's blisteringly bright or the sun has nearly disappeared. And with this iteration of the HERO, GoPro improved the camera's capturing quality in low-light conditions. Additionally, GoPro has taken steps to reduce distortion, while also improving image sharpness. The new lens also allows Ultra-wide, Medium, and Narrow field of view modes, and you can operate the White Balance in either auto or manual modes (3000k, 5500k, 6500k, Cam Raw). Now, you can expect crystal clear resolution from sunrise to sunset.
And speaking of resolution, the HERO3+ Silver Edition boasts ultra-high resolution video modes with a processor that's twice as fast as the HERO3's. The frame rate is sharper than the HERO3, capturing at 1080p60, 960p60, and 720p120fps. Basically, if you love slow-motion shots, the HERO3+ is a godsend. And did we mention that all of these rates can be run from Ultra-Wide mode? Awesome. For time lapse, the HERO3+ has a broad range of available intervals. You're able to select from seven lapse intervals ranging from 0.5 to 60 seconds. The still camera also lays waste to prior HERO iterations. For the HERO3+, still mode shoots at 10 megapixels and up to 10 frames-per-second. You're also able to select blasts of 3, 5, or 10 photos-per-second concurrently with any video mode. GoPro also included advanced camera settings like looping video and Protune Mode.
You'll also find that the camera received an upgrade to the audio quality. By engineering a wind-noise reduction system, the redesigned sound recording will capture all of the subtleties and profanities of your gnar. And now, you also have the option of recording your sound in Mono, 48kHz, and AAC compression w/AGC media formats. This means you don't have to eat up your cards' storage if ambient sound is only going to make a cameo in your edit.
And like the HERO3, the HERO3+ is Wi-Fi ready and compatible for use with the Wi-Fi Remote (not included). Waterproof, wearable, and capable of controlling up to 50 HERO3+ cameras from a range of 600 feet, the Wi-Fi Remote will turn your entire filming strategy on its head. Not impressed? How about finally gaining access to the GoPro Application for your iOS or Android smartphone and tablet? With the remote and GoPro App in tow, you can both fully control any camera in your Wi-Fi range and view live scene previews.
As for the knitty gritty, the HERO3+ has the following inputs: Micro-HDMI Port, Composite A/V Adapter, USB, Micro SD, and a 3.5mm Stereo Mic Adapater. It's also compatible with newest Mac OS versions down to Mac OSX 10.5 and the latest Microsoft Windows version down to Vista 7.
The GoPro HERO3+ Silver Edition is available in one color and one size. Included in the package is the following: HERO3 Silver Edition Camera, 131ft/40m waterproof housing, a rechargeable Li-ion battery, 1 quick-release buckle, 1 vertical quick-release buckle, 1 curved and 1 flat adhesive mount, a three-way pivot arm, and a USB charging cable. It does not include a memory card.
Please note that the HERO3+ Silver Edition requires a MicroSD Class 10 or higher memory card. It can also support up to a 64GB capacity.
Chesty footage from Stage 7 of the 2014 BC Bike Race
Make everything you seem RAD
Familiarity:

I've put it through the wringer
Hands down, the GoPro cameras shoot the best footage, take the best pics, and are the most versatile to mount cameras on the market. They're easy to use, durable, and make pretty much anything I do look better than it really is, or at least easier to show others! Chest mounts, bar mounts, POV anywhere you can think of, remotes for hard to reach mounting locations, wifi/blue tooth connections, they do it all. I am never let down with the footage captured by the cameras, and the market is full of creative ways and products to connect the cameras to whatever you can think of.
Best Helmet Camera Out there
Familiarity:

I've put it through the wringer
This is the most versatile and best quality Helmet Camera out there. I use it for all of my adventures including skiing, fly-fishing, hiking, cliff jumping, river rafting, and longboarding. It has Incredibly High definition video quality for its size. 1080p is crystal clear! It takes pictures, videos, time lapse, timed pictures, bursts up to 25 in just a second. Go buy and GoPro!
Vacation Memories Made Easy
Familiarity:

I've put it through the wringer
Once upon a time, folks relied on a 8mm Kodak Brownie to capture family vacation memories, now all you need to do is be a hero, so to speak. The latest edition of the GoPro is remarkably powerful for both video and photos. It goes under water, on land, snow, in the air, and it's even been to the edge of outer space. It does ultra-high res, slow motion, time lapses, ultra-wide angles, can take 10 photos per second...the list goes on. Every time my sister showed me the images she was getting with it I was absolutely blown away. And let me remind you, it fits in your pocket and is practically idiot-proof.


Technically Challenged Beware
Gender:

Male

Familiarity:

I've used it several times
I have used a Go Pro 3 on several river trips with mixed results. I have many videos shot when I thought the camera was off and it was on, and then have missed the action shots.



If you are technically challenged, I would be cautious buying this camera. The images are great, but it takes some tech savvy to get your moneys worth.
Shot this video with Go Pro 3 mounted on a walking stick with a camera mount.
Awesome!
Gender:

Male

Familiarity:

I've put it through the wringer
I take this wherever I go, everything I wanted. I didn't need the black edition features, so silver is completely satisfactory. Whether it be wakeboarding, hiking, skiing, hammocking, running, or whatever, this camera covers all the bases with its lightweight, low-profile design and high-quality optics. Great battery life, too. I can go all day with just one charge.
GoPro: Across The English Channel
The skiing sucks in Japan. I dont know why we keep going back. There isnt any snow... Said no one ever.
Solid little camera!
Familiarity:

I've put it through the wringer
I received one of these as a Christmas pressie in 2013.



Things I love about the camera:



-Great in so many different action sports. I have used it Freediving, Skiing, Gliding and many others.

-Super easy to use and changing options on the fly is a breeze.

-It is a lot lighter than previous models which if mounted on a helmet made your head feel rather top heavy.

-Size is great and the smaller models are making everyone look like less of a telly tubby (which is a good thing).

-GoPros customer service.



Things I didnt like:

-The wifi broke within a few days. (It was warrantied by GoPro straight away and resolved really quickly) It is now functioning perfectly and I was assured this was a very rare event.

-Nothing else.



I really dig this camera. I probably would have bought the Black myself but I cant complain about the quality of the Silver at all. It takes great footage and is perfect for many different applications!


Fun Gift!
Familiarity:

I gave it as a gift but have feedback to share
Bought this for my boyfriend for Christmas and he LOVES it! He uses the app on his phone to sync and review videos. Having a second battery wouldn't be a bad idea as he says it doesn't last long. He also bought the chest harness and head strap just before his recent snowboarding trip and loved every bit of it.
Weak wifi, wont stay linked
Familiarity:

I've used it several times
Weak WIFI, wont stay linked to my smartphone for more than a few minutes. have to re-sync over and over. Phone is within 2 feet of camera when it losses' connection. Very disappointed. Over 400.00 and very unhappy with purchase. I did not get mine from this great company.
This is my first GoPro video that I took of my dogs and I on the Pipeline trail up Millcreek Canyon.
*Caution* Guaranteed overdose of RADness
Sometimes in life you find yourself in a moment that you never want to lose. Standing on the railing of a bridge 486 ft above the ground with only a parachute on my back. When I jump, I want to ensure that I do not miss the shot, and can archive that memory forever. Only Go Pro for me! It is built durable, waterproof, and the software is solid unlike previous models. With a $299.00 price tag for the silver you cannot lose! The 3+ hit it out of the park!
This is beyond Sick!
Familiarity:

I've used it several times
I have this camera option and it is beyond sick at how great it is! It makes my adventures all the more exciting with the ability to watch what my point of view looks like on screen. It also gives me the ability to see what I need to change with how I am approaching various areas of terrain I go to. Whether it be MTBing, Inline Speed Skating, or road biking it really gives me a crazy amount of excitement to see what I am doing throughout my adventures as I continuously get better! Get this if you want to take it to the next level!
Easy to use...
Familiarity:

I've used it several times
Just don't loose the directions. First move was fun. 2nd was a big hit at home. Well worth the money. Directions can all be down loaded off the web site if required :=)