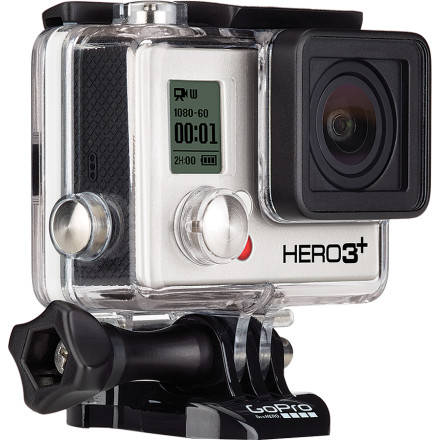 Detail Images

Community Images
Every time that GoPro launches a new generation of cameras, we're left confronting the age-old adage, how do you improve on perfection? Well, how about reducing housing size and weight by 20%, reducing distortion by 33%, speeding up Wi-Fi, a SuperView mode, and increasing battery life by 25%? We thought that would get your attention.
For the HERO3+ Black Edition - Adventure, GoPro reduced in size and weight of the camera by 20% in comparison to the old HERO3, and the camera weight was reduced by 25%. In fact, the HERO3+ tips the scales around 2.08 ounces. The camera body has retained the black backing treatment and the progressive user interface at the front. Additionally, the lighter housing boasts an impressive waterproofing, 131ft/40m.
As with the HERO3, the HERO3+ continues the use of what GoPro calls a six-element aspherical lens. What does this mean? Simply put, the lens has been designed to operate evenly across more light conditions than ever before. For the camera nerds: it's an f/2.8-6.0 lens. So, you'll experience sharper image quality whether it's blisteringly bright or the sun has nearly disappeared. The lens also allows Ultra-wide, Medium, and Narrow field of view modes, and you can operate the White Balance in either auto or manual modes (3000k, 5500k, 6500k, Cam Raw). Now, you're able to expect crystal clear resolution from sunrise to sunset. Possibly more important for your mounted shots, the lens has made huge gains in decreasing distortion. In fact, GoPro asserts that the new iteration of the HERO3 improves reduces distortion by 33%. And as an added perk, image sharpness has been enhanced by 33%, as well.
And speaking of resolution, the HERO3+ Black Edition boasts ultra-high resolution video modes of 4Kp15, 2.7Kp30, 1440p48, 1080p60, 960p100 and 720p120 fps. Basically, if you love slow-motion shots, the HERO3+ is a godsend. And did we mention that all of these rates can be run from Ultra-Wide mode? Awesome. And new to this model, GoPro has added its SuperView video mode to capture video with a more vivid wide angle perspective. Further along the lines of improvement, the HERO3+'s new Auto Low Light feature automatically adjusts the frame rate for an enhanced quality in low-light conditions.
For time lapse, the Hero3+ features seven lapse intervals ranging from 0.5 to 60 seconds. And like the HERO3, this model still mode shoots at 12 megapixels and up to 30 photos per second. You're able to select blasts of 3, 5, or 10 photos-per-second concurrently with any video mode. You also retain camera settings like looping video, continuous photo, and Protune Mode.
Not to be one sided in the improvement department, the HERO3+ also made dramatic gains in sound quality. By engineering a new wind-noise reduction system, the redesigned sound recording will capture all of the subtleties and profanities of your gnar. And now, you also have the option of recording your sound in Mono, 48kHz, and AAC compression w/AGC media formats. This means you don't have to eat up your cards' storage if ambient sound is only going to make a cameo in your edit.
The HERO3+ is not only Wi-Fi ready, but GoPro has gone to great lengths to increase its operations speed.but included for this package, at a $79.99 value, is the Wi-Fi Remote. Waterproof, wearable, and capable of controlling up to 50 HERO3+ cameras from a range of 600 feet, the Wi-Fi Remote will turn your entire filming strategy on its head. Not impressed? How about finally gaining access to the GoPro Application for your iOS or Android smartphone and tablet? With the remote and GoPro App in tow, you can both fully control any camera in your Wi-Fi range and view live scene previews.
As for the nitty gritty, the HERO3+ has the following inputs: Micro-HDMI Port, Composite A/V Adapter, USB, Micro SD, HERO Port, and a 3.5mm Stereo Mic Adapater. It's also compatible with newest Mac OS versions down to Mac OSX 10.5 and the latest Microsoft Windows version down to Vista 7.
The GoPro HERO3+ Black Edition - Adventure is available in one color and one size. Included in the package is the following: HERO3+ Black Edition Camera, 131ft/40m waterproof housing, a USB charging cable, Wi-Fi Remote, a rechargeable Li-ion battery, 1 vertical quick-release buckle, 1 quick-release buckle, 1 curved and 1 flat adhesive mount, and a three-way pivot arm. It does not include a memory card.
Please note that the HERO3+ Black Edition requires a MicroSD Class 10 or higher memory card. It can also support up to a 64GB capacity.
top of the line all around
Familiarity:

I've put it through the wringer
great picture quality, super easy to use right off and as you use it more there are great features. Taken a few bangs but still functioning great, I'm hoping my son gives it back so I can use it again sometime.
GoPro Knife Edge - AT Northern Terminus
Familiarity:

I've used it several times
The Knife Edge Trail is perhaps the most spectacular trail in New England – and also the most dangerous. Mt Katahdin's Baxter Peak is the northern terminus of the Appalachian Trail. We were 6 ½ hours into our hike of rock strewn, rugged and prolonged steepness on the Dudley trail. We finally ascended Chimney Peak to reach the start of the 1.1 mile high Knife Edge Trail. I strapped my GoPro HERO3+ Black Edition – Adventure to my chest to record our two hour breath-taking spectacular view crossing of the Knife Edge Trail. This short 1 ½ minute video is but a peek into the Knife Edge challenge. http://youtu.be/owT8n-CAHzs
high quality footage
Familiarity:

I've put it through the wringer
BIG step up from the hero2 (last helmet cam I had.) video is crystal clear, and has great image quality as well! check out this time lapse video I took of my burning man project:



https://www.youtube.com/watch?v=Vlgvg-GO898
best camera
Familiarity:

I've used it several times
Very high quality of pictures and video, it takes some time to understand how far you need to have the camera from the objective to shoot the best frame, but after that the camera is really easy to use!
GoPro
Familiarity:

I've put it through the wringer
Having Been a Professional Photographer for the past 20 years , GoPro is changing the game. Making it easy to film and photograph anything, and it's really changing the way we see action sports on film.
This edit from Patrick Romero was primarily shot with 6D and Hero 3 Black edition cameras. Watch and enjoy.
If you just want to shoot footage to watch and relive moments ...go with the silver. If you are into editing and making films ...go with the black. The black has several more resolution options and features that make it more versatile when creating edited content.



comparison chart:

http://gopro.com/product-comparison-hero3-cameras



The GoPro app is awesome and allows one to instantly view what is on their GoPro without removing the card.



Also, thumbs up for the remote.



The only reason for not getting 5 stars is that when not using app or remote, you still go through the process of " dude ...is it on? dude ...is it in camera mode?" ...etc.



Quality is amazing. For reviews stating otherwise, I would be suspect of a bad unit or an incorrect setting. The quality is really really good.
Best action cam on the market
Familiarity:

I've put it through the wringer
My first helmet camera was the Vio POV, then I picked up the original Hero HD, then got the Hero 3+ last winter and have been very happy with it. Professional quality video recording that you can mount anywhere your creativity will allow at a price most can afford.



I had thought about purchasing the Hero 3 the year before but was turned off by complaints from friends, predominantly on battery life. I feel like with the 3+ they just tweaked all the new advancements of the 3, so while nothing major was added to this model it is overall a much more efficient, reliable and user friendly device. The 25% increase in battery life was a big selling point for me and I am able to make it through my ski day without having to replace the battery so long as I'm half way decent about turning it off. I still pretty much never bother using my smartphone or the wifi remote on it, wearing gloves and being in snow I'd rather just push the button than deal with getting things in and out of my pockets. I do still find the smart phone app useful when originally positioning a mount and testing the view, and can see plenty of other applications where I would use it more often, skiing just isn't one of them. The claimed 20% size reduction only comes from a sleeker housing, the GoPro itself is still the same size. This is still an added bonus but don't be fooled into thinking the actual camera has gotten smaller. The "superview" mode is a noticeable improvement, and friends of mine that are better camera geeks than myself have recognized a significant improvement in color quality compared to the older 3 version. The mounting options are close to limitless at this point and it still feels like they continue to add more options on almost a monthly basis. Be sure to consider tethering your camera, the mounts do pop off with enough force especially in cold conditions and digging for your GoPro on a pow day is thoroughly unenjoyable.



There isn't a helmet cam I would rather use.
Taken with the time lapse mode, no editing. Mounted to the back of the board with the surf mount.
Love my GoPro!
Familiarity:

I've put it through the wringer
This camera is definitely a cool toy. It goes anywhere you can go and beyond! I've recorded some great memories with friends and family with this camera. It's small, lightweight, and very easy to use. I really love having the option of so many different mounts for versatile shooting and filming. I received this as a gift, but I think the Silver edition would have sufficed, as I am not producing full screen HD videos and I am by no means a photography or filming expert. However, I do enjoy the remote that is included. It's definitely helpful!
GoPro: Across the English Channel
GoPro HD Hero 3+ Black Edition. Trip to Paris, London, Versailles, Normandy and more
Pretty cool snorkel/freedive shot
A bike mounted underwater at Crashboat beach in Aguadilla, PR.
go-pro = NO-GO (bad investment)
Familiarity:

I've put it through the wringer
The BAD: does not consistently record, power on, or stay on; battery life is bad, even with battery backpack; glitchey (as buggy as an anthill); unreliable; does not handle extreme hot or cold very well at all (battery will be completely drained after a night of below freezing); still shots are mediocre quality; does not handle low / high light situations very well; tends to cause problems with class X memory cards (overheating?); case is easily scratched and does not handle sand well (all hardware threads / holes get packed with sand and are very difficult to clean); audio with waterproof case is terrible (anything brushing / touching the case is extremely loud); expensive accessories. Identical problems on two hero 3 black cameras with latest software updates.



The GOOD: Records great video under ideal lighting and mounting (smooth mounts / recording essential). The time lapse feature is fantastic, and probably the only reason I will keep this camera. Case has maintained waterproof qualities despite some hefty abuse on ski slopes and in slot canyons. High potential for creative mounts / angles (w/ the right accessories).



SUMMARY: just one go-pro is a NO-GO because of reliability issues / platform constraints. For the $, you're much better off investing in another camera platform w/ waterproof housing that will perform well across the board, IMO. But, if you have $ to throw away, a go-pro might be for you. Just expect it to perform like the cheap, "disposable" camera it was seemingly designed to be. You'll need a few of them if you really want to get the footage, because once it starts getting real, the NO-GOs will start dropping like flies.
Best screen shots ever!
Familiarity:

I've put it through the wringer
I have been using this camera this entire ski season. While I was switching from a Contour to this, it took me a little bit to get used to, but now, it's like second nature and super easy to use. The image quality on the GoPro compared to any other helmet camera I have personally seen is incredible. The app makes things easy to line up and make sure that you have the shot dialed before dropping in. I suggest getting a few extra batteries that are charged up and ready to replace the old when you run out in the mountains. Personally, I use the slim black case that is a lot smaller than the plastic case, but isn't water proof. For skiing, it seems to work just fine and the sound is better when you use the slim black case too. Photos with the Gopro are awesome, but I've been really digging the screen shots. Just pause the video and take a screen shot. Boom! Action packed.