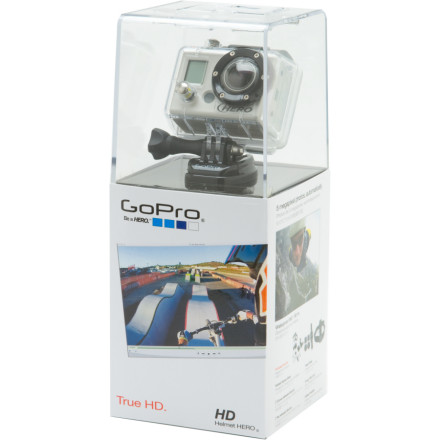 Detail Images

Community Images
If you enjoy HD quality recordings of your accomplishments, the GoPro HD Helmet HERO will make your video gnar bone tingle. Mount this cam about anywhere imaginable then send it from the highest peaks to the raddest surf around. The HD Helmet Cam records up to 2.5 hours of action on a single charge while the expandable memory of up to 32GB SD (not included) will store up to 4h 21m of 1080p quality video. GoPro videographers know that you like to play rough so they built a waterproof and shockproof housing that will protect your investment. Even if you manage to scratch up your lens or housing bad enough to impede video quality you can buy replacements at reasonable prices. If you want to create a montage of photos from your journey just set the camera to a desired time interval, hit the shutter button, and capture up to 2.5 hours of 5MP photographs on your way.
Average recording times with 32GB of memory:[1080p]4h 21min at 30fps; [960p] 5h 26min at 30fps; [720p]4h 21 min at 60fps; [720p] 8h 09min at 30fps; [WVGA] 8h 09min at 60fps
Operating system compatibility:[PC]Windows XP(service pack 2 or later) or Vista; [Mac] OSX 10.4.11 and later
Battery is a rechargeable 1100 mAh lithium-ion with a life of approx 2.5 hours that can be charge in 2 hours through USB connection- Optional power adapter charges to 80% in an hour
Waterproof Camera housing composed of stainless steel and polycarbonate- Rated up to 60 meters
Camera weight:[Without housing] 3.3oz (94g); [With housing] 5.9oz (167g)
Still photo resolution is 5MP with single shot, photo every 2, 5, 10, 30, or 60 secs, 3 photo burst, or self-timer capture modes
Included with your camera: 1 rechargeable battery, 1 waterproof quick-release housing, 1 headlamp-style head strap, 1 vented helmet strap, 2 curved 3M adhesive mounts, 2 flat 3M adhesive mounts, 1 three-way pivoting side arm assembly, 2 quick-release buckles, 1 USB cable, 1 component(HDTV) cable, 1 composite+audio out cable
SD memory card is not included with camera and can be purchased at your local electronics store
Very versatile its easy to use and compact, buy it!
This camera is bomb proof. Water, sand, snow, and dummy proof. Cant miss a shoot with the mega wide lens. Great picture quality, 1080p makes you look pro. Tested in 18 degrees mountain conditions. Took it off the high dive at the local pool. Comes with a none water proof back door, allows camera to pick up more sound. Making this camera great for every day life recorder.
This camera works for anything. the picture is amazingly clear, it will easily atach to almost anything, so you can get some really interesting shots. i personally like the pole cam angle, because with the wide angle lense it totally puts you in the action, instead of just a close up of you. the beeping noises are super helpful when you are turning it on and pressing record, because you dont have to take your helmet off to see if its recording. It works in most light conditions, from extremely bright to kinda dark. i bought this after i realised that the oregan scientific mounts dont sell replacements, and so i would have had to buy a new camera because one little piece of plastic didnt work. im super stoked about this camera, you should deffinatly buy it!
THIS IS THE BEST CAMERA IN THE WORLD FOR THE MONEY YOU SPEND ON IT. I WOULD RECOMMEND IT TO ALL. STOP WHAT YOU ARE DOING RIGHT NOW AND BUY THIS CAMERA!!!!
Unanswered Question
I found this Gopro HD helmet cam with 2...
I found this Gopro HD helmet cam with 2 different Part/Manufacturer looks like the same camera. What is the differences between them? Here are the Part# GOP0016 vs. CHDHH-001. Thanks
does the go-pro camera have a display...
does the go-pro camera have a display screen on it to review footage?
No, but you can buy the BacPac and that provides that capability. Otherwise, you have no idea until you hook it up to the computer.
whats best go pro for snowboarding and...
whats best go pro for snowboarding and what would i all need for it?
FIRST GET THE HELMET CAM THEN PLAY WITH IT TO SEE ALL THE SETTINGS, THEN HAVE FUN AND SHRED.
Unanswered Question
does anyone think the 960p go pro be good...
does anyone think the 960p go pro be good for snowboading
Diff?rence beteen h2 ant ont h2
Différence beteen h2 ant ont h2
Get Backcountry $20 Discount Code(More than $50 Order),Get in: http://www.eoutdoor.tk
Is it worth the money to upgrade to the...
Is it worth the money to upgrade to the full hero instead of just buying the 179.99 version? I think the LCD backpack would be a nice thing, But is it worht the extra money?
whats the difference between the helmet...
whats the difference between the helmet hero and the hero 960?
Im pretty sure its just the capabilities of the camera.
The 960 cant do the really top end quality stuff that the Hero can e.g. can't record at 60 fps at 1080p.
Basically, its the little brother. Still good, but not as complete a camera.
On you helmet on youe bike or on the fire at work...it is cool
You'll be glad you did. Small, affordable, unbelievable quality. All the post work to edit/play with your clips is super easy. Go Pro!
I gave this Helmet Camera 4 stars because it is the best helmet camera on the market right now as far as I am concerned. It is not, however, the best potential camera that GoPro could make.

It has better quality footage than any other helmet camera, but its not that durable (I have broken 3), the way they let you mount it all take way too long to set up, they need to make the case close more securely. They should make the sensor larger, they should make the body a perfect square instead of a rectangle (that way you can set it up on the side or on top of your helmet easier). They should put bluetooth in it so that you can stream video to your phone (rather than use a gimmicky LCD screen attached to the back). They should give it 60fps 1080p and 960p video (so that we dont' have to use 720p just to get decent footage).