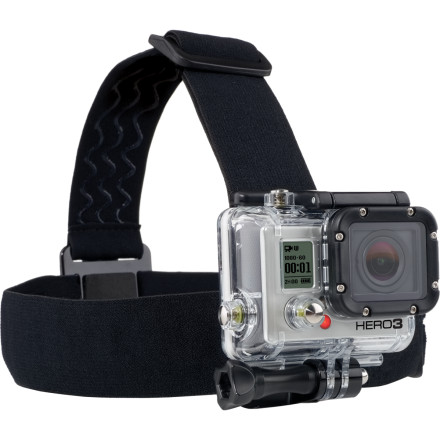 Capture a perfect day of making fresh tracks with the fully adjustable GoPro Head Strap Mount. The mount is compatible with all GoPro cameras, and the nylon straps adjust for a snug fit on every head size.
Fully adjustable straps fit every head size

Not recommended for high-impact activities

Dizzy videos
Familiarity:

I've put it through the wringer
Stability is a must when shooting and this thing does not perform well in that catergory... thithing moves all over the place even on my huge full face ! Not reccommended
Not my favorite.
Familiarity:

I've put it through the wringer
In theory this is a great accessory, except that the first time you watch the video you realize just how much you move your head! Difficult to keep steady and doesn't provide the greatest shots.
Used this to mount it to our dog
The first part of this video and again a few seconds into it is with it around Deso's chest and hanging the go pro off to his side. This was one of my first videos so its pretty shaky.
the only time I've really used this was for "mounting" a go pro on the dog. It bounces around if you are doing anything active but I can see it being very good for scuba and snorkeling.
Great, took it diving and snorkeling to Jamaica and it did a great job at capturing the reef. Stayed in place and totally functional.
Doesn't stay on in fast motion
The mount will slide off your head in fast bouncing motions unless you tighten it soo much that it starts to hurt. It's produces good shots overall though.
Don't mind looking a little foolish?
I wear this when I swim, drive, and sometimes when I just walk around and want to record my life. I get some double takes but whatever. I wouldn't recommend doing any crazy bouncing activities like mountain biking, it gets pretty shaky on the head. But for day to day capturing its a fun view.
does this fit on a ski helmet?
does this fit on a ski helmet?
Yes, but it isn't super secure. I would highly recommend going for the helmet mount.
I second Mark on that- definatly better to get a helmet mount and use a short cordage to tether it to your helmet as a backup.