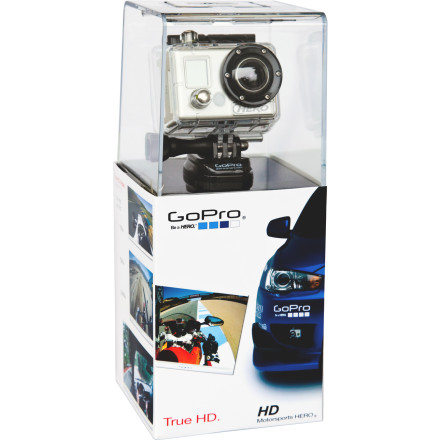 Capture the very best of your moto, auto, or sled-neck shredding in full-HD video with the GoPro HD Motorsports HERO camera and its included mounting options and hardware. Play back the pro-quality, 1080p HD video on your computer and watch your recorded moto-madness unfold from the camera's point of view. And whether you decided to mount it on your helmet, handlebars, gas tank, or hand glider, the Motorsports HERO will reward your efforts with mind-blowing images of your exploits. The rechargeable lithium-ion battery lasts up to 2.5 hours in record mode, and with a 32GB SD card (sold separately) you can store over four hours of 1080p HD video (over 8hr in 720p). Other recording options include a 60fps setting (960p, 720p, or WVGA) for amazing slow-motion shots and an ultra-wide-angle setting for 170-degree views, which will make huge freestyle jumps look even bigger. Included mounts allow you to outfit two helmets and three vehicles, and, with the suction-cup adapter, you can mount the camera to any flat spot you find.
Camera also takes 5-megapixel still images and can be set to different sequences, including: single-shot mode, three-photo bursts, delayed timer, and one shot every 2, 5, 10, 30, or 60 seconds (for up to 2.5 hours straight)
Recording times with 32GB of memory: [1080p] 4h 21min at 30fps; [960p] 5h 26min at 30fps; [720p] 4h 21 min at 60fps; [720p] 8h 09min at 30fps; [WVGA] 8h 09min at 60fps
Software is compatible with Windows XP (Service Pack 2 or later), Vista, Windows 7, and Mac OS X 10.411 (and later)
Lithium-ion 1,100-mAh battery lasts 2.5 hours in record mode and fully charges in two hours with USB cable or up to 80% in an hour with a wall-charger or cigarette-lighter charger (sold-separately); the camera also charges and records simultaneously
Camera features a battery warmer to keep the camera charged and working longer while shooting winter sports
Quick-release polycarbonate housing resists big falls and is rated up to 60m waterproof, which means you can surf or wakeboard with it
Included in package: HD Hero Camera, battery, housing, 2 curved 3M adhesive mount (for helmets), 3 flat 3M adhesive mounts, 2 quick-release buckles, 1 vertical surface 'J-hook' buckle, 1 suction cup mount, 1 three-way pivoting side arm assembly, 1 USB 2.0 cable, 1 component video (HDTV) cable, and 1 composite video + audio out cable
SD Card NOT included, but needed to record
Best Sports Camera for the price
I don't have any complaints about this camera. I have no problem at all with it. It mounts perfectly on my Bern Baker helmet. I actually forget that its on there after some time. The best part of the camera is the's flexibility when it comes to expansions. Other cameras don't have the ability to take on add-ons such as the Battery BacPac, the 3D pac, and the LCD BacPac. There is no doubt in my mind that there will be many more to come. The sound quality is great. I have taken it on my motorcycle. Even with the wind, you can still hear the exhaust and you can hear me talk to others while at a stop.
anyone know if the three way pivoting side...
anyone know if the three way pivoting side arm assembly included here is the same as buying a helmet front mount seperately?
Here is what´s includes in the Motorsports Hero package of Go Pro, according to their Web Site.
1 HD HERO Camera (5 megapixel)
1 Rechargable 1100 mAh Lithium-Ion Battery
1 Waterproof Quick-Release Housing (180'/60 m)
3 Flat, 3M™ Adhesive Mounts
2 Curved, 3M™ Adhesive Mounts
2 Quick-Release Buckles
1 Vertical Surface "J-Hook" Buckle
1 Suction Cup Mount
1 Three-Way Pivoting Side Arm Assembly
1 USB Cable
1 Component Video (HDTV) Cable
1 Composite Video + Audio Out Cable
Warranty: One Year
This is an amazing piece of kit..... I purchased 2 from Hucknroll, 1 for a mate and 1 for myself. We are heading of to NZ tomorrow with our Moto kits and Chest mounts... Should be great. Have all ready taken a heap of footage at the local DH track. Love the Wide angle shots and quality. Get the Chest mount and spare battery, you wont regret it. I have had nothing but amazing service from Chris and the team. Cheers Blokes.
I've had this camera for about a year now, and I love it. Used it on everything dirt bikes, cars, climbing helmets skiing helmets etc. It's taken a bunch of hard hits with no problems it shoots great vid and has lots of cool options to shoot stills too.

http://vimeo.com/crofrog/videos
I got this set for snowboarding since I thought the j-hook mount would work like the helmet front mount...but it doesn't. So I ended up ordering the front mount anyways. I guess I should have gotten the regular set to get the head strap, but oh well. Before ordering look hard at the different mounts to figure out which you will need. The camera is the same in all sets.
The footage looks amazing. I'm currently editing my first vid and that is taking a long time. Editing HD clips sucks!
I also really like the housing. It's so nice to be able to use it in a heavy snowstorm and not worry about the camera.
GoPro climbing sequence starting at :40 seconds
I've used the HERO HD as my go to POV camera this year because of its wide lens angle, 1080HD resolution, durability, easy cheap SD media and mounting options. I've tried every other small POV on the market and the GoPro is my favorite.
GoPro HD Motosports HERO camera: Formula Car Clip