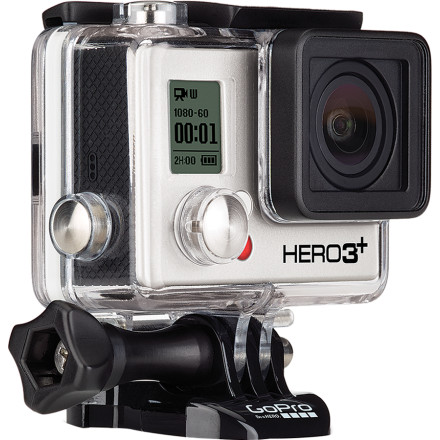 Detail Images

Community Images
Admittedly, the jump from the GoPro HERO2 to the HERO3 was so revolutionary that even we have a hard time predicting what could be up the HERO3+ Black Edition - Surf's sleeve. Well, the secret is out. GoPro focused on reducing housing size and weight by 20%, reducing distortion by 33%, speeding up Wi-Fi, a SuperView mode, and increasing battery life by 25%? We thought that would get your attention.
For the HERO3+ Black Edition, GoPro reduced in size and weight of the camera by 20% in comparison to the old HERO3. by 30%, and the camera weight was reduced by 25%. In fact, the HERO3+ tips the scales around 2.08 ounces. The camera body has retained the black backing treatment and the progressive user interface at the front. Additionally, the lighter housing boasts an impressive waterproofing, 131ft/40m.
As with the HERO3, the HERO3+ continues the use of what GoPro calls a six-element aspherical lens. What does this mean? Simply put, the lens has been designed to operate evenly across more light conditions than ever before. For the camera nerds: it's an f/2.8-6.0 lens. So, you'll experience sharper image quality whether it's blisteringly bright or the sun has nearly disappeared. The lens also allows Ultra-wide, Medium, and Narrow field of view modes, and you can operate the White Balance in either auto or manual modes (3000k, 5500k, 6500k, Cam Raw). Now, you're able to expect crystal clear resolution from sunrise to sunset. Possibly more important for your mounted shots, the lens has made huge gains in decreasing distortion. In fact, GoPro asserts that the new iteration of the HERO3 improves reduces distortion by 33%. And as an added perk, image sharpness has been enhanced by 33%, as well.
And speaking of resolution, the HERO3+ Black Edition boasts ultra-high resolution video modes of 4Kp15, 2.7Kp30, 1440p48, 1080p60, 960p100 and 720p120 fps. Basically, if you love slow-motion shots, the HERO3+ is a godsend. And did we mention that all of these rates can be run from Ultra-Wide mode? Awesome. And new to this model, GoPro has added its SuperView video mode to capture video with a more vivid wide angle perspective. Further along the lines of improvement, the HERO3+'s new Auto Low Light feature automatically adjusts the frame rate for an enhanced quality in low-light conditions.
For time lapse, the Hero3+ features seven lapse intervals ranging from 0.5 to 60 seconds. And like the HERO3, this model still mode shoots at 12 megapixels and up to 30 photos per second. You're able to select blasts of 3, 5, or 10 photos-per-second concurrently with any video mode. You also retain camera settings like looping video, continuous photo, and Protune Mode.
Not to be one sided in the improvement department, the HERO3+ also made dramatic gains in sound quality. By engineering a new wind-noise reduction system, the redesigned sound recording will capture all of the subtleties and profanities of your gnar. And now, you also have the option of recording your sound in Mono, 48kHz, and AAC compression w/AGC media formats. This means you don't have to eat up your cards' storage if ambient sound is only going to make a cameo in your edit.
The HERO3+ is not only Wi-Fi ready, but GoPro has gone to great lengths to increase its operations speed.but included for this package, at a $79.99 value, is the Wi-Fi Remote. Waterproof, wearable, and capable of controlling up to 50 HERO3+ cameras from a range of 600 feet, the Wi-Fi Remote will turn your entire filming strategy on its head. Not impressed? How about finally gaining access to the GoPro Application for your iOS or Android smartphone and tablet? With the remote and GoPro App in tow, you can both fully control any camera in your Wi-Fi range and view live scene previews.
As for the nitty gritty, the HERO3+ has the following inputs: Micro-HDMI Port, Composite A/V Adapter, USB, Micro SD, HERO Port, and a 3.5mm Stereo Mic Adapater. It's also compatible with newest Mac OS versions down to Mac OSX 10.5 and the latest Microsoft Windows version down to Vista 7.
The GoPro HERO3+ Black Edition - Surf is available in one color and one size. Included in the package is the following: HERO3+ Black Edition Camera, 131ft/40m waterproof housing, a USB charging cable, Wi-Fi Remote, a rechargeable Li-ion battery, a surfboard mount and camera tethers, 1 vertical quick-release buckle, 1 quick-release buckle, 1 curved and 1 flat adhesive mount, and a three-way pivot arm. It does not include a memory card.
Please note that the HERO3+ Black Edition requires a MicroSD Class 10 or higher memory card. It can also support up to a 64GB capacity.
Awesome
Familiarity:

I've put it through the wringer
This thing is incredible. The price may seem steep at first glance, but if you consider the insane quality of photo and video it can capture and it's ridiculously small size it's a great value. The iphone app makes it super easy to actually put your footage to use on your favorite social media platforms as well, which is a great touch. Gone are the days of capturing tons of photos and videos, just to have them sit on your memory card and go nowhere. You can easily shoot a sweet picture/video and have it up on instagram in minutes. I use it for surfing, skiing, biking, traveling, and any other random activities I can find and it has been great to have.
Can some body confirm if the only difference...
Can some body confirm if the only difference between the surf and the adventure is a surfboard mount and camera tethers? or is something else that I should consider.
Best Answer
You're correct, the only difference between the surf and the adventure editions are the mounts and accessories that they come with. The camera is the same.
The angle on 30 shot multiburst is wide enough that I can just hold it in my hand. It's somewhat difficult to get my entire body in the frame, but it can be done.
They've done it again!
Gender:

Male

Familiarity:

I've put it through the wringer
Each time GoPro releases a new camera, it blows my mind how incredible it is. While it's not necessarily part of the camera itself, my favorite thing about it is the GoPro App. Before the app I used to dread uploading shots to my computer, for them to ultimately sit there and never go anywhere. Now, I can browse them on my phone and select exactly which shots I want to keep. Within minutes I've saved it to my phone and emailed it to myself or posted it on Instragram, FB, Backcountry.com, etc. It's the convenience that allows me to get more out of this camera.

And the shots are incredible, it's damn near indestructible and you can keep it in your pocket. I can't wait to travel with this camera. I'm always nervous to carry a digital SLR, camera bag, lenses, etc. on adventures to less developed places, so ultimately the camera stays at home. I'm confident I can capture the experience of a badass trip with this thing without letting it out of my sight. When necessary, I can put it in my pocket and go surfing. No more leaving the camera on the beach with that unfortunate volunteer to watch after it.

And since there's a mount for everything, I might as well just attach it to whatever I happen to be riding.
What's different about this camera?
Found this very detailed video comparing all the features of the new HERO3+ Black Edition with the previous model.



If you are wondering what the new features are or if you should upgrade, this video explains it all!