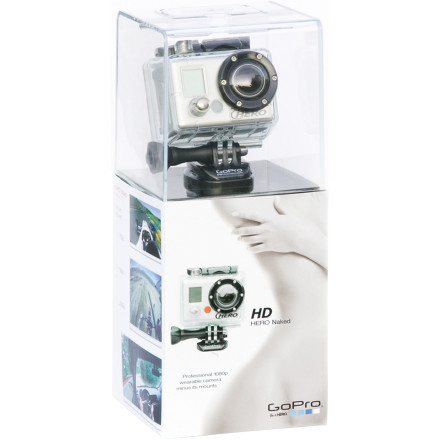 Strap on the GoPro HD Hero Naked 5 megapixel camera and document your gravity- or gasoline-influenced rowdiness in full HD video. This package includes the pro-favorite HD Hero Camera, a water- and crash-proof housing, a rechargeable 1,100-mAh lithium-ion battery, all essential cables, and an adhesive mount for your helmet. With the battery fully charged, you can record up to 2.5 hours of pro-quality video, and with a 32GB SD card (sold separately), you can store over four hours of 1080p video (over eight hours in 720p). The 60fps setting (960p, 720p, or WVGA) allows incredible slow-motion sequences, and the ultra-wide-angle setting captures 170-degree views of your high-speed insanity. The unmatched HD video, super-burly construction, inexpensive replacement parts, and readily available mounting accessories have made the HD Hero the go-to camera for many pro athletes.
Camera also takes 5-megapixel still images and can be set to different sequences, including: single-shot mode, three-photo bursts, delayed timer, and one shot every 2, 5, 10, 30, or 60 seconds (for up to 2.5 hours straight)
Recording times with 32GB of memory: [1080p] 4h 21min at 30fps; [960p] 5h 26min at 30fps; [720p] 4h 21 min at 60fps; [720p] 8h 09min at 30fps; [WVGA] 8h 09min at 60fps
Software is compatible with Windows XP (Service Pack 2 or later), Vista, Windows 7, and Mac OS X 10.411 (and later versions)
Lithium-ion battery lasts 2.5 hours in record mode and fully charges in two hours with USB cable or up to 80% in an hour with a wall-charger (sold-separately)—the camera can continue recording images as the battery is charging
Camera features a battery warmer to keep the camera charged and working longer while shooting winter sports
Quick-release polycarbonate housing resists big falls and has a 60m waterproof rating, which means you can surf with it
Included in package: HD Hero Camera, battery, housing, 1 curved 3M adhesive mount (for helmets), 1 quick-release buckle, 1 USB 2.0 cable, 1 component video (HDTV) cable, and 1 composite video + audio out cable
SD Card NOT included, but needed to start recording
Share your thoughts
What do you think of the
GoPro
HD HERO Naked
? Share a...