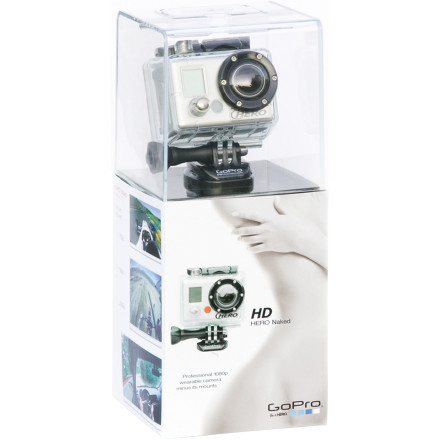 Strap on the GoPro HD Hero Naked 5 megapixel camera and document your gravity- or gasoline-influenced rowdiness in full HD video. This package includes the pro-favorite HD Hero Camera, a water- and crash-proof housing, a rechargeable 1,100-mAh lithium-ion battery, all essential cables, and an adhesive mount for your helmet. With the battery fully charged, you can record up to 2.5 hours of pro-quality video, and with a 32GB SD card (sold separately), you can store over four hours of 1080p video (over eight hours in 720p). The 60fps setting (960p, 720p, or WVGA) allows incredible slow-motion sequences, and the ultra-wide-angle setting captures 170-degree views of your high-speed insanity. The unmatched HD video, super-burly construction, inexpensive replacement parts, and readily available mounting accessories have made the HD Hero the go-to camera for many pro athletes.
Camera also takes 5-megapixel still images and can be set to different sequences, including: single-shot mode, three-photo bursts, delayed timer, and one shot every 2, 5, 10, 30, or 60 seconds (for up to 2.5 hours straight)
Recording times with 32GB of memory: [1080p] 4h 21min at 30fps; [960p] 5h 26min at 30fps; [720p] 4h 21 min at 60fps; [720p] 8h 09min at 30fps; [WVGA] 8h 09min at 60fps
Software is compatible with Windows XP (Service Pack 2 or later), Vista, Windows 7, and Mac OS X 10.411 (and later versions)
Lithium-ion battery lasts 2.5 hours in record mode and fully charges in two hours with USB cable or up to 80% in an hour with a wall-charger (sold-separately)—the camera can continue recording images as the battery is charging
Camera features a battery warmer to keep the camera charged and working longer while shooting winter sports
Quick-release polycarbonate housing resists big falls and has a 60m waterproof rating, which means you can surf with it
Included in package: HD Hero Camera, battery, housing, 1 curved 3M adhesive mount (for helmets), 1 quick-release buckle, 1 USB 2.0 cable, 1 component video (HDTV) cable, and 1 composite video + audio out cable
SD Card NOT included, but needed to start recording
I use it for surfing, bodyboarding, and snowboarding. Its simple to use once you get the hang of it but definitely read the manual. Buy the naked version if you dont need a bunch of accessories that the other ones come with. you can always buy the accessories you need as you go.
GREAT VIDEO AND PICTURES! This machine is incredible. Takes great video and pictures under water. Even with the water proof case this camera picks up great audio! I use it for skydiving and just daily life. No complaints. Recommend the LCD backpack with this product.
Six Flags Discovery Kingdom - Medusa
Front seat on Medusa @ Six Flags Discovery Kingdom in Vallejo, California.
These GO PRO Cameras are so cool for so many uses. You can use them for all your great outdoor adventures!
Records everything in HD and makes you feel like you were there since you can mount it any were!
This is one of the coolest and funnest camera I have ever had. Great quality, part are durable and over all its a great purchase. However, you wont save any money with this camera. Spend few more bucks and get the one with more accessories.
This camera is a great buy. My son has used it for snowboarding. The chest mount harness doesn't work the best for snowboarders, because you would only get a side view. The helmet mount was a better fit. However, the camera did not hold with original adhesive but was reinforced with a stronger adhesive and hasn't fallen off.
The editing of photos and videos on your computer are straight forward. You can easily publish to YouTube and take frame shots. Not a lot of voice recording is captured, but the pictures are great. Captures pictures that I wouldn't normally get.
i love this camera. haven't had the chance to take it underwater yet, but made several trips to mountains to use it in the snow and haven't had a single complaint. love the easy to use functionality of it. when using the waterproof case, it has a hard time recording sound, but this should be expected as it's sealed inside of a plastic shell. can't wait to get out there and get some more sweet footage from the angles that would otherwise be impossible to capture.
Get some with the GoPro HD
The go pro is small, light weight, and takes amazing quality footage. It also functions as a time lapse camera. The battery life is very impressive and for almost $24 you can have an affordable spare. I'm really stoked on this tiny little camera I have had other POV cameras in the past but nothing as good as the go pro. The chest mount is a must have if you skiing.