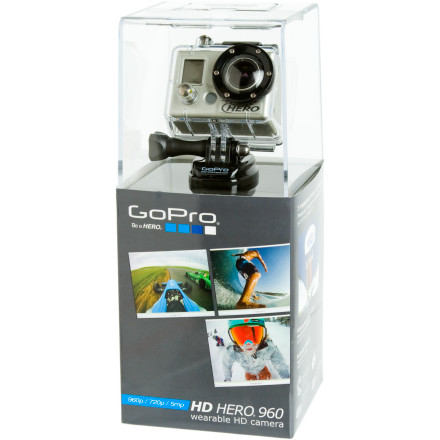 Detail Images

Community Images
Obtain evidence to prove to your friends back east that face-deep powder really does exist when you attach the GoPro HD Hero 960 to your helmet and record your mythically epic runs through storm snow. With this camera package you get the HD Hero 960, a rechargeable 1,100-mAh lithium-ion battery, a water- and crash-proof housing, hardware for several mounting options, as well as the necessary cables to upload the footage to your computer. No matter what sport you decide to record, the professional-grade 960p video shows your skills with its ultra-wide 170-degree view so your fans can see what you see while you're weaving through the trees. In record mode, the Hero 960 runs up to 2.5 hours with the battery fully charged, but with a 32GB SD card (sold separately) the camera stores up to 5h 26m of 960p video.
Camera also takes 5-megapixel still images and can be set to different sequences, including: single-shot mode, three-photo bursts, delayed timer, and one shot every 2, 5, 10, 30, or 60 seconds (for up to 2.5 hours straight)
Recording times with 32GB of memory: [960p] 5h 26min at 30fps; [720p] 8h 09min at 30fps; [WVGA] 8h 09min at 60fps
Software is compatible with Windows XP (Service Pack 2 or later), Vista, Windows 7, and Mac OS X 10.411 (and later)
Lithium-ion battery lasts 2.5 hours in record mode and fully charges in two hours with USB cable or up to 80% in an hour with a wall-charger or cigarette-lighter charger (sold-separately), the camera also charges and records simultaneously
Camera features a battery warmer to keep the camera charged and working longer while shooting winter sports
Quick-release polycarbonate housing resists big falls and is rated up to 60m waterproof, which means you can surf with it
Included in package: HD Hero 960 Camera, battery, housing, 1 curved 3M adhesive mount (for helmets), 1 flat 3M adhesive mount, 1 helmet front mount, 1 headlamp-style head strap, 1 quick-release buckle, 1 USB 2.0 cable, 1 component video (HDTV) cable, and 1 composite video + audio out cable
SD Card NOT included, but needed to record
Clear picture, good sound recording and simple. Love it!
Great video and the sound quality isn't bad either. Great investment!
This little camera is probably the best investment ever. be recording all my enduros and they have came out excellent now taking it to vegas for a ride from hidden valley to primm on a ktm 525
So the 960 is great! Comes with a bunch of accessories, and I think the as far as quality goes, you really don't loose much with the 960. Its a great way to save some money on a GoPro!
Unanswered Question
is there anyone out there willing to sponsor...
is there anyone out there willing to sponsor me with a go pro camera this snowboarding season? Im a surfer, snowboarder, skater and I charge hard like no other, jus need to get it on film. please. anyone?
Whats the difference between this and the...
Whats the difference between this and the helmet hero?
Helmet Hero can do 1080 HD, this just goes to 960.
One major difference is Helmet Hero records in 60 fps in 720p, 960 only in 30 fps. However you need pretty high-end software Adobe Premiere to take advantage of that. Apparently most free movie makers will downgrade it to 30 fps anyway.
Unanswered Question
can I get still photo from the video??
can I get still photo from the video??
its a very nice camera for sport i love it !!!!
I have used a few helmet cams so far and this is the best.Great video reasonable sound quality. This thing is so versatile you can use it for any thing. This is a great cam.
this camera is the best skiers and boarders helmet unmatched sound quality so when your zooming down the hill you dont hear crap and then add this with the new lcd bacpac and you can watch all ur vidz on the hill with sound.
Unanswered Question
How would this work for recording trail...
How would this work for recording trail running or would there be too much shaking?
Parker Busch 12, Back Flip at Mt. Hood
Parker Throwing his first back flip at age 12. Nice sunny day at Timberline Mt. Hood
Timberline Mt. Hood Oregon
Riding the Park on Mt. Hood
Has anyone used this on their helmet for...
Has anyone used this on their helmet for dirtbiking/motocross???
Best Answer
I've used the hero HD in 960P resolution allot. Check out my vimeo page.
http://vimeo.com/crofrog/videos
This is an amazing camera with amazing HD!!! Worth every penny!! Next I'm going to buy the GoPro HD Helmet HERO though, just for a tad bit better quality. This is still by far my favorite camera in the world though!