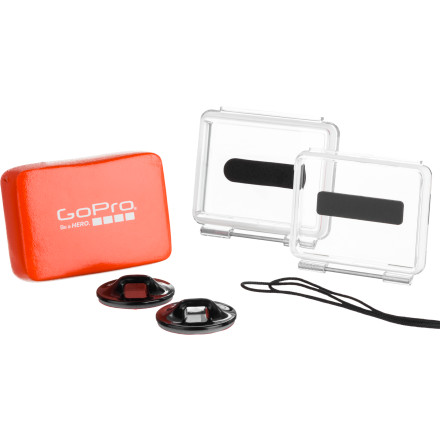 Colors

Community Images
Description
Make sure your camera's not swimming with the fishes.
When a nasty wipeout knocks your GoPro Hero free, you'd much rather find it bobbing on top of the water than have it sink beneath the waves to Davy Jones' locker. Just peel and stick the buoyant, high-visibility GoPro Floaty Backdoor to your GoPro's housing, and you'll have a much better shot at retrieving your GoPro Hero camera.
Includes spare waterhousing backdoor
Not recommended for suction mounts
Works - if u attach it to the right door
Familiarity:

I've used it once or twice and have initial impressions
I just bought my first GoPro (Hero 4 Silver) in preparation for a surf trip this summer, and ordered the floaty back door along with the camera. I had never owned a GoPro or a floaty back door before, but the instructions seemed simple enough: peel back the sticky, firmly press against back door, attach back door to GoPro, done. Once I had successfully attached the floaty back door, I attached the back door to the GoPro, only to discover that the door was too big. Due to my own lack of knowledge about GoPro's, the earlier versions were slightly larger than the Hero4, and the package came with 2 doors, one for the older, larger models and one for the newer, smaller ones. And unfortunately, once you've stuck the floaty on, it's done. There's only one floaty in the package and there's no re-using it. So I had to drop another $20 for a second floaty. When my second one showed up I didn't make the same mistake. Wish the instructions would have mentioned the different door sizes.

The other thing I will mention is placement of the floaty on the back door. If you are planning to mount your GoPro to a surfboard, be sure not to mount the floaty higher up toward the top of the back door. The lower you mount it, the less you will be able to angle the camera upward from your board as the floaty will prevent it from going higher. Again, a heads up I wish would have been mentioned in the instructions.

So, long story short, it does a great job of keeping your camera afloat. But there's a good chance you might make a mistake that makes your GoPro/floaty rather unusable if you don't read my review or think through these issues ahead of time.
Dose it can be floated the gopro with 3-way grip ?
This has enough buoyancy to float the camera only, if there is a grip attached then it is not guaranteed to float. I would recommend looking at using the Handler Floating Grip for use in/around water.
Unanswered Question
Dose it can be floated the gopro with 3-way grip ?
Great
Familiarity:

I've put it through the wringer
I used this everyday over a week while I was in Hawaii. It keeps the GoPro afloat easily and if you use the loops to attach it to your wrist you can let go of the body and swim around without fearing for its loss.

I also feel like the bright orange color would come in handy in spotting the GoPro if you ever did lose track of it in the water somewhere. Just pop your head over the water and look for a bright orange cube floating around.
Piece of Mind
Familiarity:

I've used it several times
This is a great option for a GoPro to keep it safe when near water.I picked this up for snorkeling near Key West. This and a floaty hand hold gave me that extra piece of mind that I'd be able to find my GoPro if I dropped it. I tested it out and it kept my camera afloat. Since Key West I've also taken it to the Yuba River in California and jumped of rocks into the river. The Floaty Backdoor held fast to the case even after multiple jumps into the water. It works and its bright. Its nice to know I wont lose my camera.
Added confidence
Familiarity:

I've used it several times
A great confidence booster when using your Go Pro in any water scenario. Protect your investment and put a floaty on just in case the camera was to become detached from you. Better to have it visible and floating on top...
A Floaty can save a GoPro
If you are in the water a lot with your GoPro you are going to need a Floaty. Once you attack the Floaty to your GoPro Housing you will not be able to get it off, so it's nice to dedicate a Backdoor to your Floaty. I have been on the water so many times and my GoPro popped off and every time I have been able to recover the camera because of this Floaty.
Is the floaty backdoor compatible with the...
Is the floaty backdoor compatible with the gopro hero 2?
Hey Shawn,



This will work well with your Hero 2.
Have used this for scuba diving 20+times
Familiarity:

I've put it through the wringer
I have my gopro tied onto my BC when I dive; however, I'm sometimes worried about it falling off when I enter the water or when I'm just moving around in general. This lets me breathe easy (no pun intended) that at the very least maybe someone on the dive boat will notice the gopro floating around. At least its not at the bottom of the ocean. When using your gopro underwater, make sure to snag a moisture muncher to ensure the camera lens does not fog up. This is a must have for anyone who white water rafts or does any water based action sport with their GoPro.