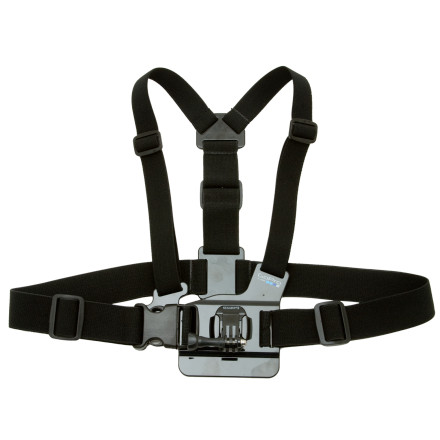 Detail Images
The GoPro Chest Mount Harness allows you to capture that elusive view of the action from behind the handlebars. If that's what you're after, mounting your GoPro on your head just won't do. It's made of wide, stretchy webbing with sliding strap adjusters to accommodate anyone from petite to sasquatch-sized. The GoPro HD Hero Camera attaches directly to a mount on the sternum and has up/down adjustability.
Share your thoughts
What do you think of the
GoPro
Chest Mount Harness
? Share a...
Get the shot!
Familiarity:

I've used it several times
The "chestie" as many people refer to it as, is one of the key accessories you should have for your GoPro. Mounting the GoPro to your chest provides a nice point of view for your footage. I like the chest mount more than a helmet mount because when it's on your helmet you have to be very particular of where you are looking so that you get the footage you want. The chest mount keeps the footage in the action spot, either always viewing your bike, skis, board, whatever you're filming. I would recommend this accessory to anybody who wants quality GoPro footage to share with their buddies!
Good for skiing and biking
Familiarity:

I've used it several times
Great option for skiing and mountain biking shots. The video is much less choppy than being on your helmet. That being said, you tend to get less of the surroundings in your shot and more of just what's straight ahead. The straps are easy to adjust and very secure once you sinch them down a bit. Comfy over a ski jacket, although it can feel a bit bulky if you've got several layers on underneath
Does what it's supposed to do.
I like wearing this better than having a helmet cam while mountain biking. I've banged my camera on a tree before riding tight narrow single track - totally sucked. Chest mounts are more discrete, out of the way, and you get the cool view of your handle bars! Just remember to wear them high if you ride downhill since you're leaning back hunching over a bit. Only downfall..... why are all gopro mounts so expensive?!
skiing
Familiarity:

I've put it through the wringer
used it for 7 straight days while skiing. i loved it. above a ski jacket you dont notice you have it on, and it fits seemlessly between a jacket and a backpack. one clip to take it on and off, and easy to screw/unscrew the camera with gloves on (so you can watch your last run on the next lift ride up, of course...). very happy i got this instead of using the helmet mount (which is actually incl when u buy the camera)
Pretty cool
Familiarity:

I've used it several times
This thing is fun to play around with. I've taken it biking, running and done some other menial things with it and the images I get from it come out pretty cool!
Very solid piece of gear
Familiarity:

I've used it several times
I mount my GoPro on my climbing and skiing helmets, but my wife wanted Chesty for Valentines Day for skiing. It's very solidly made and for her, captures her hand and ski position throughout each video. She loves it.
I'll stick with the helmet mount--I'm not so tall that the extra few inches makes me hit things, plus Chesty made me sweat my butt off by compressing all my clothing tight to my body. That's a good thing for her (always cold) but not me (always sweaty). Probably worth considering if you run hot like I do.
Great Buy
Familiarity:

I've put it through the wringer
I've used this for biking, skiing, and trail running, though the best use so far has been downhill biking. I've had the Chesty since my first GoPro and its still holding up. I do find that its somewhat difficult to get it to tighten enough when skiing harder snow, which results in a lot of vibration (even with the shock mount). Add some different perspective to your POV footage!
The Chestie was one of the first mounts I really started to like using. Because of it's low-profile look and the stability it brings, it's one of my go-to mounts while skiing.
Best bike POV
Familiarity:

I've put it through the wringer
In order to make a GoPro POV shot really work on a bike, you need something in frame for perspective. With this mount, you see the bike, the bars, your arms and hands, plus everything that's going on in the frame. Its one of my favorite and most dynamic GoPro mounts.
Chesty is my favorite mount for MTB
The Chesty is by far my favorite GoPro mount for cycling, especially mountain biking. This was a shot of Miracle Mile in Big Bear.
TIP: You can wear the chesty backwards to capture your friends smiles on the bike behind you! Awesome footage when the chesty is mounted on your back!
Lake Guntersville, AL
Using the Chest Strap
I take it everywhere
Familiarity:

I've used it several times
It fits me nice and snug, that's a good thing! I love the view it gives, just like a fps video game.
Unique POV
Familiarity:

I've put it through the wringer
Got this as a gift a year or two ago and have used it mostly for skiing, although also for mtn biking, and wake boarding. The gopro cameras themselves are amazing and you can capture an incredibly wide field with their fisheye-like lens. The buckles are fatty, and easy to release even with gloves on. I'm not an extremely wide upper body, but it fits relatively snug over clothing and can be synched up if you want/need it tighter. Probably wouldn't fit well on younger kids though. Only real complaint that I have is that while skiing, it makes it look as if you are 'backseat' (i.e. leaning way back) the whole time. Also had I not received this as a gift, I would have a hard time justifying $40 for such a simple harness.
Cool vantage, but some drawbacks
Familiarity:

I've used it several times
It makes for cool angles and easy access, but at the same time it gets tangled around itself very easily and also in my opinion, way overpriced for what it is.
Looking for a different vantage point
Familiarity:

I've used it several times
If you are looking for a different vantage point and sick of having the camera on the top of your head this is definitely the way to go. I use it constantly when I inline speed skate and mountain bike. It is a lot of fun and gives another option for overall viewing of your line and overall scenery that is around you.
Used for Mountain Biking and Rafting
Familiarity:

I've put it through the wringer
It is rather bulky and heavy to carry for mountain biking but I like to mount the GoPro from the chest instead of the helmet. It does take a while to setup and mount it on the chest. Another challenge is to get the right angle of the camera from the chest view.
Great gopro add on
Familiarity:

I've put it through the wringer
I've only used this for skiing, but I think it creates an awesome point of view for the viewer. Like Seth said, make them very tight to avoid bumping around. Once I put this on and set it all up correctly I forget there is a camera strapped to my chest. Would recommend.
Works for me.
Familiarity:

I've put it through the wringer
It fits well and is easy to take on and off. Have only used for skiing. Make it very tight for best results, some like extensions to get the camera up and more adjustability, but to much and back to bounce cam. Is kind of bulky for storage in pack, but I use small packs.
good
Familiarity:

I've used it several times
Works good, very adjustable. It is not so comfortable to have an extra layer strapped on your chest, but if you know the type of shots you want, then go for it. Sometimes the camera will bend downwards, so tighten it hard.
Versatile!
Versatile!
Familiarity:

I've put it through the wringer
The chest mount is a necessity for any GoPro owner. First off, helmet shots get old, we all know that. With the chest harness, you can get some variability in your shots. I use this for skiing, and it is a great angle for powder shots as you get that nice spray up onto the camera.

And don't think you can only wear this on your chest. You can wrap it around tons of other stuff, like trees or your dog, to get that perfect shot.