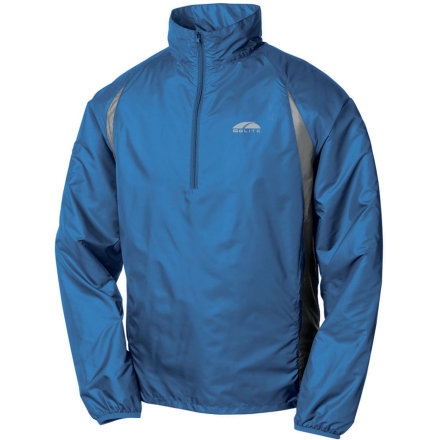 there you have it -it's super thin, minimalist design as is most Golite gear. incredibly thin material is about the thickness of a plastic baggie or potato chip bag, so don't expect any warm unless you're using it as an outer layer over an insulating layer -so this makes it very versatile in terms of temperature range. at 6'1" and 178lbs, the large fit perfectly. great for the weight conscious fastpacker!
There are plenty of times where you want coverage but don't need a full on shell. Enter the wind shirt! Wind? PROOF, Water? RESISTANT, and adds significant warmth. It weighs 1/5 of your average shell!!! ONE FIFTH

Properly layered it can keep you comfortable in the breezy 50's down to the frigid 5's.

Additionally I agree with Matt about sweating through but there's a point that full exertion sweats through anything. The 1/4 zip keeps weight down and decreases weak points for wind to get through. If you want a hood go to the ether.

I prefer no hood for added visibility and less around my neck.
Great, but needs a hood to really shine
GoLite makes two windshirts - the Wisp (hoodless) and the Ether (hooded). Hands down, the Ether is better. I have each, and have rated each at a 4 because neither is perfect.

Combine it with a thin or midweight base layer and it becomes a lighter replacement for a softshell jacket in milder conditions. The cut is athletic, and the neck smartly bellows out at your chin to increase ventilation. Unfortunately, the jacket has a 1/4 zip making ventilation more difficult. This also makes the jacket a pullover.

Like the Ether, the Wisp fabric is very breathable, but as with any breathable fabric, don't expect miracles. I have sweated it out while running, but it dries very fast.

I would give the jacket five stars, but the lack of hood and quarter zip prevent this one from being perfect.
The GoLite Wisp shirt is a great layer for a windy day. It's so light and I love the bright colors. The fabric has a bit of shine to it - really eye-catching. The material is not stretchy or clingy, just light and airy. It has a drawcord at the waist and elastic at the sleeves to keep wind out. No drawcord at the neck, which is cut roomy. That's nice if you are wearing multiple zip-up layers that all bulk up at the neck. This shirt definitely won't choke you, even if you're wearing a pack. It is wind and rain resistant but not windproof nor rainproof, so I wouldn't have it as my only outer layer on an outdoor trip where there is a risk of hypothermia if I'm wet. One caution: grease stains really show on this fabric and are impossible to remove. The only con is that the fabric is so light that the collar isn't heavy enough to lay flat when the zipper is open.