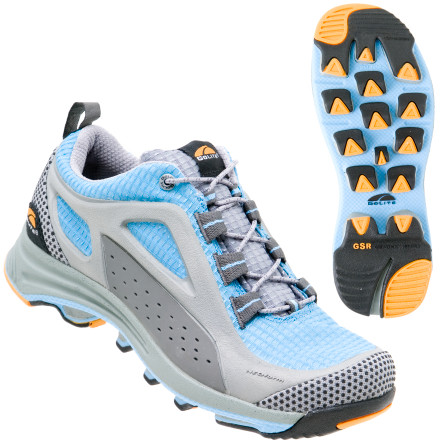 Detail Images
2nd go..wore the 1st pair to shreds..alaska trail running..steep wet rocky trails and these grip the earth making me a running mountain goat..love them.
I originally bought these for myself. I wear a 10. They were a tad too short and too wide for my foot but they fit my husband perfectly so we kept them. Not a great running but the grip of the shoe makes this an ideal hiker.
Built for wide feet, great toe box. This was my second pair of Golites and for skree or slippery trails, I've never found anything better. I've never mashed my toes even on extreme downhill runs.

I agree that the laces are their downfall, and I've had shoes that last longer...but I've never had shoes that didn't slide off wet, slimey rainforest roots.

These are so comfortable that I started using them for road runs.
I got these because I know several other "Shiggy" runners who loved theirs. I did at first; they fit great, they are the ONLY shoes that can chug up a steep slippery slimy clay-mud slope and they repel water great. However, we're all now finding that since we "trail run" through abusive (rock/mud/river) territory, these are starting to come apart after only a half a dozen trails and the shoelaces NEVER stay tied. I'm going back to my Salomons - the tread isn't quite as great but they last forever & I LOVE the quick laces.
Better for people with wide feet
Unfortunately, these shoes are not for my feet. Pity because the innovative design looks as though it has a lot of potential to make this a great shoe. To start with, I have narrow feet. The section of the shoe where my heel sits contains far too much space, and there is little padding to assist. The idea of removable foot beds sounds great too....but I still cannot 'fill' the shoe up enough to get these shoes to fit. I Have the laces as tight as they will go down closest too the toe-box but its still not tight enough. I also feel these shoes would be best for people with normal to high arches. I have fairly flat feet and the shoe I felt didn't give enough support. I give these shoes 3 stars , because the idea of the shoe is great, and they are well made - just not suited to me.
I run mostly on the Shoreline Trail in Draper, UT. It is a very rocky and hilly part of the trail. These shoes are the only trail shoes that have been able to handle the terrain with grace and best of all - no twisted ankles. I have put about 300 miles on them and it is time for a new pair. I cannot imagine using any other shoe ever. I am also prone to bruised toes and I have not experienced that with these shoes!
I'll be honest here, I was really thinking I'd love these shoes. I have a pretty wide foot and these fit perfectly for that. The insole adjusts to the width of each foot, so that is a great feature. The tread is good, but I already tore one of them off just hiking around at Snowbird. Also, they just aren't stiff enough for my taste. I need something that is basically designed the same but much more sturdy underneath, they feel like noodles! I compare it to my skis...I'd choose a Volkl Gotama over a K2 Seth any day for the stiffness.