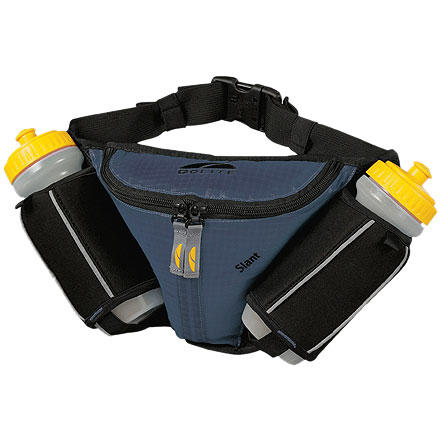 What do you think about this product?
Have questions about this product?
This looked like a very nice product but I am a small woman (5 ft 5", 126 lb) and it is too wide to work as intended. The two bottles ended up on either side of my waist instead of behind me, so my elbows hit them. Too bad this doesn't come in a smaller size!
I have high praise for the Slant Pack. I used it in the Moose Mountain Marathon on the Superior Hiking Trail. It was comfortable and stable, with plenty of room for Gu.
Overall pretty good, but with a few flaws
The positives: The slant pack is as light as advertised, and holds both bottles really well. The neoprene holsters grip the bottles without much slip during runs or other bouncy activities, and the bottles have a ribbed pattern that help with the grip.
The negatives: The neoprene is pretty tight, and it takes a fair amount of coordination to reach behind yourself and get the bottles back in without stopping everything and focusing on it. I bought this for XC skiing and found that with poles attached, you really cannot get the bottles back in while moving. This pack is for running or biking only. In addition, both of the bottles that came with my pack had very mediocre lids that leaked. Even screwed down really tight, the bottles were a sticky mess after a few miles.