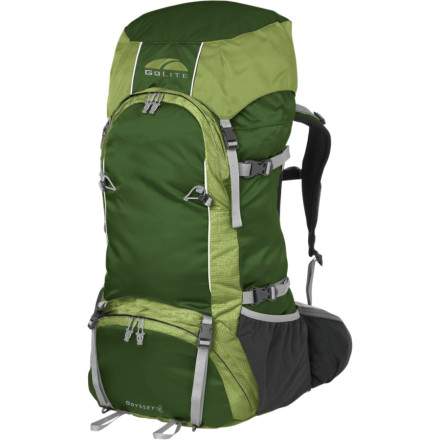 When your next foray into the wilderness is too ambitious to be called just a 'trip,' the GoLite Women's Odyssey Pack will carry you and your gear into a whole new category of backcountry adventure. Recommended by NOLS instructors worldwide, the Odyssey uses recycled materials with GoLite's waterproof, tear-resistant Velocity fabric to make a lightweight and durable pack that's versatile enough for a myriad of backcountry pursuits.
Adjustable suspension follows the natural arc of the spine for an organic fit that really makes a difference through the miles
Hip-belt is anatomically molded for medium or large waist sizes and comfortably takes the weight off your shoulders and back
High-void mesh back panel, hip-belt, and shoulder straps mean more air between you and the pack (evaporative cooling) for a comfortable hike
Top lid has integrated zip pocket on the body side and is removable when you need to shed 92g
ComPACKtor system consists of compression straps on front and side that reduce the pack's volume
Side compression straps reach over the front of the Odyssey to carry a snowboard, sleeping pad, or snowshoes
Sternum strap (w/ attached emergency whistle) secures the shoulder straps as you traverse the goat paths and rope bridges
Load lifters and top compression straps put the weight where you want it for the long haul
What do you think about this product?
Have questions about this product?
How reputable is GoLite as a brand? Would...
How reputable is GoLite as a brand? Would it be better to pay more for a solid brand?
Best Answer
Go Lite is a great brand, but being it tries to get the lightest possible, some of the frills would likely not be offered. In a pack, it would be less inside material, so no pockets...etc

In something like a tent, I know they dont sell much more than a mesh screen, but if it is weight you are trying to shed, GoLite is great
I agree with Dwayne, GoLite is a top brand that specializes in very lightweight backpacks. My wife has one and it has been a very durable pack.
How does sizing work, I am usually on the...
How does sizing work, I am usually on the cusp between medium and large for women's packs.
Best Answer
There is no torso adjustment on this so you're stuck with the inch or two that adjusting the straps will give you. For a pack that size I'd recommend trying it on. You don't want to carry that kind of weight only to find out that the pack is ill fitting, especially the waist belt.
Jane, my wife found the sizing to be very consistent throughout the GoLite products. If you are between sizes I always recommend going up to the larger size.