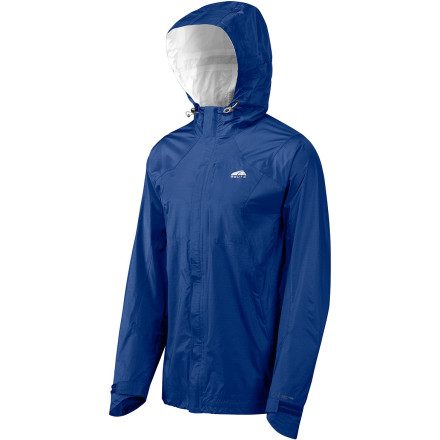 There's about a thousand percent chance that you're going to see rain during your Alaskan trekking expedition this summer. The GoLite Kenai Pertex 2.5 Layer Jacket not only provides the rain protection you need to stay dry, it also weighs in at a mere ten ounces so your pack stays light during those rare bluebird days.
Shell material made with 15D nylon ripstop fabric to provide abrasion resistance
Pertex PU membrane delivers 10,000-millimeter-rated protection against rain and snow
Fully taped seams, water-resistant pocket zips, and a front storm flap block wet weather from sneaking in
Underarm zip vents help shed excess heat during steep climbs or when the temperature climbs unexpectedly
Harness-compatible hand pockets are still accessible when you have to rope up to traverse a sketchy snowfield or glacier
Relaxed fit lets you layer over other clothing
This jacket is amazing. I bought it at the GoLite store in Fort Collins about 2 months ago. I have loved it since the day I got it. It survived three hours of fly fishing in a torrential down pour. After that another 1.5 hours in a canoe with the same rain and no sweating and most certainly no wetting out.

Also this jacket packs extremely small. When I really try, I can get it about the size of my fist.

Overall this is a great outer shell, except for the damn double zipper. GoLite for some reason loves the double zipper. There is one on my down jacket by them as well. The double zipper is pointless and its a pain in the ass to use. Otherwise great jacket.
Cheaper on the Golite website.
No offense of course to the Goat, but I think this jacket is currently on clearance and in stock for $49.99 at Golite.com. I do not have any of their jackets but the Shagri-la 5 tent by Golite is one of the best I have had.
GoLite Kenai Pertex 2.5 Layer Jacket
Size is slim or runs small. Not suitable for taller person. You may want to order next size up if planning on using over layers. The pit zips are installed backwards. The espresso color has lime green zippers and logos.
Zippers are sealed well. There is an extra shock cord on the back of the hood which looks like a possible source of leakage. Pocket zippers are not designed to close after stuffing jacket into a pocket.
I'm 6'2" 200 lbs. I was wondering what...
I'm 6'2" 200 lbs. I was wondering what size I should get. I live in a warm climate so just a t-shirt underneath
Your height and weight are pretty much irrelevant for jacket sizing. Sleeve length and chest measurements are more important.

If I had to estimate, though, I'd tell you to get a large.
This jacket will likely not fit you. I am same height and weight XL was too small. XXL specs are not any longer. Runs small.
I am the same size and the XL fits m perfectly
Hi, I'm 5"11", 165lbs, what size would fit...
Hi, I'm 5"11", 165lbs, what size would fit me? Should have room for layers, but probably not a huge puffy since I'm not taking this on any winter trips.
Medium should be perfect for you, if they're thicker layers, you could go for a large, however, a large in golite is way too big for me, and I'm 5'8" 165. With a large I have room to layer a thick puffy underneath.