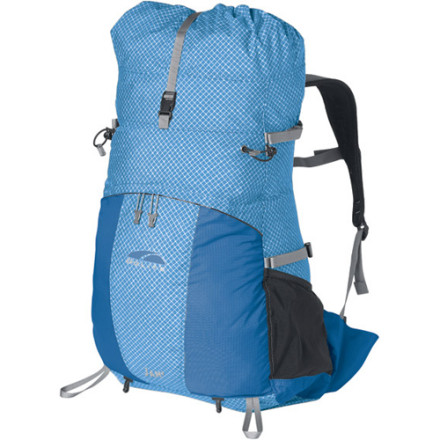 What do you think about this product?
Have questions about this product?
I've used this pack for long day hikes and have hauled 20-25lbs with my 10 essentials, extra layers, food and water. It is very comfortable and lightweight. It just feels like there is a pillow strapped to my back. The drawback is that on hot days, there is no ventilation for the back area. I then used my osprey pack for comparison, and while it is ventilated with more support, I definitely felt the weight much more even with the same amount of stuff. I still prefer the GoLite Jam2 for day hikes. Be sure to be very organized with your stuff as there are only 2 compartments, a hydration bladder pocket and no extra organizers within the pack (which I prefer, to minimize weight and unnecessary extras).
Can this be used as a carry on for an...
Can this be used as a carry on for an airline? What are the specific dimensions?
I don't know the specific dimensions, but yes, you can carry this on every airline. I know from first hand experience... even if you pack this bag to the max load, it'll still fit in an overhead. After traveling with it on many flights, it makes for a great carry-on!
I'm 5'2 120lbs with torso lenght of 16 in....
I'm 5'2 120lbs with torso lenght of 16 in. Do I need the small or medium Golite Jam2 pack? Is this pack adequate for a three to four night North GA camping trip?
Best Answer
You need a small. and as far as working for a 3-4 nighter i dont know it really all depends on how you pack. but for me it would be good but i go ultra light. I can fit everything for 2 nights in a 28L pack
You'll have to decide that by using the torso length measurement system. To find your torso length, measure your back along the spine from the the top point of your hipbones to the knobby bone at the base of your neck. This will give you a measurement in inches that will determine the correct pack size & I concur, a small size would best fit you.