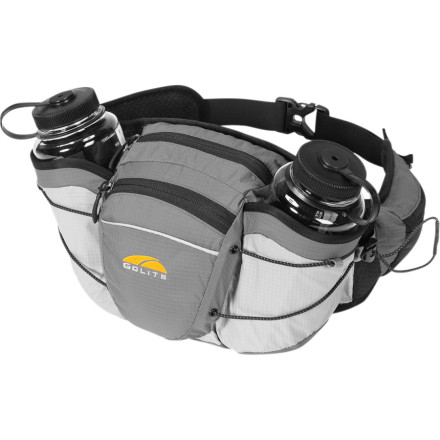 Give your back a break on your next hike with the GoLite Hydrocruise Lumbar Pack. It holds two large-mouthed water bottles in its angled, lightly-insulated holsters, as well as your lunch, camera, and a poncho.
No-Bounce load control system easily adjusts while you walk so it doesn't bump your rump with every step
Soft-stretch mesh hip-belt lets in air to prevent a super-swampy midsection
Zippered stretch pockets on the hip-belt let you have easy access to a camera or snack
Reinforced holsters mean you're faster with your water than Billy the Kid was with his pistols
Reflective material all the way around the Hydrocruise makes you visible from any angle
Will standard Nalgene bottles fit in the...
Will standard Nalgene bottles fit in the GoLight hydrocruise lumbar pack (GOL0445)?
I like this piece. it's good for running, xc skiing, and I'm hoping to use it for some easy hiking come summer. If you adjust it right, it can sit pretty smoothly on your hips & back without a lot of jostling as you move. Also, I was able to fit a small baselayer, along with my phone, keys, and extra gloves between the 2 back pockets, and the strap pockets can hold gummies/gel easily, and the right side has a headphone port. Me gusta!