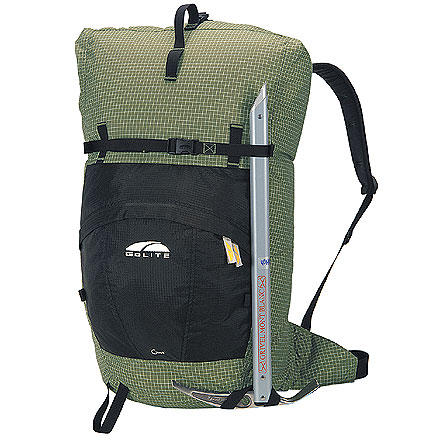 Where might I find a large GoLite Gust...
Where might I find a large GoLite Gust backpack? I've tried e-bay, craiglist, amazon and am coming up emtpy, any advice?

Thanks,

Mark
Most likely discontinued. I'd email GoLite to see if they have any remnants.
I've been using the Gust pack for about a month since I got it from this site. I was worried about being so lightweight, but I had convinced myself that this was the way to go. The Dyneema material is great, surprisingly strong. I've thrown this pack around trying to abuse it, just to see if I could destroy it, with no results. The lack of sternum strap is not an issue. This pack is huge, but keep your pack weight under 30 lbs and you won't have any issues. This pack is for lightweight gear!!! Also proper packing of your gear is essential to make it comfortable on the back. Not hydration compatible, but just slide your bladders down the side of your gear once you get it packed and run the hose out the top. Dynema is not waterproof so bring a pack cover as well. The smaller outside pocket is small not being bellowed, but it works. Remember this pack is 20 oz, and 100 bucks, and for that it delivers everything you could want while being durable!
Yes, it does have a hip belt. I carried this pack on a 6 day trip in the Grand Canyon, and am packing it now for a 6 day trip in the Paria River Canyon. It is sensational. Very strong. Keep within the weight limits for 2 reasons: 1 to save the pack, 2 to be going light in the first place. It is gigantic so space wont be the problem.
I was very please with the pack for a weekend trip, and I will try it for a week-long AT trip in August. I retro-fitted a hydration pocket inside and added a map pocket on the outside for convenience. But it carried well once I packed it right, and it held everything I needed--about 24 pounds.
Lightweight, maybe too much so
This pack generally delivers what it promises, but I'm not totally thrilled. On the first outing, a plastic zipper pull snapped off; this may have been due to the cold air (5 degrees F). I hope it was just an isolated defect. There is no sternum strap, which I would have added. Otherwise, I am satisfied, and I would buy this pack again. It holds volumes for its weight, although it is definitely not built as tough as my Osprey Aether 45.
Couldn't get all our gear in and still have it comfortable with the minimalist features. Not recommended if you need to cary some of your kids' stuff. Would work great if you went minimalist all the way!
Go-lite Gust Pack 4800cu.in
This pack has revolutionized backcountry travel for me, and I don't use the word "revolutionize" easily. With up to 30 pounds, it's very comfortable, form-fitting, and stripped of all non-essentials. In consort with other lightweight gear, this pack is adequate for 7-8 day trips in the summertime, when you don't have to carry a lot of warm clothing. I have felt unburdened and liberated. No more being a pack mule.
Recently purchased golite gust ultralite backpack. When I first looked at it I thought it was a little flimsy and might not stand up to wear, etc. Now have completed a 3 day hike and am very satisfied. This pack is big--all gear fit nicely and I was quite surprised on how light it was all loaded. The pack does need water bottle holders to make it a 5 star rating. I would buy it again however.
Golite Gust Stirs Up Dust!
Just came back from a trial run (18 miles, ~1000ft el change) overnighter with the Golite Gust. Had it packed with everything for my Grand Canyon trek next month, plus a few extras to accommodate the lower temps (about 30deg F lower than expected at GC). Everything fits with room to spare, rides very well, especially liked having the waistbelt so I could adjust the pack from time to time to allow some cool air when needed. Pluses?
Gobs of space, very light but strong. Negatives? had to add outside pockets for water bottles, somewhat difficult to get top folded over to keep out rain.

I was concerned about the fabric strength, but a 1/2 mile of bushwhacking thru high desert scrub with no tears or holes set me straight on that.

Overall, best pack I own (makes #5 now in the garage), good for day hikes or crest trail treks. I Highly recommend it!