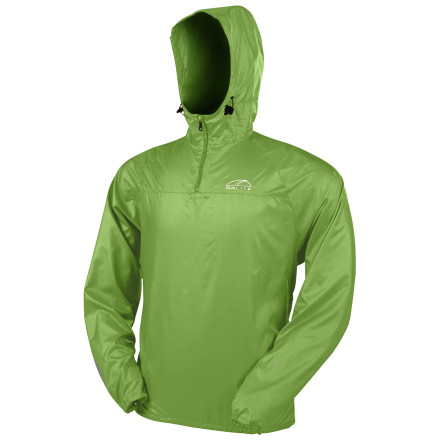 Why not put in in your bag, or your back pocket?
The beauty of the Ether Windshirt is in its simplicity. This thing packs down to less than a baseball. It will keep you dry when it is wet, especially with the hood. I bring it with me whenever there is a change of rain. I can just throw it in my back pocket. The only gripe is that it is not the most breathable. But hey, for the price, this thing is great to have.
I hadn't had much experience with cold weather backpacking until recently (I live in Hawaii) and picked this ether shirt up along with an Icebreaker bodyfit 260 base layer for when I was actually hiking. I couldn't be happier! This windshirt weighs next to nothing and cuts the chill wind out completely while still allowing enough heat to escape that it didn't become a sauna when my body heat rose. I alternated between putting the hood on which kept me about 10 degrees warmer when the wind was really blowing and taking it off when I was in the hollows and such. We took a few side spelunking trips from the main trail where we had to belly crawl though some pretty tight spaces and I just took off the windshirt, balled it up into its built in packing sleeve and stuck it in my pocket. I wasn't sure how well it would hold out against the constant scraping across the jagged cave floor. I strongly recommend this shirt!
, ☃bcs_badge_alumni_label☃
Great backup
I keep one of these in my day pack all the time, as a 'just-in-case' jacket. I live in Utah so I'd only used it a handful of times in light showers, where it was fine. This summer I took it to Portland and got poured on while hiking a trail. It helped, but I still got soaked. Don't expect this thing to protect you from a downpour - it's more of a rain resistant light piece. Great for what it is, just don't but it as your only rain jacket.
Picked the Ether up on the advice of Andy Skurka. Love the windshirt! I ditched my ultralite rainjacket and saved over 10 oz. with the Ether! Stuffs down to the size of a bar of soap. The Ether is a winner.
Protecting us from wind storms in the Gobi Desert
When having layers and going light is your goal, then this is what you want. This is an ultralight shell that doesn't breathe very well but is great at resisting the elements. This shell is so light, compact and versatile that is makes sense to pack on almost any adventure.