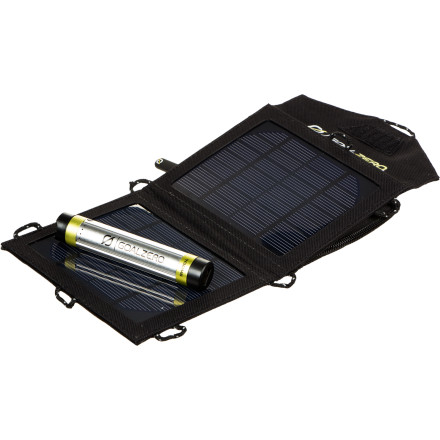 Colors
Description
Solar that's almost too simple.
It's almost too easy: while you soak up the vitamin D, let the Goal Zero Switch 8 Solar Recharging Kit soak up the sun's power and then charge up your electronic essentials. The ultra-portable Nomad 3.5 solar panel charges up your device directly or powers the Switch 8 recharger for energy to go. Weather-resistant and rugged enough for any backcountry condition or activity, the solar panel boldly goes with you anywhere. And the Switch 8 puts the sleek and sexy into solar power, with its slim, light design and efficient powering capabilities. Now there's no reason to send smoke signals, read tree bark, or sing lame songs no one can dance to; recharge your cellphone, GPS, flashlight, or audio player for safe, civilized travel.

State-of-the-art monocrystalline technology in Nomad 3.5 panel delivers more power per square inch than any other solar technology available
Compact, lightweight Nomad 3.5 panel puts out 5V/2.5W (USB) or 7.5V/3W (solar)
Sleek, compact Switch 8 recharger has an output of 5V/5W (USB) for plenty of power to revive your mobile phone, GPS, or audio device
Switch 8 recharger can be charged from a USB power source in 4 hours; it charges from Nomad 3.5 panel in 5-10 hours
Foldable, portable Nomad 3.5 panel design makes it easier to fit into a pack, hang in a car window, or strap around your trusty dog
Lightweight, sleek, and slim Switch 8 recharger easily slips into a pack side pocket for ultimate portability
Switch 8 uses a lithium battery for 3.6V or 8W
Durable, weather-resistant construction of this kit provides worry-free backcountry operation
Reflective nylon loops on Nomad 3.5 panel make it easy to hang the panel from your backpack, in car window en route, or in any convenient spot at camp
The housing that protects the wires broke and the solder connecting wires to board came loose. Fully charged it gave my Iphone 78%. Capabilities over stated and under delivered.
Awesome kit! But know its limits
Familiarity:

I've used it several times
This solar panel works exactly as advertised! Had it through 4 seasons now and use it for almost every trip. Just try not to have unrealistic expectations. It works best in optimal sunlight and at the very least can extend life hours for your electronics. I love it for my ipod and recharging batteries. If you're thinking about getting it you won't regret it.
Not fully charging.
Familiarity:

I've used it several times
I have left it out, all day in full sun and the battery only charged to about 75%. Of course, that translated into less than a 75% charge on my phone; which I can live with. But hopefully the charge capacity will increase with use. Can't afford to depend on this product and not have it perform. But very light, easy to carry. Need to put it in a water proof sack to carry on trail.
Got sun?
Familiarity:

I've used it several times
Being based in Utah I figured why not take advantage of the long days and hot sun, this little guy has helped me out quite a bit it is great to just pre charge the battery and head out or use both panel and battery out in the field, it did seem to have issues charging iPhone 5s.
Really cool gadget!
Familiarity:

I've used it once or twice and have initial impressions
The switch 8 is a really awesome tool for using in the backcountry, or even in town. It's flexibility in its uses make it awesome. I can charge it from my USB on my computer to use it every day to charge my iphone, or charge it via solar when I'm not able to plug in. It is efficient, and charges my phone well. I'm going to be putting it through its paces backpacking in Utah this summer, and backpacking back in the East.
As expected
Familiarity:

I've used it several times
I've used a switch 8 kit to keep 2 go-pros, a smartphone, an ipod, and a portable speaker system running on a 9 day camping trip (note: keeping all of this running with just a switch 8 kit would be pretty hard. I used my vehicle charger as well).



My thoughts: Well-constructed. Lots of attachment points on the panel. Very compact and portable. Moderate to slow charging times (5.5 hours is the quickest I've seen). Some connectivity issues with the iPhone 4, which only indicates that it is receiving a charge from the goal zero battery if the goal zero battery is fully charged to begin with. I anticipated this, though; it's the phone, not the goal zero system. Goal zero system works fine with other smartphones (including iPhone 5). 1 full goal zero battery = full charge for a go-pro with an extra battery pack; ~1 charge for a smartphone.



My only complaint is that the mesh bag in the back of the panel that contains the charging plug and battery is...mesh. Since southern Utah is my go-to, I'm always dealing with wind, dust, and sand. I don't like that there's really no way of protecting the electrical connections on the back of the panel from the inevitable dust / sand / grit, short of leaving it in a vehicle to charge -- and it doesn't charge nearly as fast from sunlight filtered through a window. I wonder how long it will last with all the grit that gets in the plugs. Goal Zero should replace the mesh with a solid fabric to protect the electric plugs from grit. Otherwise, pretty good.
Perfect for the size
Familiarity:

I've used it several times
You cant beat the portability of this setup. Don't expect speedy charging of the switch 8 with a panel this small. Realistically it will take 5 hours in good sunlight and much longer on a cloudy day, but that can be the difference between running out of battery when you are crushing big lines, or capturing the moment. Manage your electronics properly and you can keep an iPhone+GoPro going for days and days on end. Ive gotten exactly two GoPro battery charges off 1 full switch 8 charge and 1.5 full charges on my iPhone 5. Essential tool for the modern day backcountry traveller thats looking to keep capturing footage.
two questions: anyone used this in subzero...
two questions:

anyone used this in subzero temps? i wondering how the battery is impacted by the cold



also, has anyone observed battery life decay over time?



thanks!
Best Answer
Hey,



I'm not personally familiar with this system, but lithium ion batteries perform notoriously poorly in the cold. Keep your battery pack inside your coat or sleeping bag if you want to use it below freezing. Also, even though this is supposed to have a 5-8 year life span on the battery, every time you use it is going to give your just slightly less of a charge. Hope this helps you out a little.
I haven't tried it in sub zero temps yet, but in freezing temps and late November in Colorado it will take over a week to get the Switch 8 charged using only the Nomad 3.5.
I ended up getting this battery pack with a nomad 7. I used them for an expedition on Denali. The weather was usually well below zero but the thing charged and stayed charged wonderfully.



I was even able to charge it inside my tent. A lot of credit is probably due to how powerful the UV rays are up that high, but the system worked great and im glad i had it.
Would this work in cloudy weather? My...
Would this work in cloudy weather? My concern is that I might need a larger panel. If anyone has used this in cloudy weather, I would love to hear of its performance!
Best Answer
Koman,

Goal Zero touts that the Switch 8 Solar Recharging Kit will continue to gather solar energy when cloudy or overcast, but you have to imagine its charging capabilities will vary with conditions. People I have talked to who own Goal Zero systems say that their recharging time will typically double if skies are overcast or if the panel is set off-angle from the sun. I would take this into account when selecting panel size.
Is there an adapter or can AA batteries...
Is there an adapter or can AA batteries be recharged?


Best Answer
Allison, Goal Zero has a separate system for charging AA batteries. It's called the Goal Zero Guide 10 Plus Recharger. The BC stock number is GZR000C. Best of luck!
Portable & powerful!
Familiarity:

I've put it through the wringer
I love having this kit while out camping for an extended stay out in the backcountry, driving in my car cross country, or in a plane. It's easily portable and perfect to charge your MP3 players, GoPros, and phone. I can get a full charge out of at least 2 of the devices listed, then it requires a recharge that takes around 6 hours with the panel in full sunlight. It's got a USB recharger too so you can just plug it into your computer. It's one of those pieces of gear that you don't think you need it until you have it, and then you hate to leave it anywhere when you do. It's essential for those long plane rides and I like having it in my car for cross country travel, so I can use the outlet for my iPod plug (that doesn't charge my iPod).
Does this fit an iPhone 5S?
Does this fit an iPhone 5S?
Hey Giselle,

This will work perfectly for you iPhone 5. Plug your iPhone 5 usb cable in to the charger and keep your phone charged wherever you find yourself!
Keep the cameras rolling!
Familiarity:

I've put it through the wringer
I enjoy using my iPhone for taking photos and video on adventures into the mountains when weight and space is an issue. iPhones take amazing pictures, but the camera seems to zap the phones batteries quick. The Switch 8 is so small and powerful it's a no brainer to bring it along. Aside from taking photos, I use the iPhone as a GPS . This also runs down the battery insanely fast if you keep it running. It's a good feeling knowing you can recharge in the field and keep your cameras rolling, and keep the GPS running to help guide you home!



Keep the Switch 8 plugged into the GZ solar panel and strap to your pack when not in use to always stay topped up! Utilize the strong power of the sun!