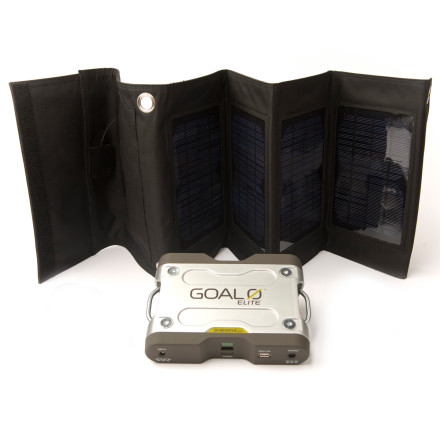 When you start to suspect that you took a wrong turn a few miles back, the last thing you need is a dead GPS. Goal Zero's Sherpa 50 Adventure Kit keeps your handheld electronic gear charged and ready when you need it. This complete power kit combines the Goal Zero Sherpa 50 battery pack, a Goal Zero Nomad 13.5M solar array, an AC wall charger, and a 12V output female cigarette adapter for the ultimate on-the-go personal power station.
Nomad 13.5 solar panel charges the Sherpa 50 battery pack completely in approximately 6-10 hours of full sunlight
Solar array collects and converts up to 13.5 watts of power from the sun
Solar array's foldable design makes it easier to fit into a pack
Weather-resistant construction for worry-free backcountry operation
Solar array's built-in pocket helps protect your small device during charging
Sherpa power pack lets you charge devices using USB, 12V, and AC (with inverter, sold separately) outputs
Power pack can run an average laptop for 1-3 hours, cell phones for 15+ hours
Lithium ion battery designed to last up to 8 years before needing replacement
Battery can recharge from Nomad solar panels, wall adapter (AC), or car charger(12V)
Optimal operating temperatures: 32°-104°F (0°-40°C)
Optimal storage temperatures: 32°-86°F (0°-30°C)
What do you think about this product?
Have questions about this product?
Goal Zero actually works!
I have tried several solar chargers in the past and was always disappointed with their performance. This Goal Zero product has figured it out! Our group used it on a recent expedition to Nepal and it worked flawlessly to charge our iphones and laptops. See my full review at:

backpackersreview.com/gear-review/mn-everythingelse/63-a-goalzero-charger
This setup is great for adventurers, campers, and for emergency kits. I have a number of Goal Zero products and aside from the Guide 10 AA battery system, this batter gets the most use. It's light enough to pack along with you for charging phone, ipod, GPS, but pair it with the Estrella lights and you have plenty of light for your camp too. I use the batter and several daisy chained lights whenever I go ice climbing.

The solar panels are awesome. Best collectors in the business. Great to strap on motorcycle luggage for charging on the go, or to set up at camp or base of the crag for keeping electronics charged up.