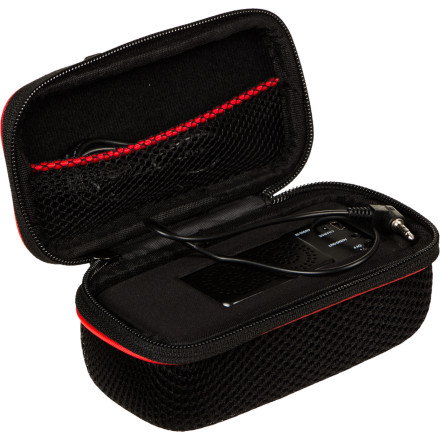 Detail Images

Community Images
A friend doesn't share tunes via a single earbud that links them together a foot apart―that's just too close and too lame. Be a true bud and blast your tunes via the liberating Goal Zero Rock-Out Speaker. With a 3.5-millimeter jack, it takes nearly any audio device―not just the latest and greatest―into its protective, padded embrace. It charges while you set up camp and, with over 20 hours of power, will outplay your dancing feet. Its wood box delivers high-quality acoustics that won't offend your sound-snob friends. And, even if it did, does their speaker resist weather and shock and fit in their pack's side pocket? Didn't think so.
Two 40-millimeter speakers boast 4 ohms and come with 1W drivers for sharp tunes
Amplifier stereo at 2W max, 70dB SNR, 70Hz-18KHz proves small size can bring big sound
Wood box delivers amazing acoustics for sound that won't offend even a sound-snob's ears
Charges up in a paltry two hours for 20+ hours of play time, for quick preparedness for those impromptu all-night dance parties
Audio output port plugs into various devices via the near-universal 3.5-millimeter audio jack
Charges via mini-USB jack (5V); includes solar port to accept juice from a Goal Zero solar panel
Lithium, 3.7V, 1.9W battery management system built-in for plentiful and long-lasting power
Dimensions are a mere 6 x 5 x 3 inches for ultimate portability
Soft, shock-absorbent, and water-resistant, this speaker will take backcountry use and abuse and sound clear as a bell
Chainability lets you and your friends link together for sound to the nth degree
At home I usually jam with a Jawbone Jambox. It doesn't hold up to the sound of a high end speaker but this thing is $30!!! And the sound is actually damn good. Mine got rained on a bit, fell from a tree trunk, stuffed in and out of dry bags carelessly, strapped to packs, strung from tent lofts etc. It help up to the abuse and did great playing music. The battery lasted forever too. Didn't charge it after 4 days of extended play. I recommend it.
Great product
Familiarity:

I've used it several times
One of my vehicles doesn't have a stereo so this is a good alternative. It's a good quality speaker that sounds very clear. It's pretty loud especially outdoors. You can't really talk to someone next to the speaker when it's cranked up all the way. Don't forget to charge it if you let someone borrow it, dead battery is always a bummer.
Music in the camper- essintial!
Good music played non stop in our camper this winter thanks to the Goal Zero Rock-Out Speaker! Keep the good vibes flowing!
Neil Provo showing off his RockOut
Neil Provo shows how he uses his RockOut in the backcountry
I use my Rock Out speakers all the time. Often just connected to my computer so I can hear the sound on Netflix over the commotion in my house. I also use this on road trips connected to my phone so that I can have Pandora radio accross the country.
I bought the Rock-Out speaker almost as an afterthought with my Nomad 7 Solar Panel. I use it nearly every day. The sound is great. It is portable and easy to stow just about anywhere. It charges quickly and lasts for-ev-er. The daisy chain ability is brilliant. I have two of these and they make the outdoors ring!