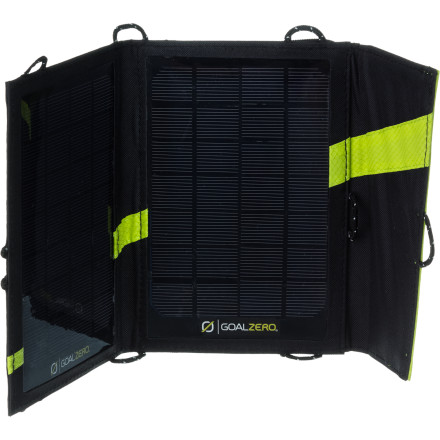 Colors

Detail Images

Community Images
Description
Feel free to roam.
You've tried sending smoke signals, but your fire-starting skills kind of suck. Whip out your Goal Zero Nomad 7 Solar Panel, power up, and send messages like a civilized person via your smartphone. Or, if human contact is what you desire, power up your GPS and see how far you are from the closest pub. Or connect the solar panel to your Goal Zero Rock Out portable speaker and dance like no one's watching, because no one is. Small and light enough to tack to your backpack, this clean, Earth-loving power panel goes anywhere you do.

Durable monocrystalline, nylon, and plastic
Directly charges most USB and 12V devices
USB, solar, and mini solar ports
Simultaneously charges from different ports
Charges smartphone, GPS, or USB camera in 2-4 hours
Not compatible with tablets
Keeping the tunes goin!
Familiarity:

I've used it once or twice and have initial impressions
So great to have music with us during an entire river trip. While we were out of cell phone and internet range, we were well within our music playing range along with the ability to play and utilize different apps that assisted in star gazing and knot tying with the Goal Zero charging equipment. A great asset for anyone that is looking to take their electronic equipment with them in out of range territory.
Go to for Backpacking
Familiarity:

I've put it through the wringer
This panel comes with me on every backpacking mission. I use my iPhone for GPS navigation, compass, music, and photos. All that use makes the power go fast, but combining my Nomad 7 panel with a Flip 10 or 20 charger makes for a quick and reliable way to keep my phone charged. Favorite way to run this setup is attaching the panel on the outside of my pack while hiking with the Flip battery charging. By the time I'm done hiking and setting up camp, my battery pack is good to go and ready to charge my phone. Easy as that!



It's able to withstand some light moisture and quite durable, but good to stash it away in a downpour. It's about the size of a National Geographic Magazine making it easy to pack away.
Can this charge an Anker 6400 mAh power bank?


Absolutely. Pretty quickly, as a matter of fact, assuming you have good light.
Basking in the Sunshine
Familiarity:

I've used it several times
Solar panels have come a long way and the Nomad is no exception. Although directly charging a phone from the panel can have some issues, I have found that they can be mitigated but have constant and direct sunlight as well as by putting your phone into airplane mode to charge. Similarly, using a battery pack like the Guide 10 can also provide a more consistent source to charge you phone from. Other than that issue though, the panel is great. Small, lightweight, and easy to pack, it allows you a bit more certainty of having a way to power your devices when you are out adventuring. I found that with a constant source of sunlight, this would charge my iPhone 5c about 20% in 20 minutes or so. It also comes with a nice mesh zippered backing for you to store small devices while the are charging to keep them out of the sun!
Most of these panels have issues charging straight to phone. That is the phone comes on when charging (using power) and if the sunlight is intermittent (clouds, etc) you can actually lose power as you try to charge. Most people seem to charge to a USB battery and then use that for the phone (more weight but more reliable). What is the experience with this? Can you successfully charge straight to the phone in a variety of conditions?
I have had the problem you describe above. I have the Goal Zero Guide 10 package and as you say, the problem is resolved by charging the battery pack and then the phone. I have two battery packs that I rotate and pretty much always have a power source for my phone when in the backcountry for extended trips. Charging the phone directly is less successful. Charging anything in less than ideal conditions (direct sunlight) takes exponentially longer it seems.
Yup, you nailed it! It's almost impossible to charge your phone straight from the panel and that's because the iPhone's are very sensitive to the amount of power coming into them. With the constant change in sunlight, clouds, shadows, etc... it makes the phone go haywire and for safety of the product, stop charging. I'd recommend picking up the Flip 10. It's cheap, lightweight, and quick to charge.
Finally bought a Solar Panel....
Familiarity:

I've used it once or twice and have initial impressions
...and I'm super stoked!! I've always wondered whether these things are as cool as they seem, yep, they are. In the full sunlight of the Utah desert this thing charge my Outdoor Technology Power Bank in about an hour or less. To charge my phone it takes probably 20-30 minutes in full sun. I'm excited to be able to use this on my next big backpacking adventure!

In the photo my phone is being directly charged by the Outdoor Technology Kodiak Power Bank, however, you can charge your phone straight from the solar panel. It's nice to pair a Power Bank with your solar panel if you need to charge something on the go.
Works great.. even in dust storms!
Familiarity:

I've put it through the wringer
I left this hanging on my tent in the Black Rock Desert during a wind storm. Although I had to blow some dust off, my headlamp was completely charged after only a few hours!
Charge that phone anywhere!
Familiarity:

I've put it through the wringer
This thing is rad, I went out for a long camping trip and no where near any sort of electricity at all. It was nice to be able to call my mom and let her know I was still alive :) The only bad thing about this is that if is not in direct sunlight charging is very slow, so on cloudy days it can take a long time to get anything charged. I would recommend getting the battery pack and charge that all day, that way you will have plenty to charge up later on at night if needed. Great buy for the price too!
Great even in cold
Familiarity:

I've put it through the wringer
I used this on a 22 day expedition on Denali and it worked wonderfully. I kept my camera and ipod (along with other team members' items) charged the whole trip. I hanged it on the outside of the tent during rest/carry days and let it charge. Some days I would charge my items, with the solar panel in the tent. I couldnt believe it was getting enough light within the tent to charge. I loved being able to charge directly off of the panel.



I used the switch 8 battery with this panel. The cold did not seem to cause any problems.



Overall a great addition to extended trips where power isnt available.
Impressive
Familiarity:

I've put it through the wringer
I was skeptical of the concept of a portable solar panel, but this is an impressive piece of gear. I bought mine to take on a 10 day section of the John Muir Trail. It did an excellent job of charging my smartphone and portable bluetooth speaker. With so many people using a smartphone as their primary camera these days, this will become an essential piece of gear for multi day trips. Durability seems good and the thing just flat out works.
Great Tool!
Familiarity:

I've put it through the wringer
Ive used this on longer trips to make sure I had music and my Kindle charged. I dont use the phone much but, its nice to have when you are car camping. Its a life saver when you need to charge a kindle, ipod, or camera on a long trip. I definitely use the Guide Battery pack so you can constantly have something to charge off of even at night. This solar panel worked on cloudy days inside the tent, obviously didnt output max watts but the fact it still charged a little was awesome.
What The Crap?! Is This Real?
Familiarity:

I've used it several times
I got this because I'm a super energy geek and love renewable energy sources....particularly mobile ones, but I thought it would just be a cool idea that wouldn't really pan out. I take this thing with me everywhere. I was just out on the lake all day...on a boat with no power source, and this thing saved me. On a cloudy day, it does decent. On a sunny day, it blows me away. The only thing I haven't tried is daisy chaining it with other Nomad 7s. It says you can chain up to 4 together which will increase charge speed. I will soon try that out. Stay Tuned.
Ingrid Backstrom on the Nomad
Ingrid weighs in on her Nomad
This really works!
Familiarity:

I've used it several times
I bought this for backpacking trips and it really works. My primary camera is my phone and I wanted to be able to take pictures of all the beautiful scenery in our Utah mountains. This allows me to charge my phone/camera with no problems. I bought a second one as a gift for my brother because of the coolness factor. Guys always go crazy for tech toys.
Love it!
Familiarity:

I've used it several times
I had been interested in picking up a solar panel for quite some time and I finally settled on the Nomad 7. It does surprisingly well in slightly overcast conditions and this was the main selling point. It is fairly lightweight, easily organizes cords and devices in the zippered mesh compartment, has sufficient loops for hanging pretty much anywhere, and the USB port allows you to charge pretty much anything.
This lil guy happily charged cell phones and my ipod for a 3 day backcountry yurt trip last weekend. I was able to easily charge my ipod to ensure that I was properly jamming out on the skin track up. I must have music, or I get lost in the pain cave.



Even with weak sunlight and thin cloud cover this panel was still absorbing the energies of the sun. Definitely a worthy item to bring along! It's most important function was to ensure we had power for my beloved Goal Zero Rock Out Speakers for the duration of the yurt times, but the battery life on the speakers is so good, that we only used the panel to charge phones and my ipod.



I was glad we had this because the frigid temps definitely impacted battery life on all devices we were using. Having the solar panel on had was great because the cold took such a toll on the battery life of all our phones and ipods.



Great little panel!
Great for the day
Familiarity:

I've put it through the wringer
I like to use the Nomad 7 to charge my phone and portable music device. It does a good job of keeping the charge level where I need it on sunny day, but does not do as well on cloudy days or where the sunlight is dim. There are larger panels that do that. I just attach the Nomad 7 to my backpack or the top of my daughter's carrier and we're off. Good stuff.
I typically take this with me when I'm car camping to charge my phone. My phone gets used as a GPS tracker, map, camera, and occasionally call maker when I'm camping/on a road trip, and this can be easier than trying to charge it through the car when I won't be in the car for long. You can hang it up in the morning while you're making breakfast and get an iphone 5 from dead to about 30% in an hour or two, and then leave it on the seat or something to build up the battery during the day, then finish off the charge when you get back to the car.



Use is very simple, just hang it in the sun and leave it there. It has a USB output as well as a 12-volt output, so you can charge most anything.