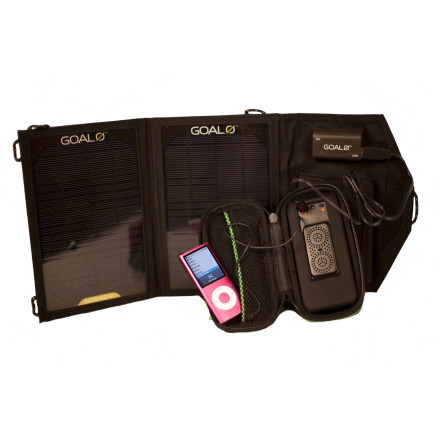 Community Images
The Goal Zero Nomad 7 and Rock-Out Combo makes you feel like the star of your very own climbing, hiking, or backpacking movie. Thanks to its Rock-Out portable speaker, you're able to listen to your tunes when you're in the midst of solving a difficult boulder problem.
Rock-Out portable speaker provides 20+ hours of tunes for entertainment while you set up camp, make dinner, or chill around the fire
Nomad 7 Solar Panel allows you to recharge any USB/12V device or Rock-Out
Nomad 7 charges your cell in 1 to 2 hours
Includes: (1) Nomad 7 Solar Panel, (1) Rock-Out Portable Speaker, (1) USB to mini-USB cord, (1) Chaining cord, (1) 12V cigarette adapter
USB output: 5 Volts
DC output: 12 Volts
Optimal Operating Temperatures: 32-104F (0-40C)
Optimal Storage Temperatures: 32-86F (0-30C)
GZ makes great products
Familiarity:

I've put it through the wringer
I've really liked both the speaker and the charger. I do wish that this would've included a battery pack though. I find that it's a bit tough sometimes to try to charge my device directly.



I've used the charger to charge an iPhone, iPod, bike light, and the speaker and it's worked great.



I've taken the speaker in and around water a lot but I don't trust the water resistance enough to put my iPhone inside it. I usually bring a really crappy old iPod in case it gets wet in there. It's definitely gotten damp inside on occasion but it hasn't seemed to hurt the speaker.
Works fine with the GoPro Hero2
I've only used the Nomad 7 a few times, but it's worked great for charging our GoPro Hero2. The panel continues to work, albeit not as well, when it is overcast. I only tested the speakers indoors and they seem to work just fine.
I took the speakers out this weekend and was very impressed. I put my iphone in a waterproof case and strapped my speakers to the deck of the SUP. They were soaked all day and kept cranking out the hits while I paddled for 4hours. Really surprised at how good the output is on these. I charged them at home and the power lasted all day. I even forgot to turn them off and they still had juice when I got home several hours later.

Great portable audio system!!
Using the Rock Out Speakers to motivate and keep the party barge afloat on the stand up paddle board.