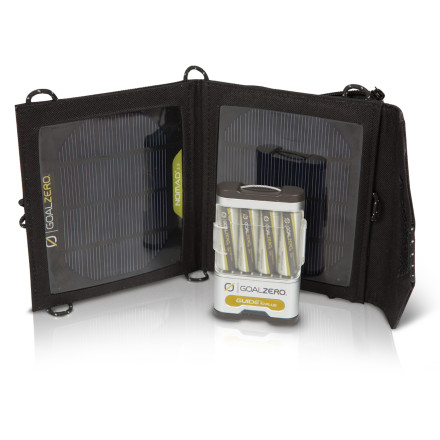 Community Images
The Goal Zero Guide 10 Plus Mobile Kit combines an ultra-compact but efficient Goal Zero Nomad 3.5 Solar Panel with the Guide 10 Plus Recharger to offer mobile power for small electronics. The Guide 10 Plus Battery Pack charges AA or AAA batteries for ultimate convenience, and the whole combo pack is small enough and light enough to fit in an expedition bag or pack.
State-of-the-art monocrystalline technology in Nomad 3.5 panels deliver more power per square inch than any other solar technology available
Compact, highly portable solar panels put out 3.5 watts to fully charge AA/AAA batteries in Guide 10 in 6-8 hours; Guide 10 Recharger can also be charged from a USB power source in 8-10 hours; you can also plug devices directly into Nomad 3.5 for daytime charging
Foldable design and compact size of panels make it easier to fit into a pack or strap around your trusty dog
Durable, weather-resistant construction for worry-free backcountry operation
Reflective nylon loops make it easy to hang the panel from your backpack or in car window when you're on the go, or in any convenient spot in camp, and built-in pocket protects your device as it charges
Guide 10 Battery Pack utilizes four rechargeable AA batteries (included) or AAA batteries (not included) as its power source; leave the batteries in and treat the unit as a power pack or place charged batteries directly in your electronics
Built-in LED flashlight shines from this battery pack for up to 100+ hours per charge
Package includes: Nomad 3.5 Solar Panel, Guide 10 Recharger, a four-pack of AA rechargeable batteries, one ultra-charge solar cord
Optimal operating temperatures: 32°-104°F (0°-40°C)
This is an awesome looking solar panel, but it seems to charge really slow, even in intense, direct sunlight. I now have a nomad 13, which is heavier, but get the job done more quickly, and can also charge more things. Ok solar panel, but I would go with something bigger for myself.
I took this solar charger on a weeklong camping trip. It did well, but seemed to charge pretty slow, even in direct sunlight. But, it kept my iPhone charged enough to do what I need to do.
Have this on me anytime it is sunny out. My girlfriend often lets her phone get low on charge, so having the panel and batteries on me has often come in handy. Very light taken it back packing several times. Haven't tried to charge it with my biolite stove, that is next step. Always looking on future solar to add to the arsenal, This was a great first step. Only thing I would add is an indicator on how charged batteries are.
Neil Provo shows off his Guide 10 Plus
Back side of the solar panel, where the zippered pocket and output plugs are.
The input/output side of the Guide 10.