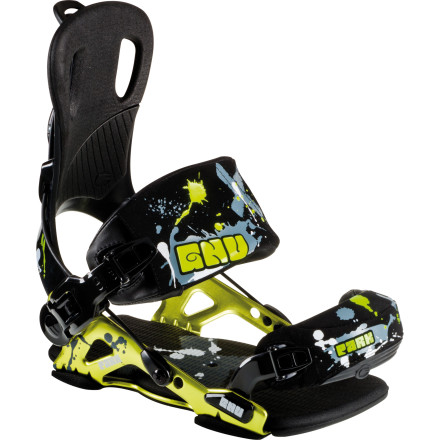 Now that the freaking skiers have started crowding into the park, you have to get a little more agro about dropping in or you'll just end up standing there all day. This is where the Gnu Park Snowboard Binding comes in to play. The Park's Fastec entry system allows you to maneuver one-footed, and then slide your back foot in, lock down, and go in a flash when you see an opening. Their shrill cries of outrage are quickly drowned out by the satisfying 'gurrrwuppshnck' sound of your sliding a rail locked into this lightweight, high-performance binding.
Fastec entry system uses a cable and quick-flip lever so you slip in (and out) and lock down (and unlock) quickly and even on the fly
s-LAB ultra-lightweight aluminum baseplate resists damage no matter how hard you shred
FT2 Highback is cored at the upper to reduce weight
Inverse seam toe panel includes a new rubber grip panel heightens your binding-boot conntection
Full EVA footbed and base buffer pad take the sting out of hard landings
Unanswered Question
My husband wears a 12 boot and my son wears...
My husband wears a 12 boot and my son wears an 11.5--will the XL be an appropriate fit for their big feet?
Went from burton mission to these beauts. They are super adjustable and the easy in easy out isn't a joke, you pop into these things so fast, just might take a bit of adjusting on your first go to get the perfect feel. If you have the green go for these, really comfortable.
i wear a size 9 salomon F20...what size...
i wear a size 9 salomon F20...what size should i pick...a size M or L gnu park?
So what boots are recomended to fit these bindings? Knowing my luck my bulky 32 boots wouldnt fit the toe strap.

Also, if im size 11.5 boot what size should i get
GNU Ride Bindings on Banana in action
The intro is a little long, but there are some great shots of the bindings in here.
Writing and inital review on these, I don't think theres enough reviews out on the Fastec Gnu bindings yet. I will post an update after riding them a few times.
I didnt actually purchase the "Park" bindings, but the "Choice" bindings - which have slight upgrades.
I'm used to Burton (Mission/P1/Cartel) bindings, I like the toe cap strap and the security of a fixed hinge highback. These Gnu bindings are a new direction for me.
After mounting on my board - I found it pretty easy to make adjustments, rotate my highbacks, etc.
The forward lean on the Choice is a tool-less turnbuckle threaded screw on the cable which simply makes the cable tighter.
In and out on these is a piece of cake. Release the lever, flip the highback down and the ankle strap pops loose automatically so you can pull your boot out.
I recommend watching the setup videos on Gnu.com.
Pros: very lightweight, easy in/out, nice adjustability
Cons: alot of release levers have me questioning long-term durability.

** UPDATE 3/5/12: - Used these for a solid week in Utah - very nice. No issues at all. Once you get the straps dialed in to fit your boot tight enough with no pressure points and no heel lift they are rock solid and ready to go.
I used to own a pair of binding that I was constantly having to sit down to strap in. These binding definitely save the cold wet bum!

I don't ride park, but was looking so a set of bindings that I could get into quickly and easily. I was also looking for a set of bindings that would stand up to my size (6'9" and 300lbs). I have used them 3 days and love everything about them. The closed toe has made a big difference in controlling my heel edge. The stepping into the back of the binding took a little getting use to, but by the 3rd day was a piece of cake.

The ability to preset all of your straps and just flip the heel up, lock the heel and lock your mid foot is the biggest asset to me. Getting in is simple and quick with no sit down.

The only down side is the toe cap slipping up a little. I have only used them 3 days, so I am sure it is only a small adjustment that I am missing. I also don't know how they will hold up in the park, but they hold up great for the free ride. I am sure that they would hold up in park. aluminum construction is top notch!