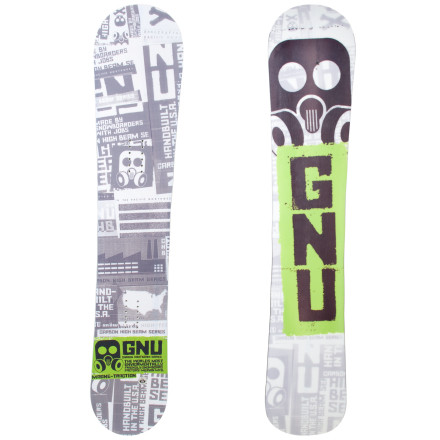 Detail Images
There is not another board on the market that gets you such high quality for the money. This is a sick all mountain board. You can get mad speed on trails and it holds up in the park. I'd say it leans a little more towards a hill bombing board than a park board, but it can be used for both. My one little complaint is that the edges soften up quickly, but thats probably because i beat the hell out of my board and i'm a pretty heavy guy. I recommend this board to anyone beginner-advanced that is on a budget and wants a board that kicks ass. As for the graphics, they arent over the top so you dont look like a tool on the mountain like u can on some burton boards and such. pair it up with some Bent Metal bindings and you have a sick looking board too.
Ridden the CHB's for years now and I gotta say that the base on these are primo. It seems like mervin kicks it up a notch every year constantly innovating (and getting ripped off by other companies) and bringin new shi# to the table. The Carbon High Beams are a great all around board with plenty of pop and a fast as hell base. Magna traction does what its suppose to do, soften up your edges with a file (detune) before you take this bad boy out otherwise its a little too grippy in the turns.
I bought this board as I really wanted to try MTX and have heard such good things about the CHB. The CHB MTX kicks butt!!! It's super fast and stable at speed yet flicks around like butter! The MTX worked great on an icy early morning slope. I have rode quite a few different boards this year and it was definitely my favorite cambered board for the price. Did I mention you can press it like jello?
Sickest board I've ever ridden.
This is my 3rd board, and i cant believe how it has improved my riding, Carving is a doddle and ya know those flat board places where everyone has slowed right down and stepping out, I seem to be passing everyone without unclipping. Maybe I'm just getting better, but the board seems to have given me more and more confidence..Oh! Did i mention how fast ya can go on this thing... Highly recommended...
i feel so much better on this board than my last few. i can go from edge to edge so quickly and easily it's ridiculous. and the magne traction holds the edge so well so i'm confident to pick a line and ride it out. the board is light and has good pop so it's a joy for all mountain riding.
ive never rode this before but i know where to get this for $280
so search around before buying it
HI there, I am ready to purchase my first...
HI there, I am ready to purchase my first board. I am on the East coast of Canada and i'll be riding mainly groomers and in a lot of icy conditions. I'll be doing little to no Park (until my 7 year old drags me in) and i'm 6', 200 lbs. My boots are Burton Hails size 11. Any recommendations on a good board for a newbie boarder? I've heard the CHB might be a good choice?Thanks
Not sure if you've made your purchase yet Jeff but Arbor makes some great "all mountain" boards too. I ride the Del Ray and just bought the Wasteland recently. It looks like from the reviews this would be a great purchase too. Good luck on the pow man.
This board is incredible. It does absolutely everything effortlessly. It carves magnificently, floats on powder, grips ice, and is fast! I went down from a much larger board and this one handles the powder just as well and outperforms my old board in all areas, and have yet to have it lose an edge on ice.
I just got this thing for christmas and went snowboarding for five days out at lost trail powder mountain, montana-idaho. The day we got there it snowed ten inches that night, so i got up early and was the first one up the mountain ready to try my new gnu chb mtx strapped with rome targas. I started down the run and just floated. I was amazed at how responsive the damn thing was. I have ridden expensive burtons that were way over priced that didnt even come close to this board. it carves like a beast and you can switch from toes to heels in a split second. Towards the end of the week it didnt snow very much and many of the runs became groomed. Once on the groomers, i became stunned again. it is so easy to turn. the manga traction digs right in and you cut nice and deep into the snow and carve very easily. The last day it snowed 16inches so i got to shred some more sick pow with it. once agian it didnt bog down it, it just floated and made me feel like i was flying. I have never ridden anything so responsive with as much pop as this board. it handled the terrain park (trama park as i like to call it) like it was nothin. I could do 360s all day without any trouble and stomp rails like i was being paid for it. This is easily the best all mountain board out there. Dont waste your money on an expensive burton, k2, etc. The next best board to this one is the burton t6 which is 800 dollars. GNU has priced this baddass ridiculously low for how nice of board it is. If anyone has any qs about it call me 8592277566
I bought last years version of this board and can't wait to ride it again this year. Boarding on the west coast of Canada we get lots of icy days and this board did not lose it's edge once. Charge as hard as you want and this thing just holds. You'll be a better rider with the confidace you gain from always having this board underneath you!