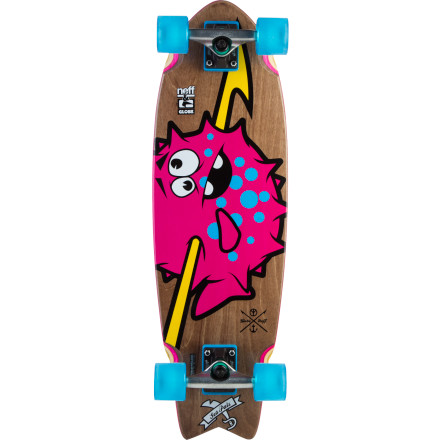 Detail Images
Globe collaborated with lifestyle brand Neff to make the Globe Neff Sea Pals Cruiser Longboard, a quick and nimble cruiser with bang-up artwork, a sweet-ass shape, and top-rated components that will make this carve-craving cruiser your new BFF 4 evaarrr!!!!!111.
Wheel colors on completes may vary, but the deck graphic will be as pictured.
What do you think about this product?
Have questions about this product?
This board looks and feels awesome! Theres is only two things that could be better: bearings and wheels. They sell you the bearings as abec 7 but they actually feel like bad 5s (I changed them to abec 7(teenish) and it goes a lot faster. The other downside is the wheels which in my opinion could be a little bit better, but they feel fine as long as you're not going too fast. The design, shape, color and trucks are simply perfect for what you're paying. I suggest you buy this over every other cruiser in this price.
If you can do very whell curves it your longboard because the spacialitie of this longboard is the curves.