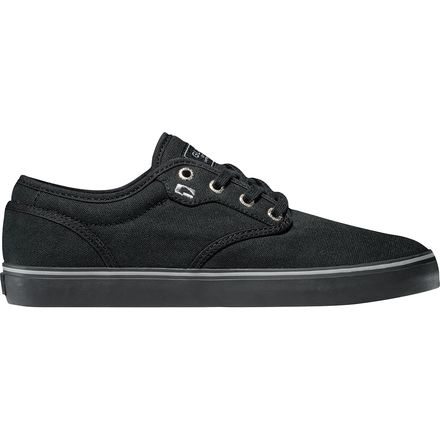 Detail Images
Description
Leading the crew.
No matter what crew you're a part of the Globe Men's Motley Skate Shoe gives you the option for everyday cold chilling with the homies, or a quick street skating for your demo reel. Durable materials withstand the test of time and a grippy rubber outsole with a traction pattern keeps you locked on your deck, and even in the milk aisle of your local one-stop. Inner elastic straps add to the support and fit of this Globe skate shoe, and allow you to ditch the laces. Globe also added a slip-resistant lining to keep your foot from slipping around inside the Motley Skate Shoe.
Poor quality
Familiarity:

I've put it through the wringer
They look cool, and are comfy for a while, but I was graced with the same quality unfortunately as most of the other reviews here. Only took about a month or so before the soles started wearing down and the whole shoe got super flimsy, only actually skated in them once or twice.
I've always loved globe shoes. This time they started coming apart after a couple of weeks. So at least this style I'm not impressed.
Globe, thicken your soles!
I bought these 2 months ago. I got them sent over all the way down to Argentina and the sole of both shoes have worn through to the sock. I am so disappointed. I use them as very chilled streetwear... Havent even chased my dog in them :(
This is hardly a skate shoe. After one day of kickin around i'd worn through the sole all the way to the sock... One day!!! No lie! Don't buy these with the intentions of skating in them at all. Great look and fair price. More for a causal walkin shoe. Most def not a skate shoe!!
I love seeing company's like Emerica and Globe make the Andrew rynolds Cruisers and now Motley!!! Super basic shoes, Skates awesome, and looked awesome! Its pretty durable for the little material used with it
shoe is awesome! skated em out of the box hella flex good feel and great great suede super super tough
This shoe is...... not good. Its stiff with no grip on your board. It doesnt breathe well it works better with no laces but chokes your foot still. i wouldnt get it again.
The Globe Motley is a great, low profile shoe that has an amazingly soft foot bed. It's a clean, simple look at a great price and great quality that Globe always offers. Beware of sizing. It runs a little tight so don't be afraid to order a half size up.