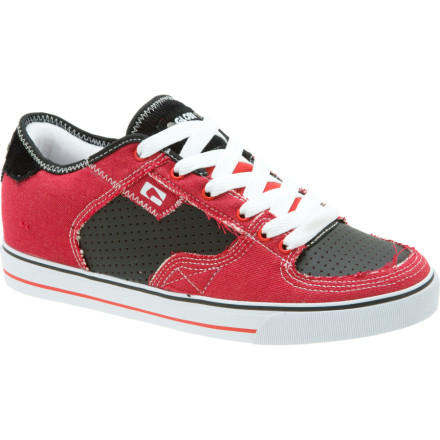 Detail Images
i would have to agree with all the previous posters. my only beef is why it took so long to come out with such a badass shoe. i wore them out the other evening, and as a casual shoe...im impressed. and guess what.no1 has em HAHA

Well, a year later and 3 wears in. They ASPLODED. Doh! No kidding though, i only wore em 3 times. Im doing some parkour and kablooey! the leather off one side shreds harder than a ninja turtles episode featuring, well um shredder. So if i did this to them off a 4 foot jump, how are skaters not tearing these things up? Still a wicked shoe IMO, maybe just a weak spot. Meh! Heres to more shopping eh :)
i am impressed with these shoes, they are super comfy and look clean as hell. they are possibly my favorite shoe as of yet, they fit me really well
Should I order these shoes a size...
Should I order these shoes a size smaller/larger or do they fit as sized?
Since no other reviewers have mentioned them being tight or loose I would go with normal size.
I've never had a problem with Globe fitting true to size. They tend to be a little more padded than some so going up a half size is never a bad idea. However, the fact that they have padding means they will pack out so if you can stand a snug fit for a couple weeks order the true size you need.
these shoes aren't too bulky or too narrow..their just right, there's an extra layer of rubber on the toe so they wont wear fast.. my friends are all jealous of em, they feel great on the grip tape..my favs too skate! and i only paid 45 bones:D
, ☃bcs_badge_alumni_label☃
Banger!
I bought these shoes about 2 weeks ago, and their amazing! They fit well and have great board feel. The soles do wear kind of fast, but really not that bad. I definitely will be buying more.
Not only are these shoes pretty tight looking with the corduroy and stuff but they have a slick feel when your skating the park or just rolling. Bottom line is pretty stinking awesome skate shoe!
buy these shoes....

theyre the most comfortable, versatile shoe ive ever had

if you love a good looking, clean tearing, badass vulcanized shoe...

this is it, you've found it